Spider-Man: No Way Home Eyes Record-Shattering $150 Million Box Office Opening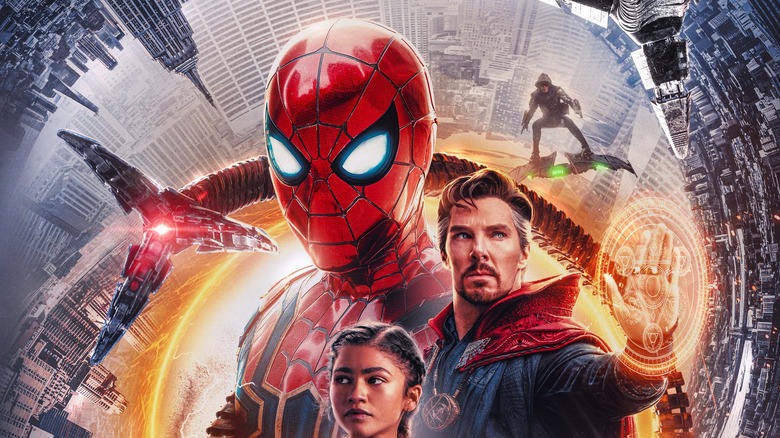 Sony Pictures
It has been evident for weeks now that "Spider-Man: No Way Home" is generating seemingly more excitement than any movie we've seen come along in a couple of years. But the degree to which that excitement is going to translate into box office dollars is poised to be downright spectacular, if not record-shattering. So, just how high can Spidey climb?
Per a new report from Variety, the latest entry in the Marvel Cinematic Universe is eyeing a debut of $150 million or more, with $175 million not out of the question. That is a genuinely staggering number when we consider just how uneven the box office recovery has been in 2021. To that end, the current domestic opening weekend record-holder in the pandemic era is "Venom: Let There Be Carnage," which debuted with $90 million earlier this year. The latest solo "Spider-Man" flick starring Tom Holland, could, at the high-end, nearly double that.
To add a little more fuel to the fire, the folks at Box Office Pro have adjusted their tracking estimates to be anywhere between $190 and $250 million opening weekend. While that top-end number seems downright absurd, it demonstrates that we are in for a truly huge moviegoing weekend. This checks out, as Fandango reported record sales when advanced tickets were made available recently.
Marvel movies have been just about the only sure thing this year, with "Shang-Chi and the Legend of the Ten Rings," "Venom: Let There be Carnage," and (despite its relative disappointment) "Black Widow" doing quite well. Even "Eternals," despite its mixed reviews, is nearing "$400 million worldwide and has topped "Black Widow." It stands to reason that the biggest name in the bunch, Spider-Man, would put the most butts in seats.
A Potentially Spectacular Record-Breaker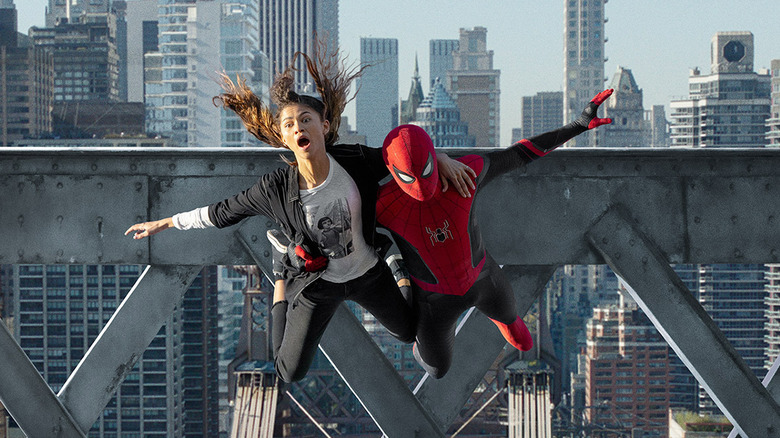 Sony Pictures
Let's be extremely clear about how impressive these projections are, as this is poised to be a monster hit even by pre-pandemic standards. To that end, "Spider-Man: Far From Home" opened to $92.5 million on its opening weekend back in 2019, and it went on to make $1.13 billion worldwide, serving as Sony's highest-grossing movie of all time, surpassing "Skyfall." As far as opening weekends go, 2007's "Spider-Man 3" had a franchise-best number, posting $151 million at the time. So "No Way Home" has a chance to overtake even that long-standing record. In a word? Damn.
Surely a big part of the appeal has to do with bringing back villains from previous incarnations of the franchise, as has been hyped up in the marketing. There are also sure to be some big surprises in store, and it's heavily speculated that both Tobey Maguire and Andrew Garfield are going to appear. Whether or not that's true, the mere possibility of it is driving this hype train right on down the tracks.
Jon Watts, who directed both "Homecoming" and "Far From Home," returns to the director's chair. Aside from Holland, the cast also includes Zendaya, Benedict Cumberbatch, Jacob Batalon, Jon Favreau, Marisa Tomei, Alfred Molina, Willem Dafoe, and Jamie Foxx.
"Spider-Man: No Way Home" hits theaters on December 17.
For the first time in the cinematic history of Spider-Man, our friendly neighborhood hero's identity is revealed, bringing his Super Hero responsibilities into conflict with his normal life and putting those he cares about most at risk. When he enlists Doctor Strange's help to restore his secret, the spell tears a hole in their world, releasing the most powerful villains who've ever fought a Spider-Man in any universe. Now, Peter will have to overcome his greatest challenge yet, which will not only forever alter his own future but the future of the Multiverse.