Clips Round-Up: Clifford Deleted Scene With Rosie Perez & More [Exclusive]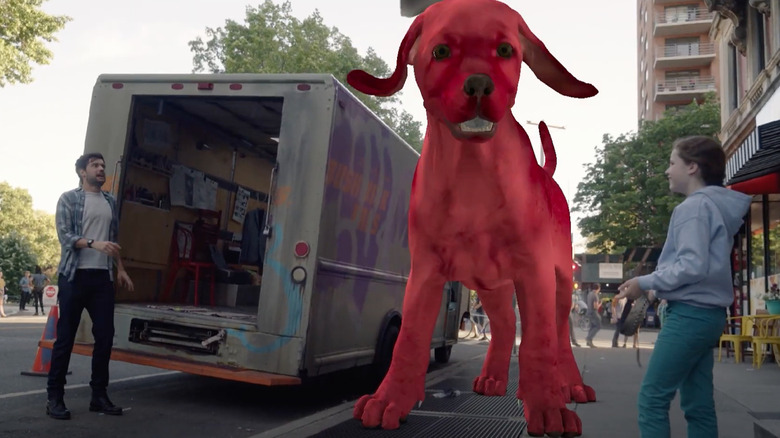 Paramount Pictures
(Welcome to SlashClips, a series where we bring you exclusive clips from hot new Digital, Blu-ray and theatrical releases you won't see anywhere else!)
In this edition:
Clifford the Big Red Dog
Not to be confused with the 1994 Martin Short/Charles Grodin cult classic about a man acting like a little boy, "Clifford the Big Red Dog" stars Jack Whitehall, Darby Camp, Tony Hale, Sienna Guillory, David Alan Grier, Russell Wong, and John Cleese. It arrived in theaters and on Paramount+ around this time last month and made a pandemic-solid $64 million worldwide and received moderate reviews, including our own by Josh Spiegel. Now, in anticipation of the film arriving on digital tomorrow, December 14, 2021, and on Blu-ray and DVD February 1, 2022, Paramount has provided us with an exclusive deleted scene from the family film featuring the fabulous Rosie Perez as Lucille, as well as some "ruff" (get it?) unfinished CGI of the title canine in all his blazing red glory. Check out the clip, and get ready for the sequel that Paramount is already teasing, which is not a surprise given that -despite mediocre box office (doggonit!) — the Walt Becker film was apparently the most watched original film to-date for Paramount+.
Here is the official synopsis:
"When Emily discovers her little red puppy named Clifford has grown ten-feet overnight, she turns to her eccentric Uncle Casey for help. But when a mad scientist tries to capture the larger-than-life playful pup, it takes the entire neighborhood to hide Clifford as they race across the city. Get ready for the incredible, laugh-out-loud comedy adventure that is BIG fun for the entire family!"
The Handler
Check out some ass-busting action as two warriors go toe-to-toe in front of someone's house in an exclusive clip from "The Handler," the action-packed new flick from Uncork'd Entertainment now available on DVD, digital and on-demand. Written and directed by Michael Matteo Rossi ("Chase," "Misogynist"), the movie stars Chris Levine and looks to give action fans some fun grindhouse times. 
Here is the official synopsis: 
"Ryker is a recently returned to home vet who is struggling for money to take care of his wife and child. He gets in touch with Vinnie, a mob boss, who helps him, but Ryker soon wants out and when Vinnie doesn't allow it. Ryker purposely throws a job and Vinnie seeks to take Ryker out in any way possible. Chris Levine ('No Way Out,' 'Charlie's Angels') headlines an electrifying cast that also includes YouTube personality Tyrone Magnus, Rachel Alig ('Digging to Death'), Jazsmin Lewis (the 'Barbershop' franchise) Cathy Baron ('Justified'), Matt Erdems ('Checkmate'), Michael Pashan ('No Loose Ends'), and Adam Carbone ('Gotham')."