New Spider-Man: No Way Home TV Spots Show Doctor Strange Deploying Magic Runes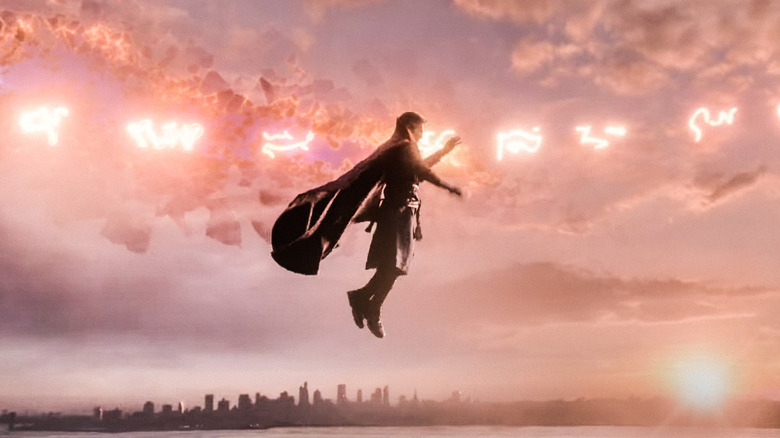 Sony
With the release date less than a week away, what hasn't already been revealed officially about the plot of "Spider-Man: No Way Home" through the trailers (and the recently-released opening scene) has unfortunately made its way online in the form of very unofficial leaks. If you're trying to avoid spoilers in the lead-up to its release, your best bet is to hide in a panic room with your phone on Airplane Mode until December 17.
If you're not trying to avoid plot details (or if you don't have a panic room in your house), you may be interested in a small flurry of new TV spots for "Spider-Man: No Way Home. The clips include an intriguing look at Doctor Strange performing a magic spell using runes similar to those seen in the Disney+ series "WandaVision." Magic runes were first seen being wielded by Agatha Harkness, before Wanda Maximoff learned to use them herself and turned the tables on Agatha. 
The runes aren't exactly the same; Doctor Strange's are more flowing and swirly, whereas the ones in "WandaVision" were based on the Futhark (ancient Norse alphabet) and are more angular, as seen below:
That said, we can use some of what we learned from Agatha Harkness in "WandaVision" to guess at what Doctor Strange might be doing here. In the Disney+ series, Agatha explained that a witch (or, in this case, a Sorcerer Supreme) can use runes to create a space over which they have total control. It's similar to the Mirror Dimension, which Doctor Strange uses to contain violent fights and limit their impact on the normal world. Interestingly, a purple mist very similar to the one that signified Agatha's magic can be glimpsed through a rift in the sky.
Check out the TV spot featuring Doctor Strange's rune circle below, along with some other new promos.
Watch New TV Spots For Spider-Man: No Way Home
The premise of "Spider-Man: No Way Home" is that Peter Parker approaches Doctor Strange to beg for a spell that will make the world forget he's Spider-Man. Doctor Strange agrees to this, because he's never really been one for respecting the boundaries of magic. Thanks to Peter's interference, the spell goes wrong, cracking open the multiverse and spilling villains from previous iterations of the "Spider-Man" movie franchise into the Marvel Cinematic Universe.
There's clearly a lot going on in "Spider-Man: No Way Home." The confirmed villains include Willem Dafoe's Green Goblin, Alfred Molina's Otto Octavius, and Jamie Foxx's Electro. Lizard and Sandman will also appear, though it's unknown whether their actors from the previous movies (Rhys Ifans and Thomas Haden Church, respectively) are actually playing them, or if they're purely CGI creations. So far? It's looking like they're CGI only, with Doc Ock, Green Goblin, and Electro playing the most prominent villain roles.
The Marvel multiverse has taken a real beating this year. First Wanda did a bit of reality-bending in "WandaVision." Then Loki ruined the TVA's nice, neat, organized single timeline by cracking it open into many diverging timelines in "Loki." And now Doctor Strange is going to take his own turn at splintering the barriers between universes in "No Way Home." Basically, the entire MCU had a massive raging house party and a hungover Doctor Strange is going to have to clean it up before his parents get home in "Doctor Strange in the Multiverse of Madness."
Fortunately, he won't be alone. Elizabeth Olsen is set to return as Wanda, who has now fully come into her own as the frighteningly powerful Scarlet Witch, in "Multiverse of Madness," and it's very likely that "Spider-Man: No Way Home" is going to set up that movie's story. Who knows, perhaps we'll even get a cameo from Wanda, Agatha, or both. If "No Way Home" already has a billion characters in it (and it's certainly looking that way), a couple more won't hurt.
"Spider-Man: No Way Home" releases December 17, 2021, exclusively in theaters.