Superhero Bits: Elizabeth Olsen Done Shooting Doctor Strange 2, Lucifer Season 5 Recap & More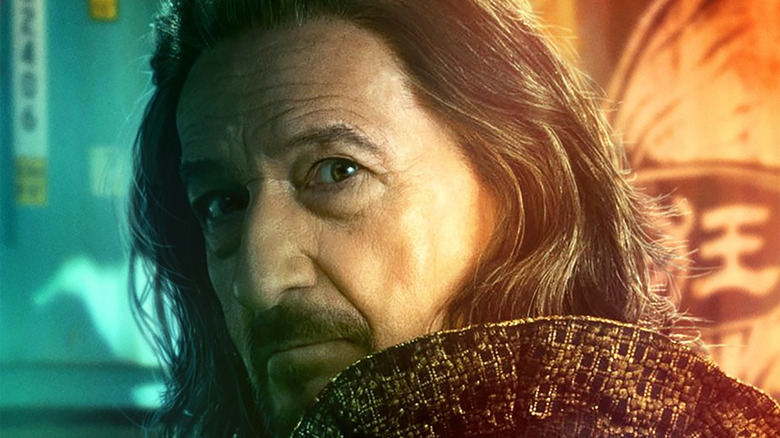 Marvel Studios
(Superhero Bits is a collection of stories, updates, and videos about anything and everything inspired by the comics of Marvel, DC, and more. For comic book movies, TV shows, merchandise, events, and whatever catches our eye, this is the place to find anything that falls through the cracks.)
In this edition of Superhero Bits: 
Watch a "Lucifer" season five recap before season six arrives
Find out when "Eternals" takes place in the Marvel Cinematic Universe timeline
A couple of spoilery "Shang-Chi" characters have gotten their own posters
Elizabeth Olsen is done shooting "Doctor Strange in the Multiverse of Madness"
All that and more
The Hunter and Wolverine vs Sabretooth
Marvel's "Midnight Suns" video game has debuted some gameplay footage featuring a ferocious battle, with The Hunter and Wolverine facing off with Sabretooth. Here's how the game's creators describe each of the characters and their abilities in this match:
In one corner, we've got the Hunter and Wolverine fighting to save the world. Wolverine's razor-sharp claws, regenerating health, and ability to taunt enemies into focusing on him make him well-suited to fighting on the front line. Tilting the odds in Wolverine's favor on this occasion will be members of the Firaxis development team and the Hunter, Marvel's Midnight Suns' protagonist and the first customizable original hero in the Marvel Universe. The Hunter has a previous lifetime of training and experience to draw on and can fill a number of different combat roles by focusing on dealing damage, supporting allies, controlling enemies, mitigating incoming damage, or any combination thereof.
In the other corner is Wolverine's age-old nemesis Sabretooth, another mutant with a superpowered healing factor and the animalistic instincts and strength of a fearsome predator. Even in a two-on-one battle, Sabretooth should prove to be a fierce opponent.
Marvel Unlimited Relaunches with Exclusive Comics
The Marvel Unlimited comic book app has relaunched, and coming along with it will be an exclusive line of Infinity Comics that you won't find anywhere else. 
Infinity Comics are described as full-screen high-resolution vertical issues specifically designed for phones and tablets. As of now, there are 27 Infinity Comics available on the app, and over 100 will be available before the end of the year. Some of the titles include "X-Men Unlimited," "Giant-Size Little Marvels," "Amazing Fantasy," "Deadpool," "Venom/Carnage" and more. The new Infinity Comics hail from the lies of Jonathan Hickman, Declan Shalvey, Skottie Young, Dax Gordine, Alyssa Wong, Nathan Stockman, Kelly Thompson, Gerry Duggan, Lucas Werneck and Geoffo. So sign up now and enjoy!
Lucifer Season 5 Recap
Before you dive into the sixth and final season of "Lucifer," Netflix has provided a recap of what happened in the fifth season. To kick things off, season six will feature a jump forward in time, and all the good things that happened by the end of season five will probably be shaken up a bit. We'll find out when the sixth season debuts on Netflix starting tomorrow, September 10.
Elizabeth Olsen Finishes Work on Doctor Strange Sequel
"WandaVison" hairstylist Tricia Sawyer took to Instagram to post a celebratory photo in honor of wrapping up work on "Doctor Strange in the Multiverse of Madness." We're assuming that this isn't the end of overall production, but rather just the end of the work that needs to be done by Elizabeth Olsen, who can be seen in the picture along with hairstylist Karen Bartel (who also worked on "WandaVision.") We'll likely hear when production is completely done on the movie in the near future.
Shang-Chi and the Return of the Fake Mandarin
Marvel Studios felt it was time to let the Mandarin, or at least the fake Mandarin, out of the bag. Sir Ben Kingsley returns as Trevor Slattery in "Shang-Chi and the Legend of the Ten Rings," and a clip from the character's return has been officially released online. Along with Trevor Slattery's return, the clip also features the introduction of his faceless, furry buddy called Morris. He's a real scene-stealer, and definitely the Baby Yoda of this Marvel movie.
Andrew Garfield Denies Spider-Man Rumors (Again)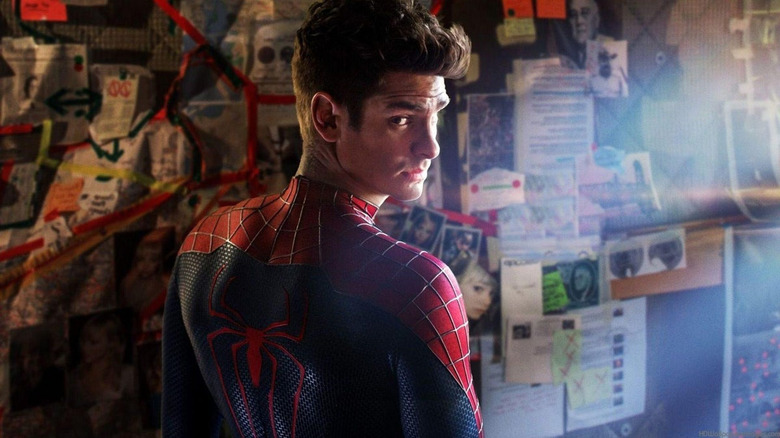 Sony Pictures
Andrew Garfield has been making the publicity rounds for "The Eyes of Tammy Faye," and he was inevitably asked about any potential involvement in "Spider-Man: No Way Home." Yet again, Garfield denied having a part to play in the sequel. He told Variety:
"I understand why people are freaking out about the concept of that because I'm a fan as well. You can't help but imagine scenes and moments of 'Oh, my God, how f**king cool would it be if they did that? But it's important for me to say on the record that this is not something I'm aware I am involved in. But I know I'm not going to be able to say anything that will convince anyone that I don't know what's happening. No matter what I say, I'm f**ked. It's either going to be really disappointing for people or it's going to be really exciting."
Marvel's What If...? Episode 5 Easter Eggs
Marvel's "What If...?" animated series unleashed zombies for the show's fifth episode, turning many of the superheroes of the Marvel Cinematic Universe into the undead. ScreenCrush is here with a closer look at the episode, including a bunch of Easter eggs, comic book references, and callbacks to the movies of the MCU. With so many Avengers featured in this episode, there are a lot of fun details to take a closer look at, so enjoy!
Eternals Place in the MCU Timeline Confirmed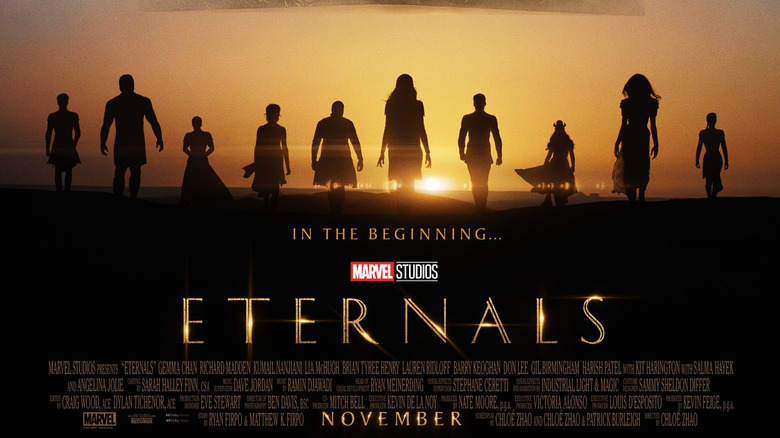 Marvel Studios
Marvel Studios producer Nate Moore confirmed when "Eternals" takes place in the Marvel Cinematic Universe timeline in an article from Empire (via Twitter). Since the events of "Eternals" are based around The Blip, when all those whom Thanos snapped away were brought back by Professor Hulk, it only makes sense that "Eternals" takes place "right around the same time as "Spider-Man: Far From Home," with the world recovering from the attack of Thanos and the return of half the population." That's not as specific as we'd like, but we'll probably get more context for that answer when we actually see the movie in November.
Shang-Chi and the Last Minute Character Posters
Now that "Shang-Chi and the Legend of the Ten Rings" is in theaters, and Marvel Studios has officially revealed Trevor Slattery and his hairy buddy Morris, they obviously needed to have their own character posters. In case you missed it, you can also bring Morris home as an adorably cuddly little plush toy.