Alamo Drafthouse's New D.C. Location Has A Movie Presidents Theme – And Bill Pullman Was There To Open It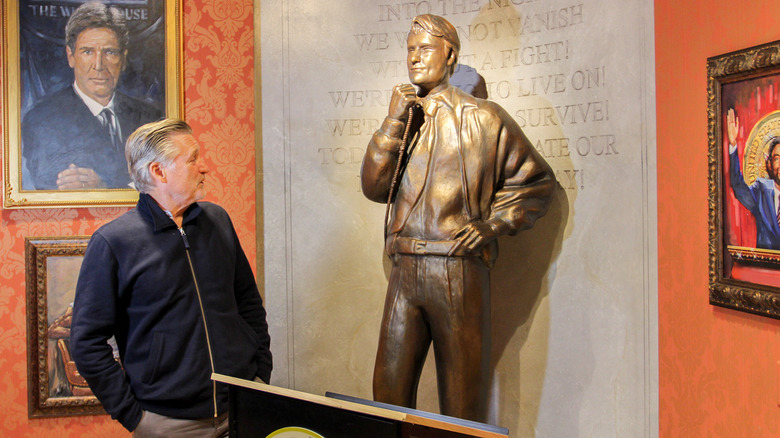 Bryce Bernier
The doors might not play "Hail to the Chief" when you walk in, but otherwise the new Alamo Drafhouse location is as presidential as it gets. The latest Drafthouse location starts its soft opening today, December 10, 2021, in Washington, D.C., and promises to give theater-goers a fun experience with a lobby themed to movie presidents, a bar that's straight out of a spy film, and an "Independence Day"-themed theater. The centerpiece of the "Hall of Movie Presidents" is a statue of President Whitmore from "Independence Day," arguably the greatest movie president of all time. Bill Pullman, the man who brought him to life and inspired us all out of our seats with his impassioned speech, was the guest of honor at the grand opening, blessing the venue with his presidential presence.
The Grand Opening Event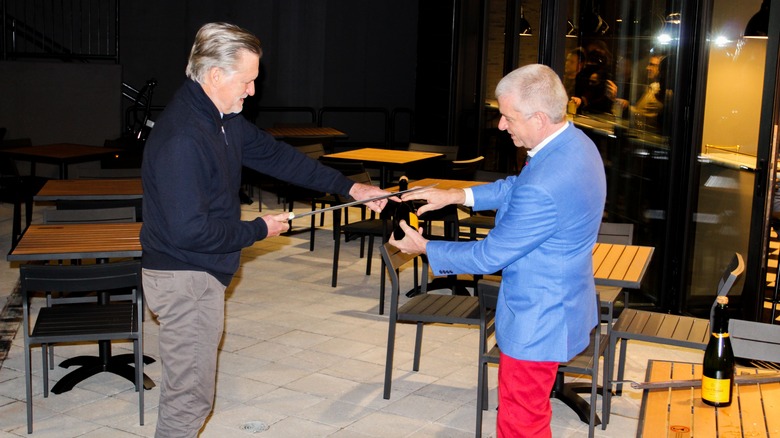 Bryce Bernier
In Alamo Drafthouse tradition, the opening of the new location was celebrated by using a saber to open a champagne bottle, and Pullman was given the honors. Not only did he get to see his younger self as a life-sized statue, immortalized for all time, but he had a chance to open a bottle of booze with a sword. With the greatest fictional president blessing the latest location of premium experience movie theaters, the future bodes well for D.C.'s Drafthouse.
Alamo Drafthouse Presents Cinema's Best Presidents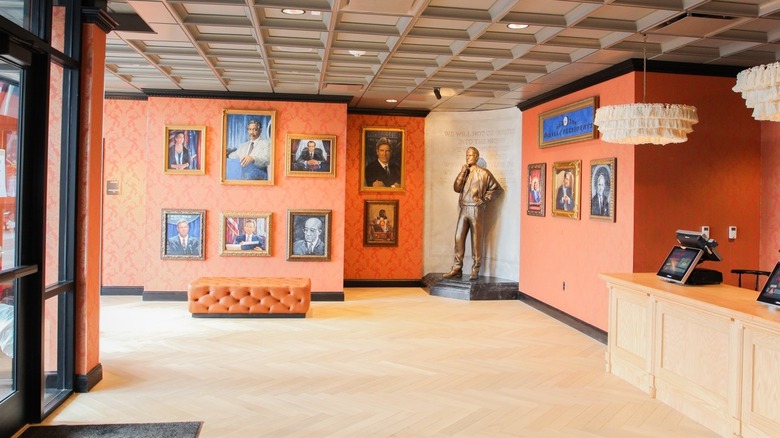 Bryce Bernier
The 45,000 square foot theater complex features nine screens and nearly 900 seats. This is the first Alamo Drafthouse right in downtown D.C., joining two locations in northern Virginia that serve the greater D.C. area. The theater is located at 630 Rhode Island Ave NE, adjacent to the Rhode Island Aven-Brentwood metro station and is hard to miss with its massive red and silver minimalist geometric design.
The "Hall of Presidents" in the lobby pays homage to 11 of cinema's greatest movie presidents, including portraits of Kevin Kline's President Kovic from "Dave," Harrison Ford's President Marshall from "Air Force One," Morgan Freeman's President Trumbull from "Deep Impact," and more. The centerpiece, of course, is the life-sized statue of Pullman's President Thomas J. Whitmore from the 1996 film "Independence Day," where he must rally the flagging forces of the world's militaries to stand up and fight for the survival of Earth. His famous speech is engraved on the wall behind the statue, ready to inspire any movie-goer that happens to walk by.
Get Up and Go to the Big Show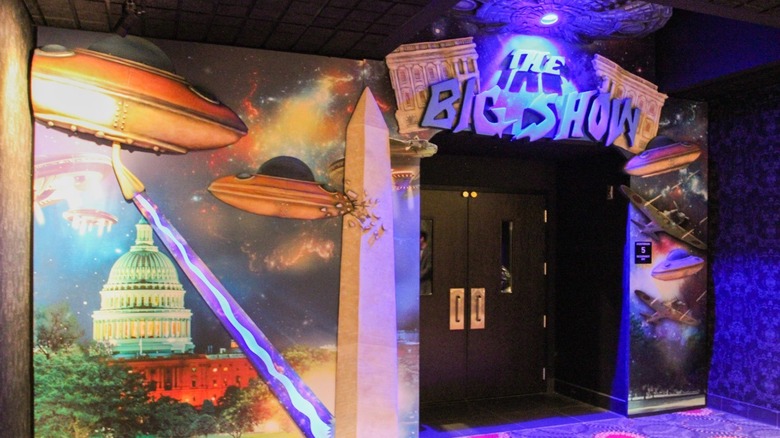 Bryce Bernier
In addition to the statue of President Whitmore, the theater pays tribute to "Independence Day" with the design for its Premium Large Format Standard auditorium, boasting the largest movie screen of any theater in D.C. The auditorium features 217 reclining seats, a state-of-the-art 4K Laser projection system, Dolby Atmos audio technology pumped through 76 speakers, and a massive 66-feet wide by 28-feet tall screen. That's more than half as tall as the Hollywood sign, and longer than your average semi truck. The entrance to this auditorium, called "The Big Show," features an "Independence Day"-themed wall and doorway, with alien ships attacking the White House and biplanes trying to shoot them down. 
Enjoy a Cocktail Shaken, Not Stirred at The Highbinder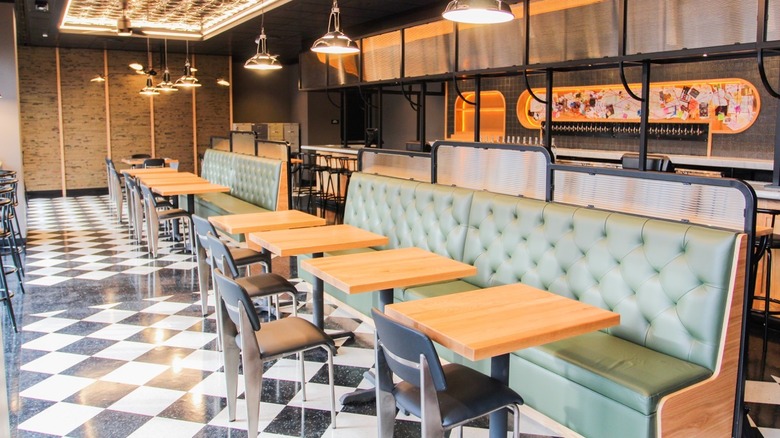 Bryce Bernier
For those feeling a little less out-of-this-world, you can get out of your head with a few pints at the theater's stand-alone bar, The Highbinder, which is inspired by political spy thrillers. The bar, which features a black-and-white diamond patterned floor and industrial chic fixtures, is exactly the kind of place you'd expect to see Jason Bourne or James Bond hanging out, and it comes complete with a special drink menu of cocktails based on spy movies. Here's hoping they have a Vesper!
A Bit of Movie Magic for the Holidays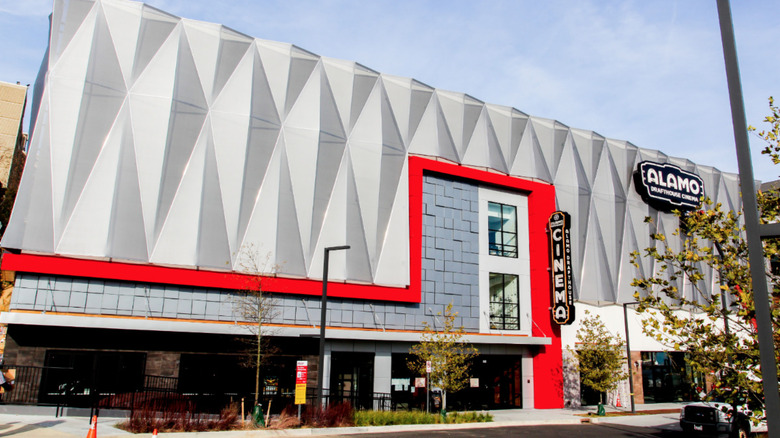 Bryce Bernier
People have been slowly returning to theaters, with vaccinated patrons feeling more safe than they might have trying to see a movie in 2020. The Alamo Drafthouse Cinema location will feature some of the biggest Hollywood releases coming this holiday season, including Marvel's "Spider-Man: No Way Home," the highly anticipated sequel "The Matrix Resurrections," and the Steven Spielberg remake of "West Side Story." 
Signature Programming, well known to Drafthouse attendees, will begin in January. Movie Party screenings will celebrate movie classics with props, themed drinks, and more. Brunch Screenings offer — you guessed it — a brunch menu for fans enjoying a late-morning weekend movie, while Terror Tuesday and Weird Wednesday highlight horror and genre finds that are sure to surprise your average movie-goer. 
Guests who visit through the "soft opening" between now and December 15, 2021 will receive 25% discounts on select food and non-alcoholic beverages. Tickets are on sale now at Drafthouse.com.