Shows Like Game Of Thrones You Definitely Need To See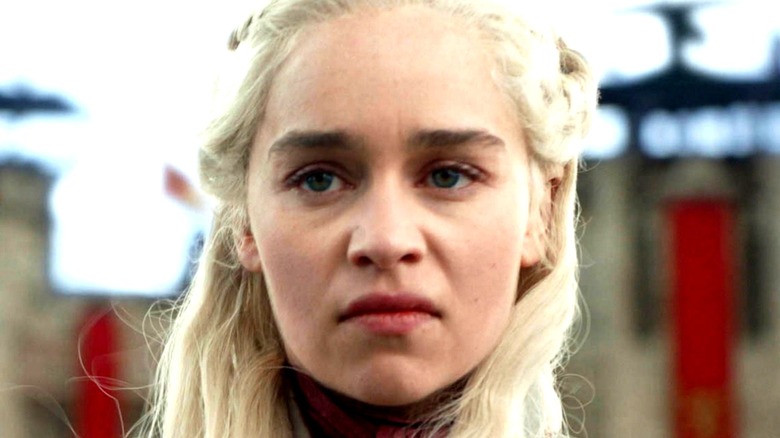 HBO
Yes, some years ago, "Game of Thrones" ended — a walker was killed, a dragon burned a throne, a boy who couldn't become king became the king, and a fanbase went wild. But whatever disappointments "Game of Thrones" ended with, the show still began with undeniable promise.
It wasn't like the others. It was a big-budget fantasy series — a rarity at the time — and rewrote entire conceptions about narratives driven by morality. The good would no longer benefit from the tradition of hand-holding wholesomeness. The bad could win, and would win often. Unlike other fantasy epics like "Star Trek" or "Star Wars," no character was safe, and the pain would cut deep each and every time a main character died with little warning.
"Game of Thrones" was a cultural sensation and an absolute money-maker for HBO for the above reasons and more. It found the perfect blend of history, lore, and mythology. The verbal poetry traded between friends and foes made even exposition interesting, while the ridiculous season-to-season set pieces provided plenty of action.
It's entirely subjective to state that the sting over the way the series ended still hurts. Some fans grieved, and many longed for a comparable experience. All of the shows on the following list are completely unique, but share several similarities with "Game of Thrones." If you miss the spark of the show's early seasons, you should find a lot to like here.
Rome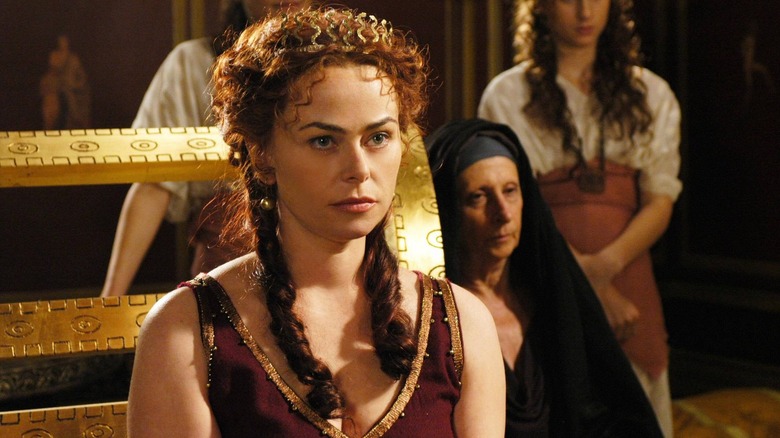 HBO
Imagine an alternate universe where all the political intrigue, backstabbing violence, and sex — group sex, orgy sex, just all different kinds of sex —associated with ancient Rome no longer had an association with ancient Rome. Boring, yes?
Years before the younger and better-treated "Game of Thrones" entered the family, HBO's "Rome" was the network's financially-spoiled firstborn. As far as the sibling resemblance goes, both "Rome" and "Game of Thrones" are understood as period pieces, but their respective periods sit several realities apart. Instead of following a world filled with zombies, dragons, and face-shifting child assassins, "Rome" is a historic-ish retelling set in our universe during the very last days of the Roman Republic, right before it became an empire. 
Its story is told through the lives of those under the regime, a setting built for character comparisons. There's the cunning and merciless Gaius Octavian, played by Max Pirkis, who gives off Joffrey Baratheon vibes. You have Polly Walker as Atia of the Julii, who seems like the model for Cersei Lannister. And of course, you have a few shared "Game of Thrones" stars in Indira Varma (Ellaria Sand) as Niobe, along with Tobias Menzies (Edmure Tully) as Marcus Junius Brutus.
Despite winning seven Emmys in 2006 and receiving critical praise, "Rome" was canceled before the second season even aired for financial reasons. According to Entertainment Weekly, it would be a decision that HBO would reportedly live to regret.
Spartacus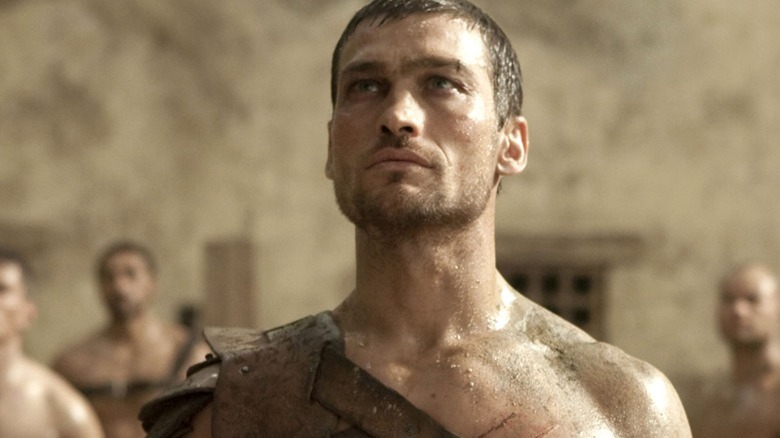 Starz
At least a couple dozen times in "Spartacus," a sequence with men impaling and slashing each other will play out — all shirtless with 16-pack abs, mind you — as blood spews dreamily to the tune of rock music. It's such a routine, semi-dumb thing, and yet it works every time. Titillation and all, "Spartacus" knew what it was in 2010, even if that meant being left off of the Emmy Award winner conveyor belt.
Like any bloody drama disguised as a sports movie, "Spartacus" sets one wronged and dogged individual against an entire immoral institution. It's pretty much "Gladiator" with a political dash of "Game of Thrones" and a topping of testosterone alloyed "300." The late Welsh actor Andy Whitfield assumed the lead role as a former soldier who is forced to become a gladiator and ultimately leads a revolt against his Roman masters. 
What's most unfortunate about this TV show, however, comes from the real world. Whitfield, with his piercing eyes and unforgettable presence, served as the heart and soul of the Starz hit until he no longer could. As reported by the New York Daily News in 2010, Whitfield was diagnosed with non-Hodgkin lymphoma shortly after the first season. While the network tried its best to accommodate his condition, Whitfield relapsed and died on September 11, 2011. He was replaced by Liam McIntyre.
The series would go on to provide a satisfying serving of bloody escapism for two additional seasons, but to this day, Whitfield's remarkable performance from "Spartacus" lives on.
Black Sails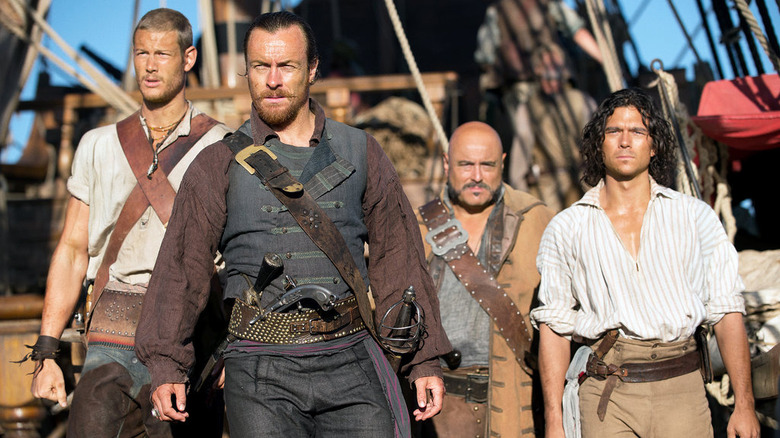 Starz
It would be far too easy to dismiss "Black Sails" as a lesser "Game of Thrones" that takes place on the open seas. But, well, that's pretty much what it is. Sorry. Westeros' influence can be seen in the tension that bubbles behind feeble alliances, the array of morally gray personalities, and the narratives centering on greed, ambition, and the quest for power.
Starring Toby Stephens ("Lost in Space") as Captain Flint, "Black Sails" is a loose prequel to Robert Louis Stevenson's "Treasure Island." But, in a way, it's also an origin story for Flint told from the perspective of John Silver, who meets the infamous captain and his fearsome crew as they thieve and pillage throughout New Providence. 
Executive produced by Michael Bay, there's a certain Bayhem to the proceedings that can't be denied, from the blood smears that linger on camera lenses to the rated-R embrace of prostitution that comes off as welcomingly three-dimensional. "Black Sails" may not have become a prime-time behemoth like "Game of Thrones," but it built a four-season foundation on the backs of a dedicated fanbase. For some, this speaks louder than any critical recognition ever could.
Succession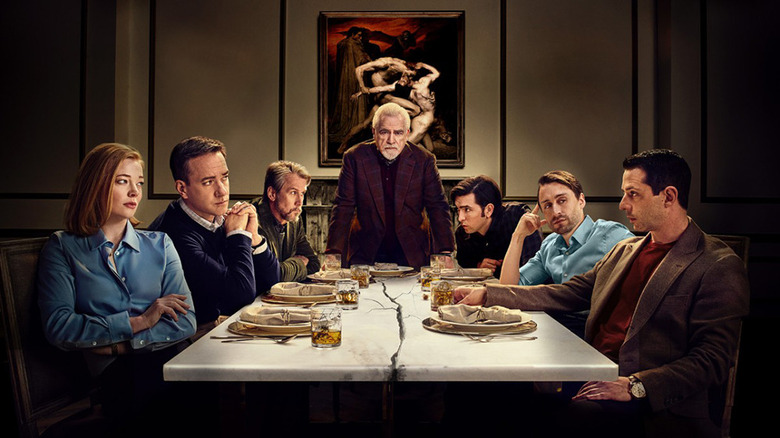 HBO
There's a five-part formula for a "Game of Thrones"-style show. First, daddy issues a-plenty. Second, sibling-on-sibling violence is permitted, either emotionally or physically, if not both. Third, include a sought-after throne (in "Succession" terms, that's the Waystar CEO's chair). Fourth, create a big bad who viewers can love to hate in all their nuanced glory. And, finally, allow the smaller villains to be both everywhere and nowhere; play the game right, and anybody can win.
While "Succession" deserves to be considered separately from "Game of Thrones," it also carries inescapable thematic similarities. Take Westeros, an all-encompassing land full of turf wars, monsters, and betrayal. Then, consider "Succession," set in America's media industry, which is plagued by — you guessed it — turf wars, monsters, and betrayal. And how about the character parallels? Kendall Roy (Jeremy Strong) is his father's second-born and spends a good portion of three seasons fighting to sit at the very top while ignoring his own daddy issues. He's Tyrion Lannister with more ambition and less charm. Then there's Shiv Roy, the only girl in the family, perpetually underestimated by her chauvinistic father Logan (Brian Cox), much like Cersei (Lena Headey).
It's a family drama all tangled up in codependent relationships and wrapped around greed and collective trauma. And, oh yes, "Succession" also has Greg Hirsch (Nicholas Braun), the single best reason to watch the HBO series.
The Expanse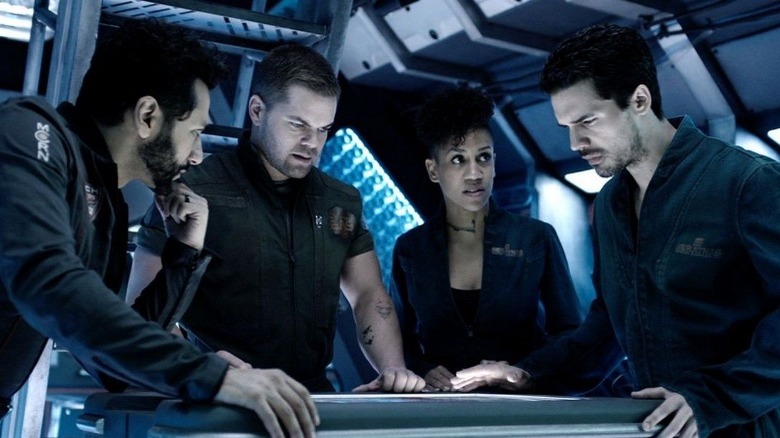 Amazon Studios
I don't think there's a way to avoid comparing "The Expanse" to "Game of Thrones." In terms of scope, one replaces a chess game on land for a game in space. The winter zombies known as White Walkers are substituted for a strange alien technology called the protomolecule. Rather than an influx of space-battles and monsters of the week, the six-season series grounds itself in political and class relationships and in-depth worldbuilding.
Adapted from James S. A. Corey's book series of the same name, "The Expanse" takes place 300 years into the future, when humans have split into factions and colonized Mars and the asteroid belt (the people who live in the last location are also known as "Belters"). Like the Starks on "Game of Thrones," a good portion of the action is depicted through the eyes of Earth natives Amos Burton (Wes Chatham) and James Holden (Steven Strait), along with the Martian-born Alex Kamal (Cas Anvar) and Belter Naomi Nagata (Dominique Tipper), who make up the crew of the Rocinante. From the first season to the last, viewers are taught, in the most subtle of ways, about the physics of space travel, minus the boring scientific exposition. Also like "Game of Thrones," conflicts in "The Expanse" are morally gray, while people's motivations are grayer.
Despite having an turbulent early existence thanks to getting canceled in 2018, "The Expanse" didn't lose any quality after being revived by Amazon.
Lost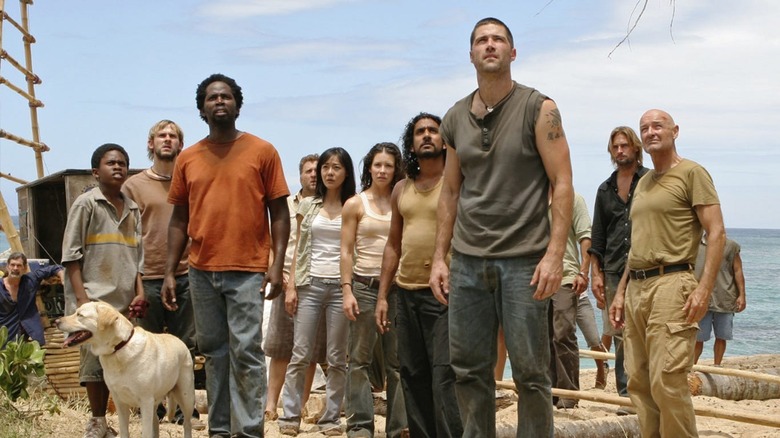 ABC Studios
Ah, right, "Lost," the TV series famous for how captivating it was until its latter half arrived, when it suddenly wasn't. Sound familiar? From the very start, when Jack Shepard (Matthew Fox) opened his eyes to abject chaos on a beach, viewers knew that this show was different. "Lost" wouldn't hold your hand or make an effort to sing you lullabies full of exposition. Instead, it intentionally confused and disorientated the audience until reaching the end became more of a need than a want.
"Lost" was one of the first prime time series to generate Wiki-inspired detectives by the millions. According to the New York Times, "Lost" brought in 18.5 million viewers during its series premiere in 2004 and averaged 13.5 million by its finale. The hype over the individual journeys of Kate (Evangeline Lilly), Sawyer (Josh Holloway), Hugo (Jorge Garcia), Charlie (Dominic Monaghan), and John Locke (Terry O'Quinn), in addition to many others, felt like a weekly obsession.
What depreciates all that, though, is the finale. In fact, "The End" lives on as an example to showrunners on how not to end a show, proving that an ending ought to be earned over simply given. Much of the disappointment was predicated on an insurmountable hype, which went as far as the president of the United States. According to E! Online, Barack Obama rescheduled his State of the Union address so that it wouldn't conflict with the "Lost" finale. 
The ending was bad in the same way a turkey is barely a turkey without stuffing. Questions about the deserted island and the people stranded there were answered in the sloppiest of ways. Still, years later, the journey matters more than the questionable end.
Mad Men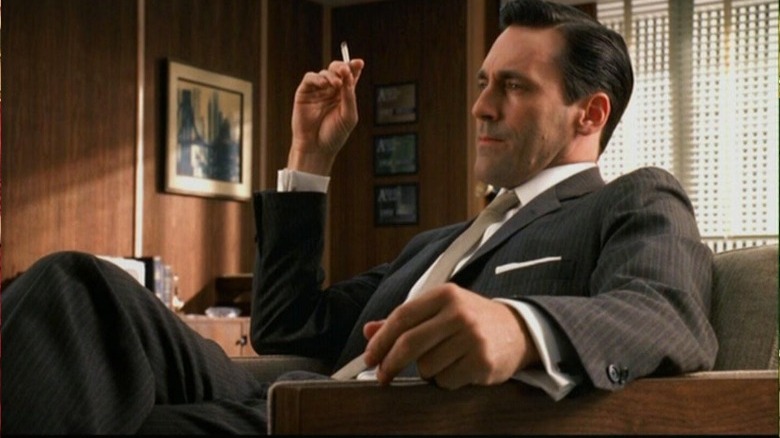 AMC
Semi-wealthy, chain-smoking people in search of both literal and philosophical success set against backdrop of an incredibly toxic environment — in this case, advertising. If that doesn't give you "Game of Thrones" vibes, I don't know what will.
"Mad Men" was, and still is, one of the best examinations of authority and power, and how those both intersect with everyday life. It's largely addressed through an American custom: the conflict between what we desire versus what we truly need. Set on Madison Avenue in the 1960s, Don Draper (Jon Hamm) is the protagonist that everything else revolves around. That includes his family, particularly his complex other half, Betty (January Jones), and co-workers like the ambitious but self-destructive Peggy (Elisabeth Moss) and the not-so-brilliant but sneaky Pete (Vincent Kartheiser). 
Don's out-of-reach throne is, of course, the American dream, while his enemies, like so many Mad Men personalities, are self-inflicted, largely by design. "Game of Thrones" was a series that produced spells through the morally gray. "Mad Men" is no different.
Vikings
History Channel
At a certain point, it becomes a near impossibility to imagine a medieval TV show without things feeling the same. Everyone, apart from the wealthy, is dusty. Wigs are absolutely everywhere. Each scene is full of cold colors and even colder glares. Good people can, and probably will, die with the regularity of a morning sunrise.
In this way, the History Channel's euro-fantasy drama shares a good deal aesthetically with "Game of Thrones" — clan-on-clan violence and family hostilities included — though it's built on a historical foundation, not a supernatural one.
At its start, "Vikings" follows the trajectory of the legendary hero Ragnar Lothbrok (Travis Fimmel), who transitions from a farmer to a warrior to an eventual king. The six-season series boldly skates by on the moral ambiguity of a people who conquer, loot, kill, and hope to die so that the gods can usher them beyond the gates of Valhalla, because nuance is good. This show is good.
Boardwalk Empire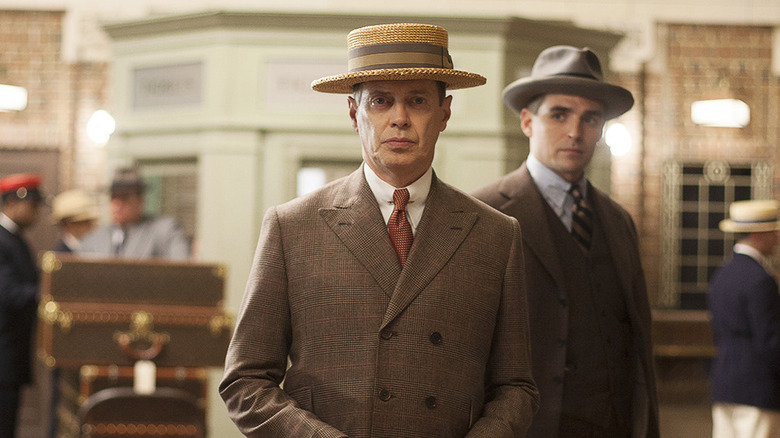 HBO
There's an almost irrational amount of flaunting going on in "Boardwalk Empire." It's as if some suit said, "Okay, let's have Martin Scorsese direct the pilot and Mark Wahlberg work as producer. But also, how about Terence Winter as the creator? You know, the dude who worked on 'The Sopranos'? And to top it off, how does a cast headlined by Steve Buscemi, Michael K. Williams, and Michael Shannon sound?" That's "Boardwalk Empire," a period drama that barged onto HBO with the highest of expectations. 
Buscemi plays Enoch "Nucky" Thompson, a smooth-operating New Jersey politician and gangster in disguise. By day, he's the treasurer of Atlantic County. By night, he pushes alcohol, taking full advantage of Prohibition to enrich himself. Episode by episode, Nucky plays a chess game among powerful men, including no less than Al Capone (Stephen Graham), with questionable morals, trading political talking points for bullets. "Boardwalk Empire" was a show designed for success during HBO's golden era, but fell short of achieving the same lasting praise as "The Wire," "Deadwood," and "The Sopranos."
The Crown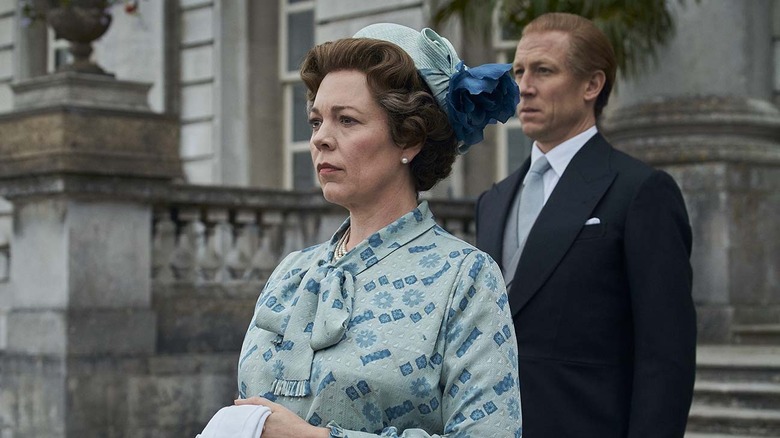 Netflix
"The Crown" shares one main theme in common with the saucier, sexier, and more violent items on this list: family. Yes, the Netflix drama is based on the historic timeline of Queen Elizabeth II and the royal family, but it's also more than that. Politics come into play at every turn. It's a real-world tool for learning how every king or queen must balance their own desires with the needs of a country, empire, or realm.
So much of the appeal of "Game of Thrones" and TV shows like it stems from the examination of the people behind the personas. Queen Elizabeth II may be stern and unmovable in public, but she softens in private, as delicately portrayed by Claire Foy and Olivia Colman. "The Crown" may not have the winter zombies, magic, and dragons, but it's a marriage between a political and ancestral drama. In practical respects, that makes it feel as much like "Game of Thrones" as any other show.
The Tudors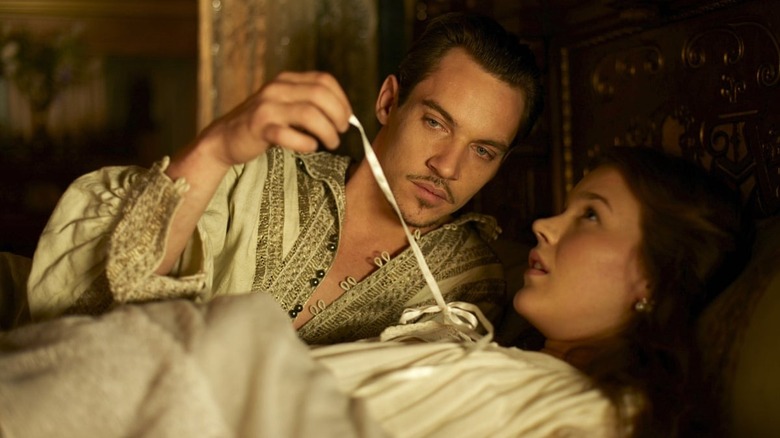 Showtime
This series lies to the audience from the start: King Henry VIII never looked this good. In all of his even-gazed, bone-structured brilliance, Jonathan Rhys Meyers plays the man in question, with the even better-looking Henry Cavill appearing as his bestie Charles Bradon, the first Duke of Suffolk. And then, even more visual lies: Anne Boleyn is played by the beautiful "Game of Thrones" alumni Natalie Dormer. Much like "Game of Thrones" and "Succession," "The Tudors" revels in men with unbridled power — although, in the most specifically Tudor sort of way, they also possess unbridled lust — while telling a story about a king's reign.
As a true-to-life period drama, "The Tudors" doesn't take itself as seriously as "The Crown." But, through soapy dramatics and cast members that are too damn pretty for their own good, it's a series as tantalizing as "Game of Thrones," with twists that are just as compelling. Watch it for the historical or cultural elements; stay for the hot everything-else.
Kingdom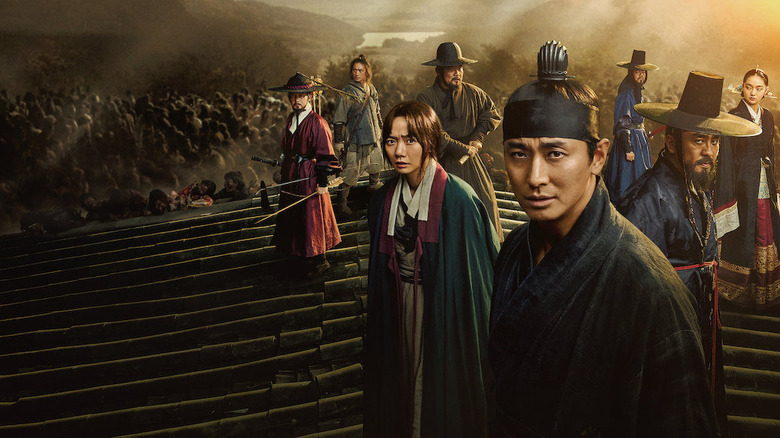 Netflix
This Korean series is for the people who viewed every other show on this list and thought, "You know what? This isn't bloody enough." "Kingdom" is the TV show you get when you introduce zombies to the questionable humans, political intrigue, and great production values that exist in every other "Game of Thrones"-like series.
The period drama takes place during Korea's Joseon period, a few years after the Battle of Unpo Wetland — yes, more actual history. Crown Prince Lee Chang (Ju Ji-hoon) is on the verge of losing his stake to the throne over a concubine-driven technicality; he's about to become a big brother. Meanwhile, the war left a good deal of the country in a state of famine. That's when zombie-like disease begins reviving the dead, kicking off a whole new round of backroom bickering.
What "Kingdom" lacks compared to an old-school ratings juggernaut like "Game of Thrones" it makes up for with an incredible cast, a decent tie to history, and plenty of twists and turns that make this an incredible watch.
The Last Kingdom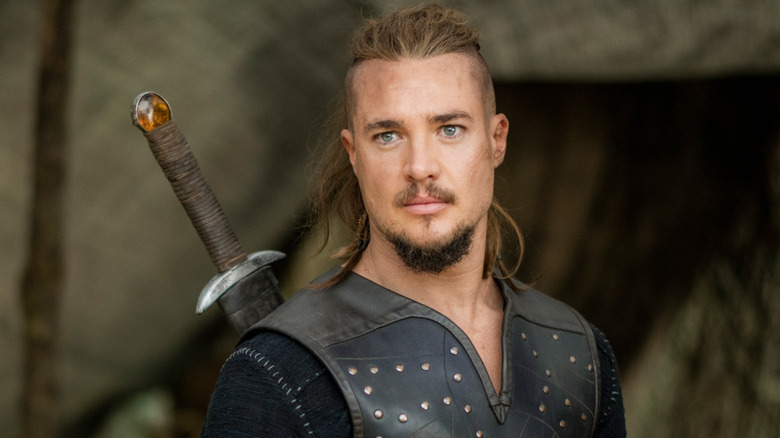 Netflix
Once again, "The Last Kingdom" checks all the boxes for a feels-like-"Game of Thrones" show. It has various sets of realms, kings and queens, religious undertones, and a dark, medieval presence.
As yet another pseudo-historical drama, "The Last Kingdom" centers its plot on the story of Uhtred of Bebbanburg (Alexander Dreymon) during the late ninth century of the proto-English era. Apparently, the Vikings weren't very nice people, and during this period they busied themselves with plundering English settlements. What makes this an especially juicy situation, however, comes by way of our boy Uhtred, who was a Viking at birth, but was captured by the Danes and raised as family. Enter the existential crisis to end all existential crises — when the Vikings say hello, Uhtred is suddenly presented with an impossible choice.
Partially inspired by Bernard Cornwell's novel series "The Saxon Stories," "The Last Kingdom" is a show that does everything you want a "Game of Thrones"-like series to do. Great acting, massive battles, and some good ol' political strife are the sweets we come for, and "The Last Kingdom" sends us home full and happy.
House of Cards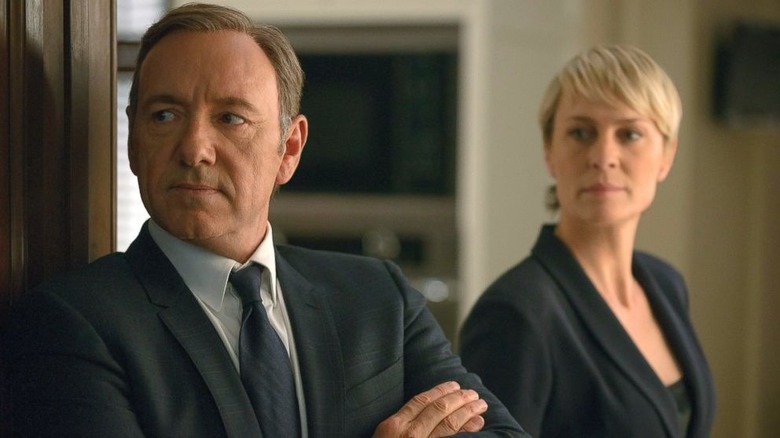 Netflix
The first thing we need to talk about is the elephant in the room. In October 2017, actor Anthony Rapp informed Buzzfeed News that Kevin Spacey made a sexual advance towards him in 1986, when Rapp was 14 years old. Following the revelation, Spacey was fired from "House of Cards," with the final season subsequently re-written to remove him from the show. Frank Underwood was dead, and his on-screen wife, Claire Underwood (Robin Wright), replaced him.
For five straight seasons before that, "House of Cards" seemed inseparable from the venomous, murderous worm known as Frank, a politician who schemed his way to become the president of the United States. He was the embodiment of its themes; "House of Cards" is a story about profits over politics, in which the Underwoods seek power at the expense of the American public. Frank — and Claire, to a lesser degree — cheated, schemed, stole, and killed in the name of this singular pursuit. Over a five-season stretch, they epitomized every "Game of Thrones"-worthy villain, unleashing schemes from no less a throne than the Oval Office.
Ironically, as far as Spacey is concerned, art is imitating life. He did a terrible thing, and he portrayed a terrible character who also did terrible things. That's the one and only reason why "House of Cards" makes sense on this list. At times, real events and people can be just as disheartening as any "Game of Thrones" arc.