Robin Wright Fought To Save The 'House Of Cards' Final Season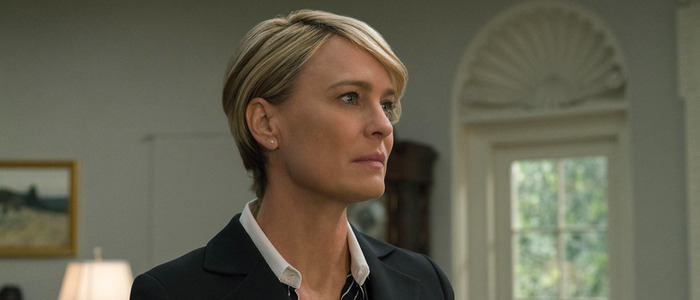 After sexual assault and misconduct allegations lead to Kevin Spacey being fired from House of Cards, many assumed the Netflix series was over and done with. But the series is returning for its final season, and we apparently have star Robin Wright to thank for that. Wright lead the charge to finish the show off properly, making sure the remaining cast and crew were able to be paid.
When Netflix fired Kevin Spacey following sexual misconduct allegations, the future of House of Cards was in doubt. The show was about to begin production on its final season, but the production was shut down. The standard assumption was that the show would be given the axe entirely, but a vocal group of folks online pushed for co-star Robin Wright to be bumped up to the main character. That's just what Netflix did, elevating Wright to lead. And apparently, Wright was a driving force to give House of Cards a proper final season.
In an interview with The Talk (via Vulture), House of Cards co-star Patricia Clarkson commented that Wright pushed for the final season. "Robin led all of this charge so that people would save their livelihoods, because when the show goes away, some people don't get paid," Clarkson said. "I think it's going to be a stunning, stunning new season and I'm thankful for it...We have beautiful showrunners, Frank [Pugliese] and Melissa [Gibson], and they killed themselves to rethink the whole show."
For her part, Wright has weighed-in on the whole scenario by distancing herself and the show from Spacey's toxic aura. "Kevin and I knew each other between 'Action' and 'Cut' and in between setups, where we would giggle," Wright told The Today Show. "I didn't know the man; I knew the incredible craftsman that he is."
At the conclusion of House of Cards season season 5, Kevin Spacey's evil President Frank Underwood resigned the presidency, allowing his wife and Vice President Claire Underwood (Wright) to assume the office. Frank believed that he and Claire would continue to work together doing various evil, nefarious things, but Claire turned on Frank in the end. The series seemed to be setting up a war between Frank and Claire for the final season, but now that's obviously not happening. In fact, no one really knows what is happening in House of Cards season 6. We can only assume that Frank Underwood will be revealed to have died at some point between seasons, and that Claire will assume complete control of the presidency.
Diane Lane and Greg Kinnear have joined the show for its final season, and cast members Michael Kelly, Jayne Atkinson, Patricia Clarkson, Constance Zimmer, Derek Cecil, Campbell Scott and Boris McGiver are returning as well.
House of Cards season 6 will arrive on Netflix sometime in 2018.