The Boys Season 3 Reveals Blue Hawk, Another Superhero You'll Probably Love To Hate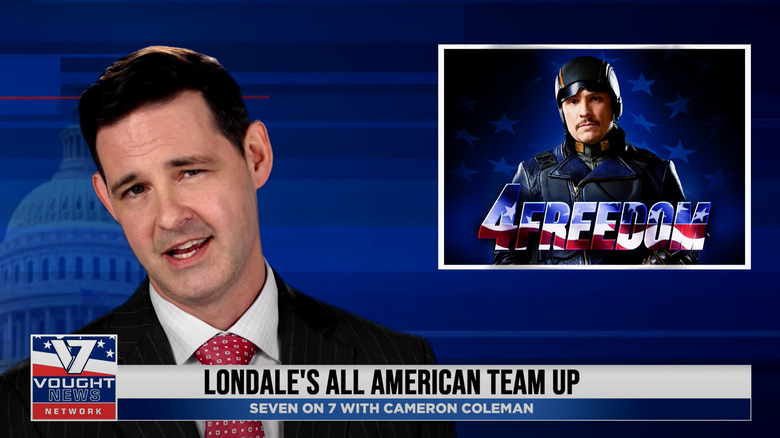 Amazon Studios
It's the seventh day of the month, and that means it's time for another horrifyingly prescient mini-episode of the fake Vaught News Network show, "Seven on 7 With Cameron Coleman." This month, we got a sneak peek at a new patriotic supe we'll probably love to hate, a few hints at what Starlight (Erin Moriarty) and Hughie (Jack Quaid) have been up to since we last saw them, and a chilling attempt at a heartwarming monologue from Homelander (Antony Starr).
Introducing Blue Hawk
In one of the segments in this month's "Seven on 7," we're introduced to Blue Hawk (Nick Wechsler), another superhero who inhabits this weird world. He's not to be confused with Groundhawk, who was introduced last month and is this universe's riff on Wolverine from the X-Men. Blue Hawk is an entirely new character to the series and does not come from the comic series by Garth Ennis and Darick Robertson, so he's still a pretty big mystery. The clip explains that Blue Hawk will be the new face of "My Sheets Guy" Mickey Longdale's upcoming 4Freedom brand of products. You might remember Longdale from the very first "Seven on 7," where they spoofed Mike Lindell, the "My Pillow Guy." Now he's making a whole like of freedom-based products, including "Patriot Paper" toilet paper and dark roast coffee. 
Blue Hawk will be the voice and face of these products, but we aren't shown any details beyond that. He will join several other new superhero cast members this season, including Jensen Ackles as Soldier Boy and Laurie Holden as The Crimson Countess. There will be tons of new faces on "The Boys" season 3, but there's no telling exactly where the plot will go, aside from Herogasm, of course. 
A Little Too Real?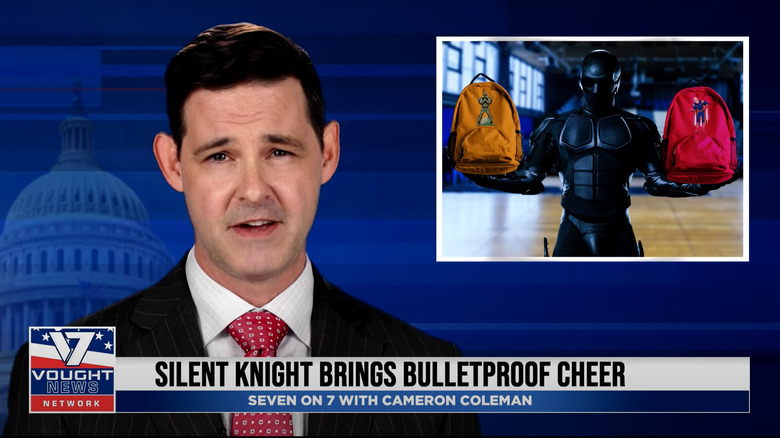 Amazon Studios
In other news, the featurette divulges that Gecko (David Thompson) was arrested for leaking Vought information and his unusual sex work side-hustle, and that in the process he blamed Starlight. Fans of the show know that she did indeed blackmail the poor guy, but no one would ever believe it given her outward demeanor. Her secret beau, Hughie, also briefly appeared dressed like a waiter, so at least we know he's doing okay. 
While all of the "Seven on 7" featurettes have been pitch black in their satire, this one might have taken it a step too far. In one of the segments, Black Noir (Nathan Mitchell) donates a bunch of Vought-branded bulletproof backpacks to school children "just in time for the holiday season." In the wake of yet another school shooting in America this month, in Oxford, Michigan, the satire feels too on-the-nose to be anything but heartbreaking. 
There's still no word on when "The Boys" will return for season 3, but at least we'll have monthly episodes of "Seven on 7" to give us our monthly dose of sardonic superhero stories.