The Boys Season 3 Teaser Gives Our First Look At Groundhawk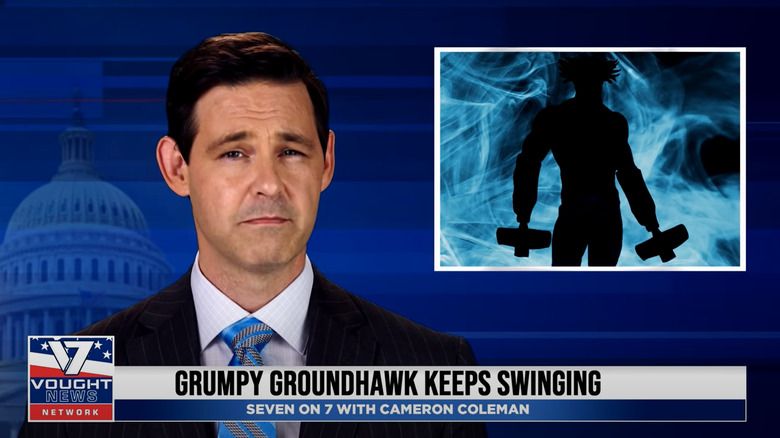 Amazon Studios
The folks behind "The Boys" released another of their Vought Seven on 7 teasers, and this one's a doozy. We get a tiny peek of new supe Groundhawk, some updates about the rest of the Seven, and there's a brand new fake commercial for VoughtLand voiced by series producer, Seth Rogen. Check out the latest "The Boys" teaser after the cut! 
A Glimpse of Groundhawk, A-Train's Race Cancelled, and VoughtLand, Baby!
The teaser gives us a tiny glimpse of Groundhawk, a member of the superhero group the G-Men, a spoof of the X-Men. He's a riff on Wolverine, with a short stature, feral nature, and gruff attitude. Unlike Wolverine, he's a raging alcoholic who kills people without a second thought. The teaser refers to his drinking problem, noting that he's been checked into Vought's rehab center for a record fifth time. Oh, and instead of having claws, he has hammer hands. Like actual hammers for hands. 
I don't know, ask comics creators Garth Ennis and Darick Robertson.
Among the other quick "news" segments is a bit condemning anti-supe Congresswoman Victoria Neuman (Claudia Doumit), a bit making fun of Secretary of Defense Robert Singer (Jim Beaver) who wants to run for president, and a quick video of Seven member A-Train (Jessie T. Usher) revealing that his upcoming race against fellow supe Mr. Marathon is canceled due to a secret mission that will pull him away. 
After the fake commercial break, there's a segment with former Payback member, Gunpowder, teaching kids about their second amendment rights. I know that this is supposed to be a Fox News spoof, but something about that bit hit way too close to home.
Let's All Go to VoughtLand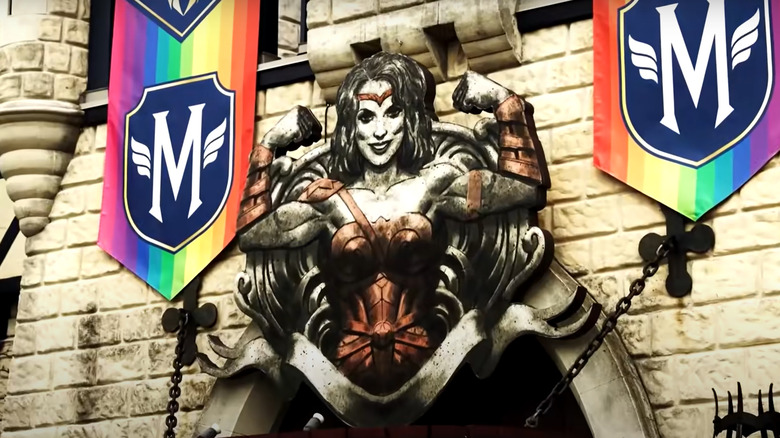 Amazon Studios
The best parts of these Seven on 7 teasers are inevitably the fake commercials, which have riffed on the My Pillow guy and showed off the Vought Global Wellness Center, which is like a rehab clinic for wayward supes. Now we're getting a glimpse of VoughtLand, a superhero theme park that is the kind of dystopian horror we've come to expect from "The Boys." 
Among the attractions? A dangerously fast rollercoaster called "Homelander: Extreme Flight," a musical journey through the history of superheroes with the Crimson Countess called "Ahoy! Soldier Boy," "Black Noir's Animal Adventures and Super Petting Zoo," a "Goodnight Starlight" evening fireworks special, and last but not least, the brand-new "Brave Maeve's Inclusive Kingdom," trying to capitalize on superhero Maeve (Dominique McElligott) being forced out of the closet to appeal to Voughts' LGBTQ demographic. It's brilliant satire that hurts almost as much as it makes me laugh. 
"The Boys" season 3 will debut on Amazon Prime sometime soon.