Battle Chasers Comic Is Becoming A TV Series From John Wick Creator Derek Kolstad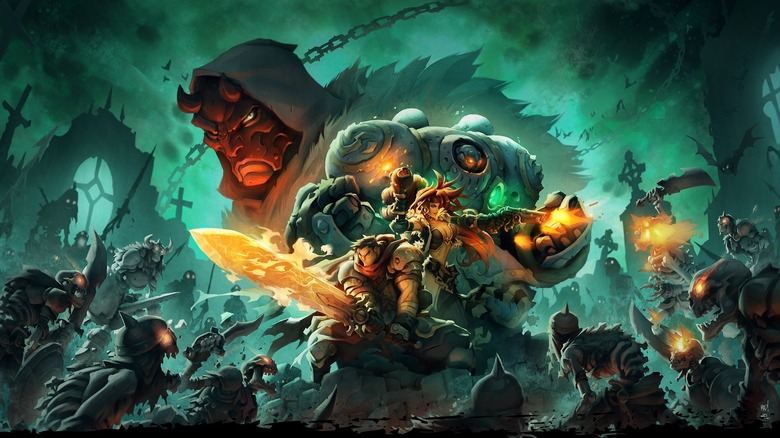 THQ Nordic
After creating the "John Wick" franchise, co-executive producing Marvel's "The Falcon and the Winter Soldier," and penning the script for "Nobody" with Bob Odenkirk this year, screenwriter/showrunner Derek Kolstad is crossing over into television with a series based on the comic book, "Battle Chasers." Alcon Entertainment, the studio behind "The Expanse," "Blade Runner 2049," and the upcoming anime series, "Blade Runner: The Black Lotus," will produce the new live-action "Battle Chasers" series.
Artist Joe Madureira was a rising young superstar in the world of comics, coming off a popular run on "Uncanny X-Men," when he first created "Battle Chasers" in 1998. Together with J. Scott Campbell ("Danger Girl") and Humberto Ramos ("Crimson"), Madureira was among the next generation of artists to launch their own creator-owned titles after the formation of Image Comics. "Battle Chasers" was part of the fledgling Cliffhanger imprint for Jim Lee's Wildstorm Productions, which itself was an imprint of Image at the time.
According to Deadline, Adrian Askarieh ("Hitman") will serve as one of the executive producers of the "Battle Chasers" show, which will feature visual effects from Zoic Studios. Kolstad had this to say about bringing the comic to the screen:
"As a storyteller–as well as a super fan of unapologetic and unrelenting action–I can't wait for people to feel as giddy as I did when I first laid eyes on 'Battle Chasers.' The world which Joe has created here, coupled with the characters therein, is both unique and yet familiar."
The Comic Book Equivalent of Game of Thrones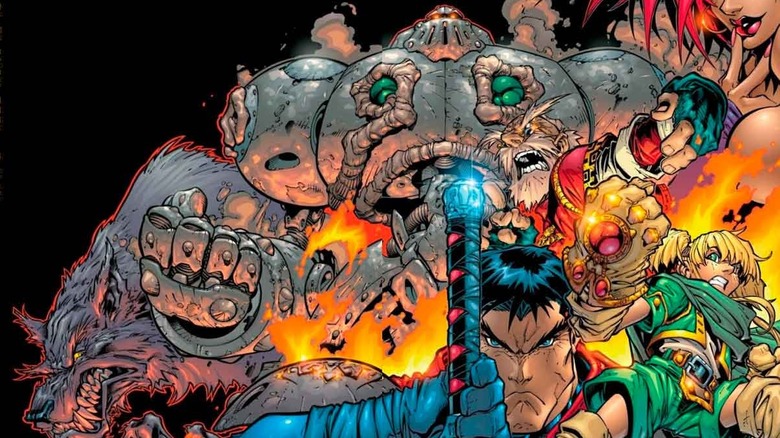 Wildstorm
When Kolstad says "Battle Chasers" is "both unique and yet familiar," he's undoubtedly talking about the fantasy tropes that Madureira utilized, such as swordsmen, wizards, golems, and gauntlets. Yet "Battle Chasers" could be another one of these shows, like "The Witcher" or "The Wheel of Time," that makes a play for the "Game of Thrones" audience. And like "Game of Thrones," the comic was notorious for its publishing delays.
After releasing nine issues in about three and a half years, Madureira left the series unfinished in 2001 and soon left comics altogether to become a video game designer. The final issue gave new meaning to the Cliffhanger comics label in that it ended on a cliffhanger, which never got resolved.
"Battle Chasers" eventually did become a video game in 2017, and this year, Madureira posted some images to Instagram, teasing "Battle Chasers" #10, which will be drawn by Ludo Lullabi. Of the TV series, he said:
"As a huge fan of 'John Wick,' you can imagine my excitement when Adrian and Derek reached out about turning 'Battle Chasers' into a show. It's not something I ever thought could happen, and I'm blown away to have this opportunity with so many talented folks, including Alcon and Zoic, behind it. Everyone involved seems to genuinely love the series, so I know it's going to be great."
We'll keep you posted on the development of the "Battle Chasers" TV series as it progresses.