Here's When Spider-Man: No Way Home Take Place In The MCU Timeline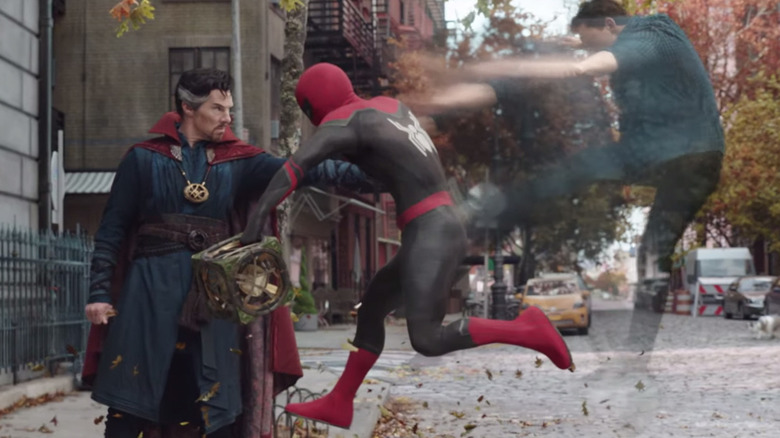 Marvel Studios
"Spider-Man: No Way Home" has fans drooling. Between the big of magical perfection that is Tom Holland returning to the role of Peter Parker, to watching the real-life relationship between Holland and his co-star Zendaya, to the fact that we're looking at many Spider-Men and villains, this is likely one of the most anticipated films on the way, period. 
There is so much news out there around this property and cast, from who's (maybe) going to be in it, to Tom Holland being cast as Fred Astaire in an upcoming film, it's hard to keep track of all that, much less where the film fits in the MCU timeline. Luckily, that's not a mystery anymore. Holland confirmed the timeline in an interview with BBC talk show host Graham Norton (via Collider). Holland and Zendaya also spoke about how, because she's taller, she caught him in a take as they fell from a bridge. We must protect these precious people with our very lives, everyone. 
Senior Year is Rough With a Not-So-Secret Identity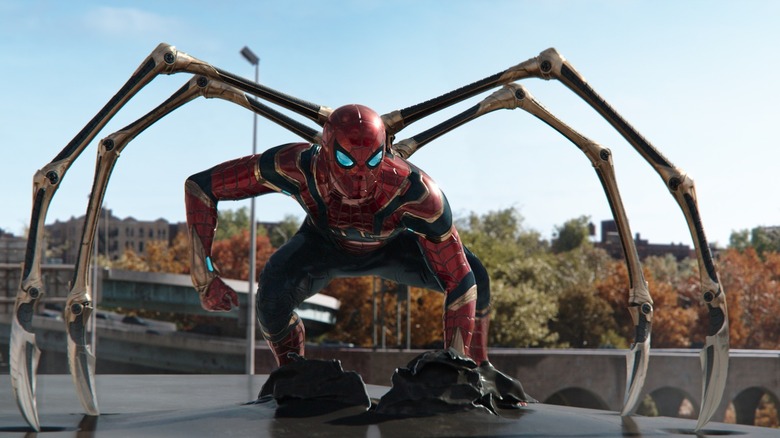 Marvel Studios
"Spider-Man: No Way Home" picks up right where "Spider-Man: Far From Home" ended. Holland said in the interview: 
"What's cool about this film is it picks up right after the second one finishes. So the second one finishes with a freeze-frame of Spider-Man, the third one starts with the same freeze-frame."
As you may recall, at the end of "Far From Home," J. Jonah Jameson (J. K. Simmons) tells the world that Spider-Man is none other than Peter Parker. Now the world hates him because they think he's a murderer. In "No Way Home," Peter visits Dr. Strange (Benedict Cumberbatch) to help him make the world forget that he's Spider-Man, messing with the multiverse. 
In addition, we learned (via Collider) the same info from the recently released press notes for the film. In the notes, Marvel President Kevin Feige says:
"'No Way Home' starts immediately after the events of 'Far From Home,' which was always something we wanted to do in a story – start right immediately at that moment. We're finally able to do that here, and it doesn't go well for Peter. As he starts his senior year, it is very chaotic and a dichotomy to where we met him in 'Homecoming,' walking into his sophomore year."
Even Spider-Man Has Bad Days on Set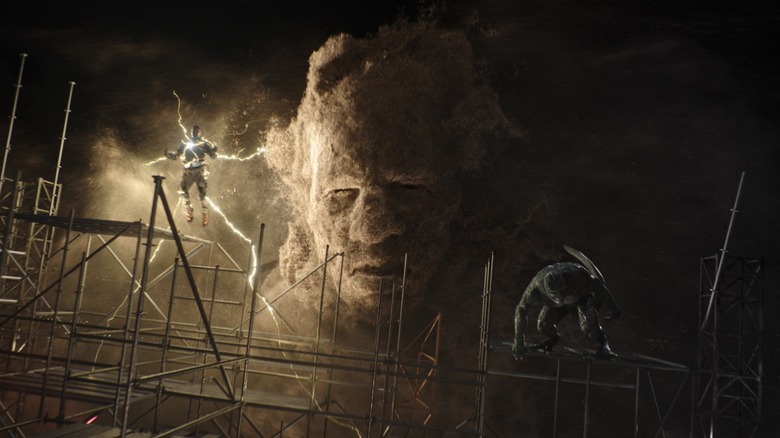 Marvel Press Site
If you haven't seen a single thing about "Spider-Man" No Way Home," we've got the synopsis for you:
For the first time in the cinematic history of Spider-Man, our friendly neighborhood hero's identity is revealed, bringing his Super Hero responsibilities into conflict with his normal life and putting those he cares about most at risk. When he enlists Doctor Strange's help to restore his secret, the spell tears a hole in their world, releasing the most powerful villains who've ever fought a Spider-Man in any universe . Now, Peter will have to overcome his greatest challenge yet, which will not only forever alter his own future but the future of the Multiverse.
The film is directed by Jon Watts, and the cast includes Tom Holland, Zendaya, Benedict Cumberbatch, Jacob Batalon, Jon Favreau, and Marisa Tomei. Please, Marvel, give us another trailer. Until then, let's just watch Holland talk about how his brother got cut from the film, and his worst day on set. "Spider-Man: "No Way Home" will hit theaters on December 17, 2021.