Will There Be A Raya And The Last Dragon Sequel? Here's What We Know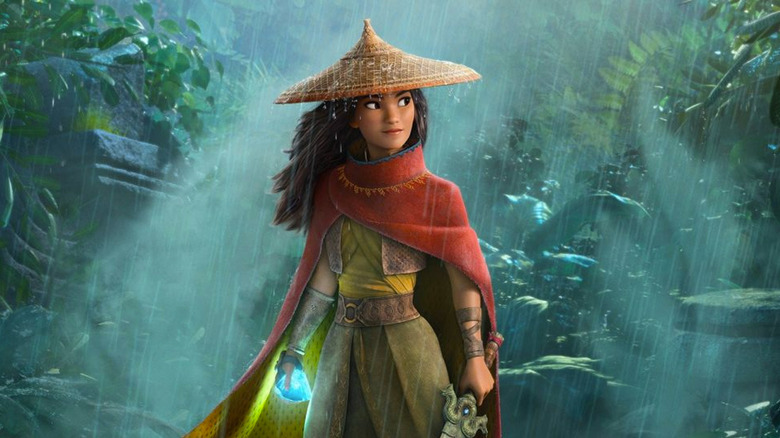 Disney
With "Raya and the Last Dragon," Disney continued its push towards more diverse stories across the company's many franchises and studios. The film follows the titular heroine on a quest to reunite her land against a ravaging plague with the help of the world's last living dragon. It stood out as a striking celebration of the South Asian cultures that are usually excluded from mainstream media, and utilized much diversity behind the scenes with screenwriters Adele Lim ("Crazy Rich Asians") and Qui Nguyen, as well as an all-Asian cast.
The film's box office success was impacted somewhat by a pandemic-burdened release, but "Raya" was still celebrated by critics and audiences alike, especially for its portrayal of such complex and varied female characters. Is a new adventure for Raya and her allies in development at Disney? Here's what we know so far.
There Are No Current Plans for a Sequel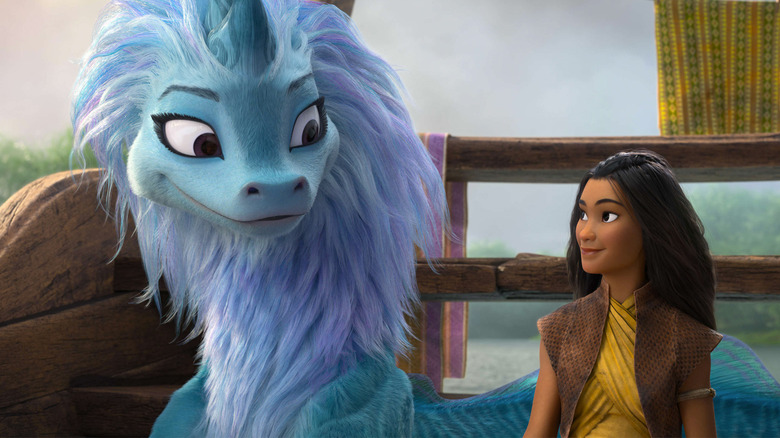 Disney
"Raya and the Last Dragon" ends on a pretty definitive note. With the help of the dragon Sisu (Awkwafina), Raya (Kelly Marie Tran) learns to trust in humanity again — a struggle that pits her against childhood-acquaintance-turned-enemy Namaari (Gemma Chan). After facing a betrayal at the hands of Namaari's clan, Raya loses her father to a ravaging plague, the Druun. But Sisu encourages Raya, Namaari, and their allies to work together to drive out the Druun once and for all, and in doing so, the disparate clans of Kumandra reunite.
With life restored to the realm, the film closed one chapter in Raya's story, but there are plenty of other paths that a sequel could explore within the rich world of Kumandra. Unfortunately, Disney has been quiet about a potential "Raya and the Last Dragon 2." There's been no announcement for a sequel yet, but that doesn't mean that "Raya" was a one-and-done feature for the studio.
Disney has never shied away from sequels, but the span of time between installments typically varies. With "Frozen," one of Disney's biggest success stories, a sequel was announced just two years after the release of the first film. Meanwhile, the studio waited four years before announcing a series for "Moana," another film that represented a big win on the diversity front for Disney.
A Sequel May Actually Be a Series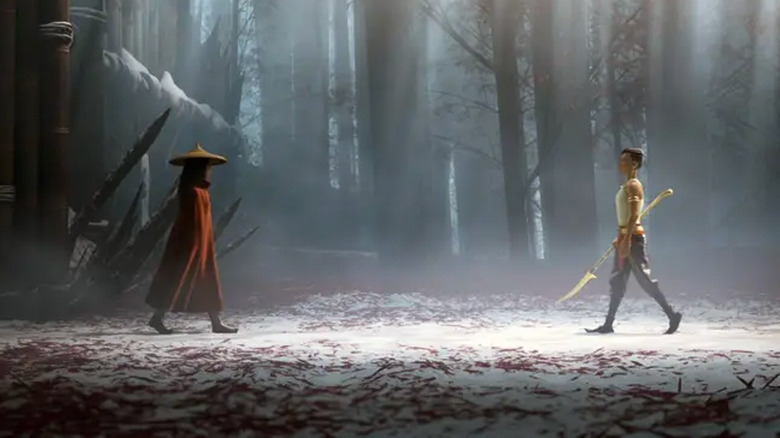 Disney
However, we need to consider Disney's apparent shift to series development. With Moana and another princess, Tiana, getting their own shows on Disney+, it's possible that the studio will look to expand Raya's world in a similar fashion. After all, Disney clearly sees their streaming service as the future of the company, so filling it with familiar characters, even new ones like Raya, could be key to growing their subscriber base. 
Whatever Disney has in mind for Raya, it's likely any new story won't be released for a few years. Disney typically takes around five or six years to develop their films. "Frozen" and its sequel are removed by six, as are "Wreck-It Ralph" and "Ralph Breaks the Internet."
Fortunately, actress Kelly Marie Tran seems up to return to play Raya. "I love this world and this character," Tran recently told Decider, before adding that she also "[had] not heard a thing" about a sequel. For now, fans of the film will just have to hope for an announcement in the future, and remain patient. After all, it took Raya many years to save her nation, so why should we expect Disney to rush this one?