1883 Trailer: Call Your Dad, Because The Yellowstone Spin-Off Is Almost Here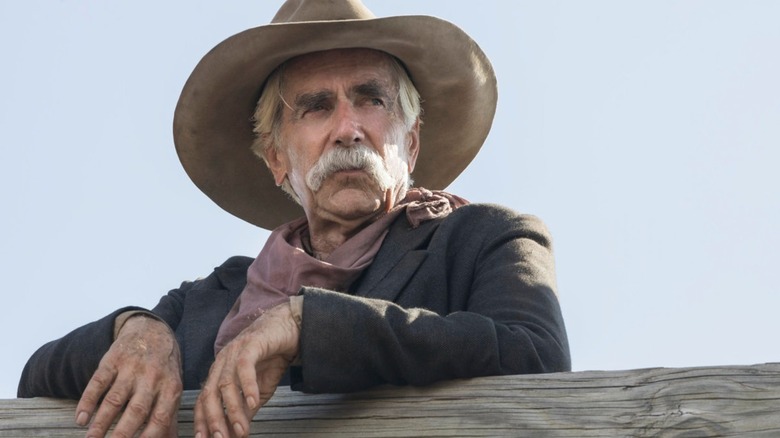 MTV Entertainment Studios
Break out the bolo tie and the good whiskey glass (the one that's not cracked), here comes a prequel to the Emmy-nominated western series "Yellowstone." Hailing from "Sicario" writer Taylor Sheridan, "1883" takes place before the events of "Yellowstone," which follows the Dutton family, led by John Dutton, dealing with land developers and a nearby reservation from their Montana ranch.
The series stars Sam Elliott ("The Man Who Killed Hitler and Then Bigfoot"), Grammy winners Tim McGraw and Faith Hill, Billy Bob Thornton ("Goliath"), Isabel May ("Run Hide Fight"), and LaMonica Garrett ("Arrow"). "1883" is produced by MTV Entertainment Studios and 101 Studios, and is executive produced by Sheridan, John Linson, Art Linson, David Glasser, Ron Burkle, and Bob Yari. The synopsis:
1883 follows the Dutton family as they embark on a journey west through the Great Plains toward the last bastion of untamed America. It is a stark retelling of Western expansion, and an intense study of one family fleeing poverty to seek a better future in America's promised land – Montana.
"1883" premieres on December 19th in a dedicated simulcast event, and Paramount+ has dropped a trailer for the highly anticipated series. Check it out below.
1883 Trailer
"Yellowstone" is currently in its fourth season, the premiere of which shot the show to the #1 series of 2021 across all forms of television, scoring over 14 million viewers in Nielsen's L3 ratings (which is separate from streaming stats, so it's quite impressive, indeed).
In February, it was reported that another spin-off series, "6666," will expand the Yellowstone-verse by focusing on the West Texas-based Four Sixes ranch. The ranch is one of the most far-famed family businesses in the state's history, and still operates today over 260,000 acres of land as it had since 1870. There and then, civil law clashes against Mother Nature, as it does in its sister series. 
That very lawlessness is what gives any westward expansion series a built-in tension mechanism (think "Deadwood"). If you're not getting into disputes with indigenous people that you're stealing the land from, or cattle rustlers stealing from you, you have to worry about Sam Elliott kicking you in the face while you're resting (it's widely regarded as a colossally bad idea to disappoint any Sam Elliott character, so the guy in the trailer probably had it coming). For Bob Dutton (McGraw) of "1883," the trials and tribulations of frontier life are storms that, he hopes, will bring sunshine one day. "I'll keep headin' north until I find country that's worth the journey," grumbles Dutton. 
"1883" premieres on Paramount+ on December 19, 2021.