Alec Baldwin Didn't Pull Trigger In Fatal Rust Incident, Says Assistant Director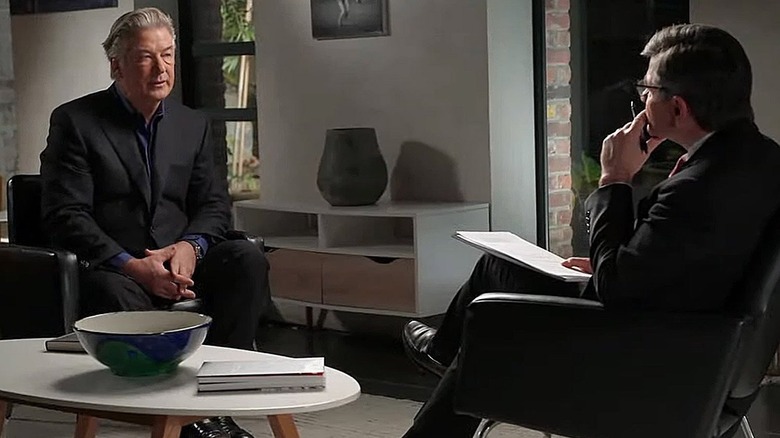 ABC
Less than two months after the weapon discharge on the Santa Fe set of "Rust" that killed cinematographer Halyna Hutchins and injured director Joel Souza, two involved parties have come forward to insist that no one pulled the trigger. On "Good Morning America," the attorney for David Halls stated on behalf of her client that although Alec Baldwin was holding and rehearsing with the gun ahead of a scene, he did not pull the trigger. "Dave has told me since the very first day I met him that Alec did not pull that trigger. His finger was never in the trigger guard," said Halls' attorney, Lisa Torraco.
Baldwin has asserted the same. 
On December 1, ABC News released a teaser of the actor's interview with George Stephanopoulos, in which he said that he "didn't pull the trigger." The full interview aired last night, December 2, as a "20/20" one-hour special, and for the first time since the October 21 incident, the man who held the weapon spoke out.
"I knew she had that spark."
Ukrainian cinematographer Halyna Hutchins has credits on over 30 films, shorts, and television series, including Adam Egypt Mortimer's "Archenemy," and Pollyanna McIntosh's "Darlin'." From the start, Hutchins made a strong impression on those she worked with, Baldwin included. The director of photography and the "30 Rock" actor met for dinner with the film's director Souza prior to the shooting of "Rust," and on ABC's special, Baldwin recalls her professionalism and drive.
"When I met her, I knew she had that spark. I knew she had that flint to her that she was going to get that day's work done and get the shots that she wanted. She was very focused. [...] We had a discussion about compositions of shots, which– we were shooting these beautiful tableaus of the West. She had that intensity. Every day you went to work, she would say, 'Good morning, how are you? How was your evening?' Boom. No small talk, go. We weren't going to hang out and chitchat or whatever. She knew that the clock was the enemy, and we have to move forward."
Hutchins was doing a mock-rehearsal with Baldwin on October 21, when the fatal incident occurred.
Scene 118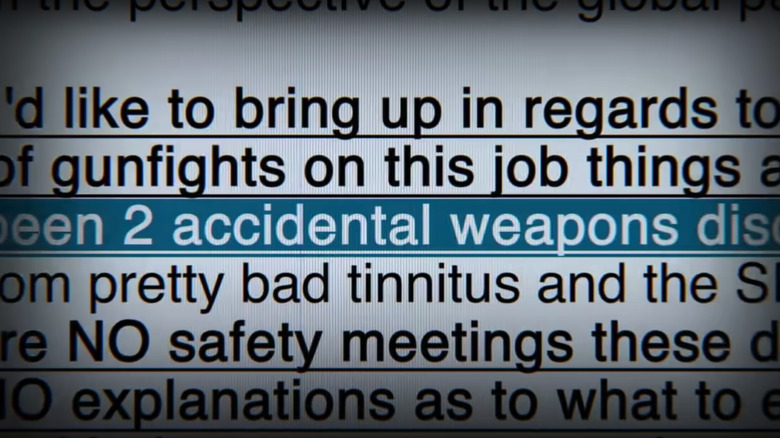 ABC
So far, the reported timeline of events is that the cast and crew arrived on set at Bonanza Creek Ranch on the morning of October 21. Members of the camera crew, spoken for by Lane Luper, walked off the set in protest of allegedly poor working conditions. First camera assistant Luper had spoken with Baldwin the day prior, which the latter tells Stephanopoulos was his first time hearing about problems on the set. "He said, 'We have some issues here,'" says Baldwin, "I said, 'Such as?' And he said, 'My men need a better hotel room.' No mention of safety issues." Baldwin says he offered to put the crew up in a B&B the next day, but the walkout occurred the next morning.
The previously-released police affidavit states that "Rust" armorer Hannah Gutierrez-Reed loaded the weapon for Scene 118, a .45 Long Colt revolver, with dummy rounds, though she did report a brief issue loading it. Gutierrez-Reed hands the gun to 1st AD Dave Halls, who then hands it over to Baldwin inside the wooden church they were about to film in, saying, "cold gun" which indicates no live rounds. Baldwin explains what happened next:
"I'm not shooting into the camera lens, I'm shooting just off in her direction just off, in her direction, of holding the gun where she told me to hold it, which ended up being aimed right in below her armpit, was where I was told. I don't know. This was a completely incidental shot, an angle that may not have ended up in the film at all. But we kept doing this so I said to her, 'Now, in this scene, I'm going to cock the gun.' And I said, 'Do you want to see that?' And she said yes. So, I take the gun and I start to cock the gun. I'm not going to pull the trigger. But I said, 'You see this?' 'You just cheat it down and tilt down a little bit like that.' And I go, 'Can you see that? Can you see that? Can you see that?' I pull back the hammer of the gun and the gun goes off. That was the moment the gun went off."
How Could This Happen?
Asked if it was in the script for him to pull the trigger, Baldwin said:
"No, no, no, never pulled the trigger. That was the training I had. On day one of my instruction in this business people said to me, never take the gun and go click-click-click-click-click because even though it's incremental, you damage the firing. You don't do that."
In the aftermath of the incident, Baldwin has been the target of public scrutiny. Sitting before Stephanopoulos, the actor recalls a barrage of claims that he murdered Hutchins with intent, that he loaded the gun, and that it is affecting his school-aged children. Actors, politicians, and observers alike stipulate that regardless of who handed what to him, it was still his responsibility to check the weapon himself. Baldwin disagrees, placing more responsibility on the armorer who loaded the weapon and the assistant director who told him it was a cold gun. Then he says something of interest, something a past prop master had told him: "We don't want the actor to be the last line of defense against a catastrophic breach of safety with the gun."
The statement underlines the scope of the problem with this incident. This was not a failure of one man who should have indeed checked his weapon before doing anything else, this was a multi-tiered failure to protect the people on the set. Normally, as George Clooney pointed out, an armorer acts as a custodian of the weapon and physically shows its contents to be safe before every take. But Hannah Gutierrez-Reed was kept outside of the church due to COVID-19 regulations, according to a sworn statement. 
An industry-wide standard is needed, one where protocols ensure that there are a minimum amount of people (according to the size of the production and amount of weaponry) who must be responsible for the weapons used on set at all times, and must be present in every scene where a weapon is used (whether the script calls for it to be fired or not). There should be no confusion on who handles guns on set and when. Amid the police investigation, memorials, and litigation, Baldwin agrees on that much:
"I don't know how that bullet arrived in that gun. I don't know. But, I'm all for doing anything that will take us to a place where it's this is less likely to happen again."
Fallout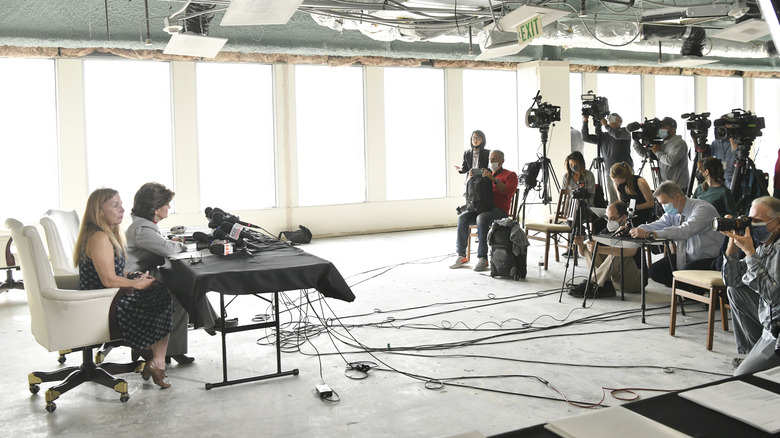 Rodin Eckenroth / Getty Images
Social media is a tire fire with no place for nuance, so let's speak plainly here without the bad faith arguments. Alec Baldwin held the pistol that discharged and killed Halyna Hutchins and injured Joel Souza, this is true. What is not true is that he plotted to commit first-degree murder. Baldwin woke up that morning an actor and a producer and laid his head down that night (if he slept at all) a killer, which he does bear some responsibility for, unfortunately. 
The mechanics of shooting a movie, at times, does call for actors to follow directions that diverge from basic "don't point a weapon at anything you don't intend to shoot" rules. Baldwin told Stephanopoulos that the actor's responsibility is "to do what the armorer tells them to do," which still does not excuse not checking the weapon yourself or requesting visual verification from a qualified armorer. But as stated above, a series of failures had to occur for that live round to make its way onto a set, among dummy rounds, get loaded into a weapon and passed through three pairs of hands before meeting human targets. 
The failure is both individual and systemic.
It behooves us to remember that Alec Baldwin, too, will likely need dedicated therapy for the rest of his life. He killed a co-worker that he didn't mean to harm, and a set full of people may soon be diagnosed with PTSD directly due to his action (and inaction beforehand) that took a fraction of a second. He is certainly not the victim, as he was sure to clarify to ABC. But this is an active, ongoing investigation, and every week or so, a new detail emerges to bolster the claim that this death was truly accidental. It would do well to keep in mind that a tragedy affects everyone involved.