The Marvelous Mrs. Maisel Season 4 Teasers: Welcome To 1960, Midge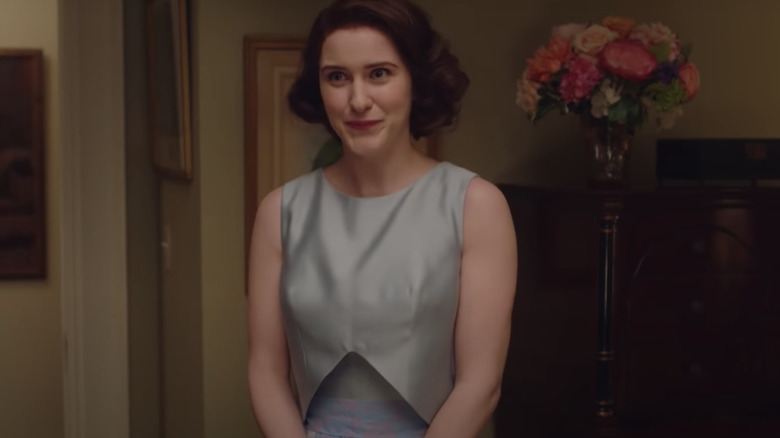 Prime Video
In the world of "The Marvelous Mrs. Maisel," when it rains teaser trailers, it pours. Earlier this week, Prime Video granted us our first look at the fourth season of Midge Maisel's (Rachel Brosnahan) burgeoning comedy career — but since we've waited a solid two years to see the series return, a couple extra teasers certainly can't hurt! 
The third season ended on a hefty cliffhanger, threatening a big blow to all the work that Midge and her manager Susie (Alex Borstein) put into growing her popularity. Our favorite fashionable housewife has come a long way from broiling briskets, and now finds herself on the brink of exploding into the New York comedy scene — if only there weren't so many obstacles standing in her way. The biggest trouble of all came when Midge learned an important lesson about who her jokes target. Touring singer Shy Baldwin (Leroy McClain), for example, really didn't appreciate being laughed at and fired the sharp tongued comedian as his opening act. 
Now Midge and Susie are left to pick up the pieces and figure out their next steps. At the same time, the pair must adjust to changing times — season 4 launches right into the new normal of 1960. Change is a-coming and this season, no one is safe! If you don't believe me, just check out the latest teaser trailers below.
Midge Gets News Roommates in Teaser #2
The queen of bad decision-making, Midge Maisel is kicking the season off by inviting her parents to move in. Abe (Tony Shalhoub ) and Rose (Marin Hinkle ) have had a difficult few years, between some major rifts in their relationship and Abe losing his job as a tenured professor at Columbia. But even being on the brink of divorce couldn't compare to the painful few months they spent living with the parents of Midge's ex-husband, Joel. Having earned enough from her brief touring stint to buy her apartment back, Midge seems to like the idea of saving her parents from the Maisels.
Perhaps Midge has already forgotten the disastrous period of time where she moved in with her parents after leaving her husband — when they treated her like a teenager, with a nightly curfew and no TV after dinner. Alas, she wants to do a kind thing and her parents accept. On the bright side, this new living situation means the audience gets a lot more of Abe and Rose, two of the most hilarious presences by far. Where we left off in season 3, Abe just accepted a position as a theater critic for the Village Voice and the idea of Abe Weissman attending experimental theater is without a doubt ripe for comedy. As for Midge, living with her parents promises plenty more drama, especially given the season description:
It's 1960 and change is in the air. Looking to hone her act, Midge finds a gig with total creative freedom. But her commitment to her craft—and the places it takes her—creates a rift between her and the family and friends around her.
Determined to grow her career, Midge may lose sight of the people around her. But her parents have always been quick to criticize, so they certainly won't let fame go to her head. But enough about Midge; she may be the one onstage, but it takes a village (i.e. a manager) to make her act successful. The newest teaser for season 4 checks in with Susie.
Susie Is Moving On Up in Teaser #3
Susie Myserson is on the up and up. After getting a taste of success with Midge, Susie won some extra attention from the people in the business around her. Successful Manhanttan aristocrat Sophie Lennon (Jane Lynch), who doubles as a frumpy comic from Queens, became Susie's second client late in season 2. With two acts under her belt, Susie has found the confidence to start her own firm and manage more talent as her business grows.
Susie Myserson and Associates is more than just a dream, it actually exists now! Sure, it lives in a crummy New York apartment with a bloodstain in the middle of the wood floor, but that's what carpets are for! Plus, Susie is nothing if not scrappy!
The upcoming season of "The Marvelous Mrs. Maisel" sees the return of the main cast, including Borstein as Susie, Brosnahan as Midge, Shalhoub as Abe, and Hinkle as Rose. Also returning is Michael Zegen as Joel, Kevin Pollak as Moishe, Caroline Aaron as Shirley and Luke Kirby as Lenny Bruce. Guest stars this season include Kelly Bishop, Milo Ventimiglia, John Waters and Jason Alexander.
Update: Let the marvel continue, as Amazon has dropped a fourth teaser for "The Marvelous Mrs. Maisel" season 4! Check it out below.
"The Marvelous Mrs. Maisel" season 4 premieres February 18, 2022 on Prime Video.