The Marvelous Mrs. Maisel Season 4 Teaser Reveals A New Premiere Date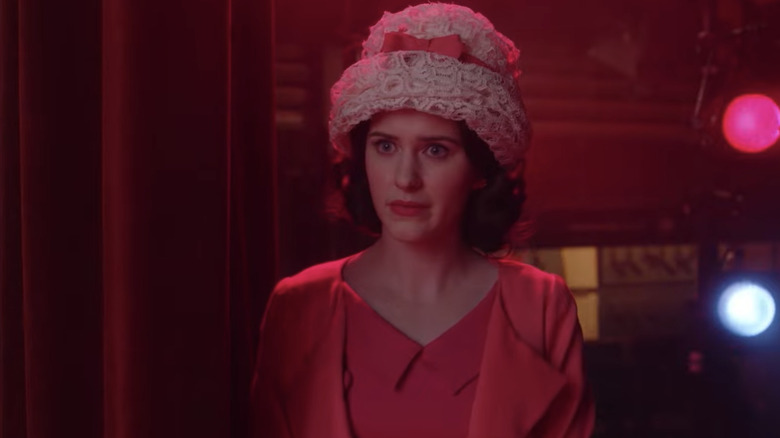 Prime Video
Get ready for a mic drop — Midge Maisel (Rachel Brosnahan) is back on stage! After a two-year hiatus,"The Marvelous Mrs. Maisel" is making her grand return to Amazon Prime Video and she's determined not to share the spotlight.
The Amy Sherman-Palladino and Daniel Palladino-created show took the world by storm when it first arrived in 2017, introducing the Marvelous Mrs. Maisel herself, a Jewish housewife with a secret penchant for comedy. She's come a long way since then — divorcing her husband and kickstarting a career in comedy whilst showing off some of the flashiest '60s fashion money can buy. For a few years, viewers were lucky enough to see a new season of Midge's journey on a regular basis, but pandemic delays disrupted the smooth rhythm, leaving us on a major cliffhanger that threatened a huge blow to our heroine's career. But the scrappy housewife is nothing if not resilient, so she's back in her diner booth, determined to make everything work out. What exactly is she in for during season 4? Here's a little hint:
It's 1960 and change is in the air. Looking to hone her act, Midge finds a gig with total creative freedom. But her commitment to her craft—and the places it takes her—creates a rift between her and the family and friends around her.
The fourth season now has a premiere date, with episodes set to arrive on February 18, 2022. Following the debut, two new episodes will drop every Friday for four weeks. This is a change from previous seasons, which would arrive all at once, but before you brandish your pitchforks in anger, Prime Video is sweetening the announcement with a teaser trailer, offering a sneak peek at the next messy chapter in Midge's life.
The Marvelous Mrs. Maisel Teaser
"You know what's great about me? It's when I'm me." Lack of humility aside, Midge makes a solid point. Being herself is what got her this gig in the first place. The absolutely hilarious (if occasionally unhinged) housewife taking to the stage to roast her husband and reflect on her own failures has earned some very powerful belly laughs. Since then, she's been hard at work understanding how best to hone her talent on stage. She hit a snag a few season ago, when she hired writers to craft new jokes; but this idea failed for good reason. Great as her stage presence is, Midge is at her best when using her own voice. There's just one problem — Midge is dangerously feisty.
Just last season, Midge got so caught up in the glitz and glamour of being a touring comedian that she felt free to target her jokes in any direction — but joking about the famous singer Shy Baldwin (Leroy McClain) was a huge mistake. Midge overstepped, nearly exposing his sexuality to a not-so-accepting 1960s public. Kicked to the curb, she now demands to have creative freedom with her jokes and tasks her manager, Susie (Alex Borstein), with making that happen. It's not an impossible feat, but Midge was on the verge of stardom before she crashed and burned with Shy, so she has a steep hill to win back her spot near the top.
The upcoming season sees the return of Borstein as Susie, Brosnahan as Midge, and Tony Shalhoub and Marin Hinkle as her parents, Abe and Rose. In fact, we caught our first glimpse at the entire family in the first look photos released earlier this month. Also returning is Michael Zegen as Joel, Kevin Pollak as Moishe, Caroline Aaron as Shirley and Luke Kirby as Lenny Bruce. Guest stars this season include Kelly Bishop, Milo Ventimiglia, John Waters and Jason Alexander.
"The Marvelous Mrs. Maisel" premieres February 18, 2022 on Prime Video.