The Marvelous Mrs. Maisel Isn't Feeling Very Funny In First Look At Season 4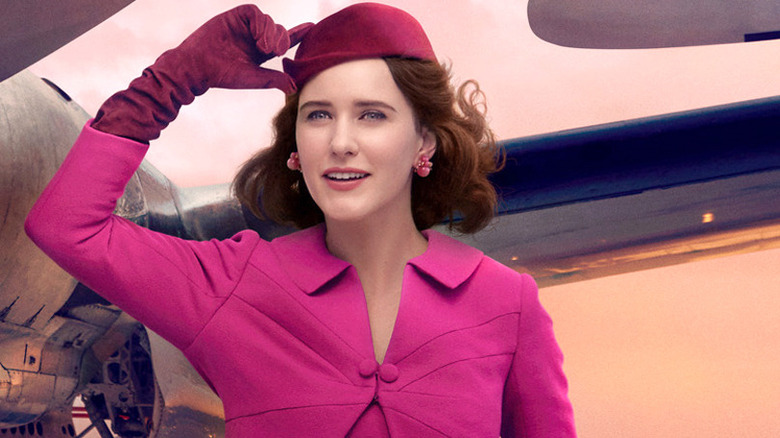 Amazon Studios
The Marvelous Mrs. Maisel is known for her hilarious wit and impeccable comedic timing. Usually, her onscreen presence guarantees full blown belly-laughs, plus we get to fawn over her wondrous 1960s dresses and enormous, feathery hats. But based on our first glimpse at the fourth season of this humor-led show, we might have to take a little break from chuckling to deal with our resident comedian's latest depressive state.
This week, Amazon Prime Video (via Vulture) revealed our first look at "The Marvelous Mrs. Maisel" season 4 with two promotional stills, including one of our favorite comedy superstar, Midge Maisel (Emmy winner Rachel Brosnahan). If you're struggling to remember Midge's exact comedic stylings, it's probably because we haven't seen her in action since 2019. The COVID-19 pandemic led to filming delays all around, and "The Marvelous Mrs. Maisel" was included amongst them, interrupting what was otherwise a pretty consistent release schedule. Up until this point, Amazon spoiled us with a new season every year, following the initial 2017 series premiere.
After a couple hundred briskets and more costume changes than the mind can process, we've gotten to see Midge grow from a content (and oft-hilarious housewife) into a fully-fledged ... struggling comedian. So it hasn't exactly been the easiest journey forward, but even when Midge is rehashing the pain of her failed marriage, she always manages to find humor in the situation. There's no reason for that to change in the fourth season ... right?
First Look at Mrs. Maisel in Season 4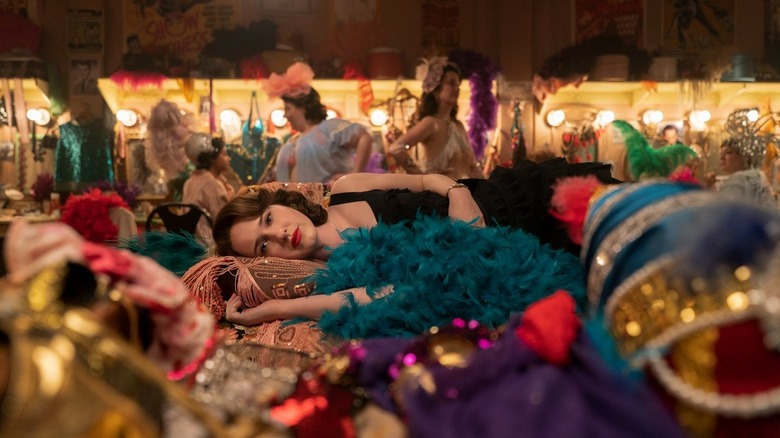 Amazon Studios
Midge — despite being surrounded by showgirls, boas and glitter — is looking pretty downtrodden in this first-look image. And after the many catastrophes of season 3, she has good reason to be! Last time we saw Midge, she spent a season learning all about the wonders of being a touring comedian: the glitz, the glamour, and the humbling realities of show business. In the end, things didn't shake out great for Midge, who overstepped when making jokes about famous singer Shy Baldwin (Leroy McClain), the very man she was opening for on tour.
Getting fired from the tour wasn't the first time Midge's standup has landed her in hot water (see: every episode of the show thus far), nor will it be the last, but this was a pretty drastic setback for her career. Still, when all else fails, she can at least count on the support of her parents ... right? Tell me I'm right?!
Why did I bother asking? While Midge is in the midst of yet another crisis state, Rose (Marin Hinkle) and Abe (Tony Shalhoub) are enjoying dinner and wine before a bright TV screen. They've never exactly been the world's most supportive parents when it comes to their daughter's comedy career, but mostly because it's really hard for them to comprehend. And it certainly doesn't help that Midge's humor veers into vulgarity with ease and her mother has a tendency to faint. But they'll surely assist their daughter where they can — and when they can't why not enjoy a TV dinner or two?
We can better assess their parenting approaches once season 4 of the series finally arrives — alas, a premiere date for "The Marvelous Mrs. Maisel" has yet to be revealed.