The Matrix Resurrections TV Spot Gives You Déjà Vu, Shows Off New Footage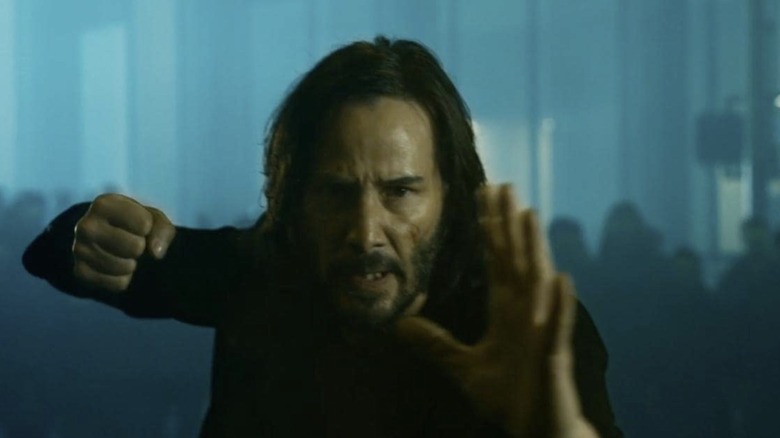 Warner Bros.
One way or another, audiences probably aren't ready for everything — or maybe even anything — that "The Matrix Resurrections" has in store for us. Those who don't have memories of the original "Matrix" trilogy fresh in their minds would likely be well-advised to, well, first and foremost revisit those movies while you can. After that's done, however, it'd probably be wise to expect nothing except the unexpected with this legacy sequel, which certainly looks more and more as if it will follow its own radical path rather than taking the conventional route of what audiences would want from a fourth "Matrix" film. Our latest look at "Resurrections" comes courtesy of a new television spot. Unlike the previous trailers, this footage remixes famous iconography from the originals with intentional echoes from the new sequel. Check it out below!
The Matrix Resurrections TV Spot
The latest generation of moviegoers who are obsessed with "parallels" in film are going to have a field day with this, let's just put it that way. Serving as a sort of crash course in the major events of the previous movies, this "Matrix Resurrections" TV spot flexes its editing muscles and puts several cleverly juxtaposed sequences side-by-side to show off just how carefully (and intentionally) composed the Wachowski sisters designed these movies to be. Fans of the original will remember the explanation of how the sensation of déjà vu, represented by a certain black cat in the first film, indicates a glitch in the Matrix. This is emphasized once more at the start of this clip, with a familiar-sounding voiceover by someone who sounds like Jessica Henwick's new character named Bugs.
As much as "Resurrections" could be looked at cynically as little more than a nostalgia-fest, the idea of purposeful "change" dominates this footage and would seem to indicate a major theme in the film itself. Or it could easily just be a very gif-able piece of marketing that will go over very well on social media. Either one! As for myself, I'm going to keep poring over these images for neat little details, like the blink-and-miss-it return of a much older and shaggier Merovingian (played by Lambert Wilson, who is reprising his role from "Reloaded" and "Revolutions") or the disturbing green-tinted eyes of a crowd of onlookers in the Matrix in the last few seconds of the TV spot.
What does it all mean? We'll find out soon enough when "The Matrix Resurrections" comes to theaters and HBO Max on December 22, 2021. Meanwhile, tickets go on sale December 6.
ẅ̷̩̞̥̯͈́͊͛̋̍͑̊̕ä̷̼̗̫̲̯̥̪̠̱̀̇̍͂̀͆̚ͅk̷̢̛̻̙͎̟͚͓͖̆͂̈́̿͒̕è̸͖̙̑̊̾̉ ̴̧̠̘̖̳͓͈̽̿̆̔̒̂̂̄̒͘u̵̻͇̹͇̝̮̟̎͒͋̂͗͒̇ṕ̷̻̤̐͐͒̅̽̏

The Matrix Resurrections tickets on sale 12.06.21 @ 9AM PT #MatrixMonday #TheMatrix pic.twitter.com/l94gQtfzGd

— The Matrix Resurrections (@TheMatrixMovie) December 1, 2021