The Best Movies And Shows Leaving Hulu In December 2021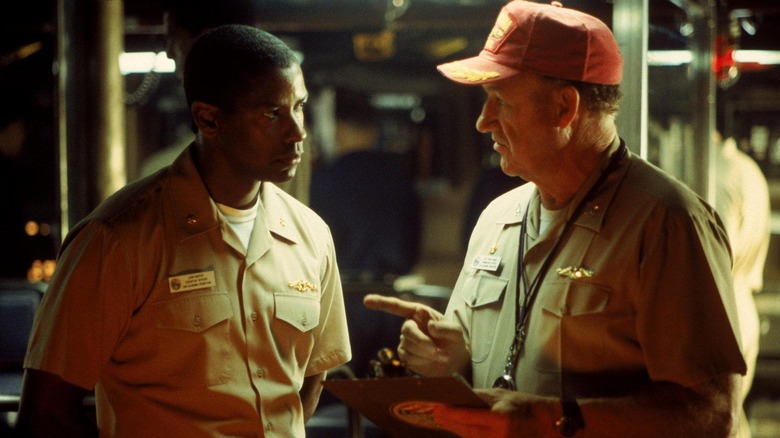 Buena Vista Pictures
Daylight Savings Time is over, the days are getting shorter, and many of us unlucky souls will have to deal with the looming threat of snow on the horizon — if you haven't been already, that is. Welcome to the waning days of November, everyone! Our go-to comfort in these times of business and stress, as always, can be found in the many movies and shows available on a constant streaming rotation. Unfortunately, we're going to slightly add to the stress of this time of year to keep you informed of all the best titles that will soon disappear from streaming services — in this case, Hulu. But not to fear! For the most part, you have until the end of December to bump these following movies or shows up to the top of your watchlist and get around to them while the getting's still good. Without further ado, here are all the movies and shows that are soon to be expiring from Hulu, with a highlighted selection of five specific titles by yours truly.
Crawl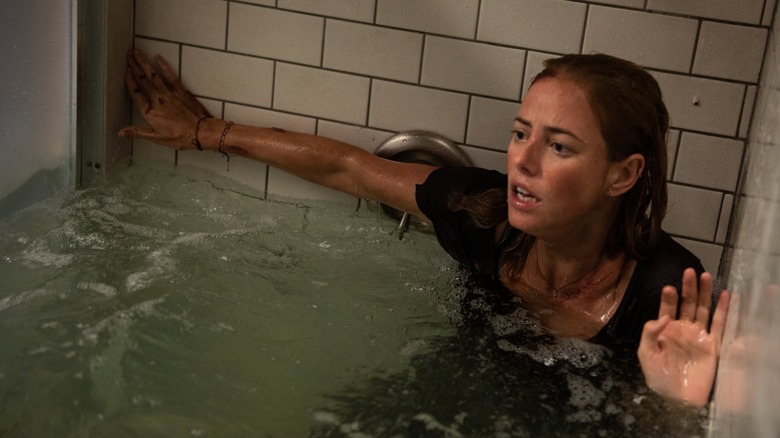 Paramount Pictures
Terrifying gators, some neat claustrophobic and incredibly tense set pieces, and all coming in under an hour and a half. What more could you want! There are many particular joys to be found in low-concept B-movies that otherwise take their premise (perhaps a bit too) seriously and deliver as much exciting action as they can. 2019's "Crawl" is no exception, starring Kaya Scodelario in her horror movie debut as an encroaching hurricane causes Florida floodwaters to rise precipitously. Naturally, this unleashes a pack — herd? Flock? I don't know, man — of extremely hungry alligators that quickly descend upon hapless victims. "Crawl" sets almost all of its action within a single flooded basement in a sinking house, using the geography of the carefully constructed setting to attempt to do to gators what "Jaws" accomplished with sharks. The results aren't quite as lofty as those heights, admittedly, but it's not trying to be, either. Director Alexandre Aja ("The Hills Have Eyes," "Piranha 3D," "Oxygen") keeps a steady hand on the wheel throughout the film's gory action and cleverly-staged thrills, delivering a tightly-wound horror/thriller that may just make you afraid of the water again.
Hell or High Water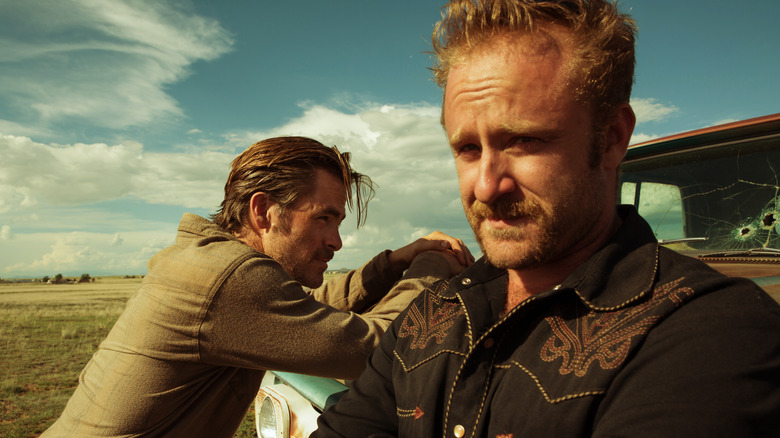 Lionsgate
In a time when genuine movie stars have become a dying breed, Chris Pine has to be considered one of our best, most charismatic leading men around. Everyone knows him from his "Star Trek" movies or playing an impressive second fiddle to Gal Gadot in the "Wonder Woman" films, but it took me until "Hell or High Water" to finally recognize him for the deceptively brilliant character actor that he can be, when the material calls for it. Taylor Sheridan's neo-Western, starring Pine, Ben Foster, Jeff Bridges and Gil Birmingham, is far more slower-paced than you might expect. That's not to say that it doesn't have a way of sneaking up on you and hitting you hard, however, as it steadily draws viewers into its story about a pair of aimless and wandering brothers who become desperate to do anything to save their family's Texas ranch. Despite being considered as a "revisionist" Western, "Hell or High Water" embraces the tropes of a bank-robbing spree, a lawman who's this close to retirement forced to follow their trail, and an inevitably tragic conclusion that — one way or another — ends messily for all involved. Neither Pine or Taylor Sheridan have ever been better than they are here.
The Matrix Trilogy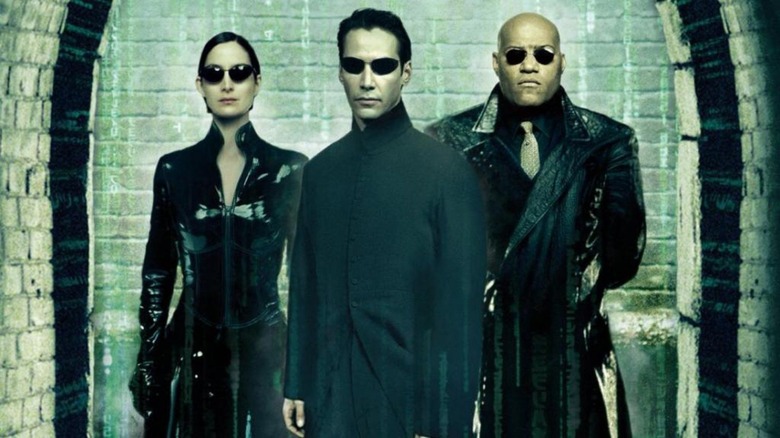 Warner Bros.
The onset of the cold and bleak winter months isn't all bad, you know. The rapid approach of December also means we're entering "The Matrix" season, people! With "The Matrix Resurrections" set to bow just in time for the holidays, there is no better time to catch up on the original film that started it all ... and also find yourself on the right side of history, along with the rest of us who appreciate the messy, inconsistent, but gloriously Wachowski sequels for everything that they are. That's why I'm cheating here a bit and including the entire trilogy in this entry. If fans could drop everything to start their chronological MCU marathons in the lead-up to "Avengers: Infinity War" and "Avengers: Endgame," then there is no excuse to avoid carving out some time to experience the manic glory of the entire "The Matrix" trilogy to prep for the highly-anticipated legacy sequel! Thankfully, Hulu is obliging and carrying the original three movies all the way until the end of December, perfectly coinciding with the release of "The Matrix Resurrections."
Star Trek: The Motion Picture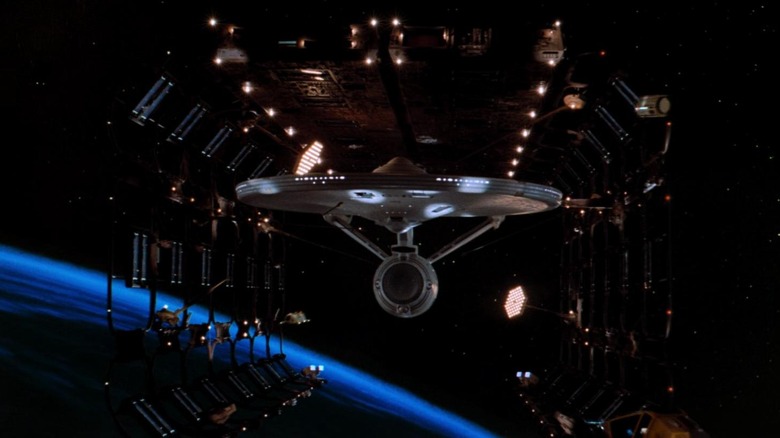 Paramount Pictures
I can't help but look at "Star Trek: The Motion Picture" as my poor little sibling who is full of good intentions, but gets unfairly picked-on anyway for being just a little too weird compared to everyone else. It's true, the first big screen adventure of the U.S.S. Enterprise, her captain James T. Kirk, and her crew gets off to a shaky start. The widely-mocked (and practically never-ending) unveiling of the Enterprise in all the ship's majesty in space gets a lot of flak, but who can blame anyone involved for wanting to milk the moment as much as humanely possible? Despite preceding the phenomenon of "Star Wars" (on television, at least), "Trek" struggled to reassert itself in the wake of George Lucas' sci-fi game-changer. The result? 1979's "The Motion Picture," which sure tried to cash in on the "Star Wars" hype but otherwise stayed in its own philosophical lane and got the cinematic journeys of Kirk, Spock, Bones, Uhura, Scotty, Sulu, and all the rest off to a solid start. 
Signs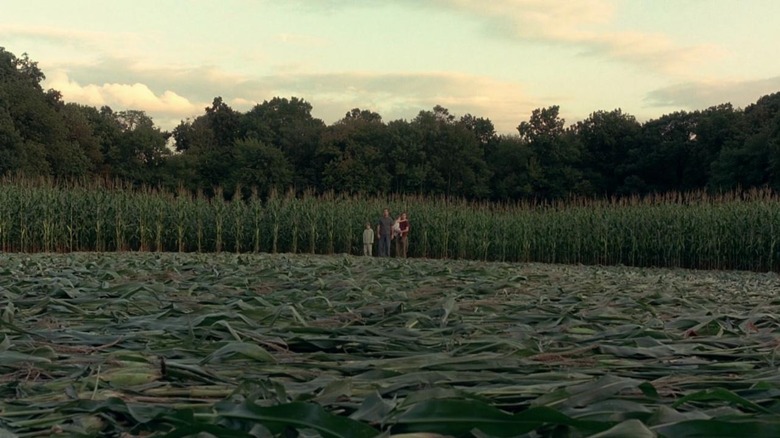 Touchstone Pictures
Having written about my love for M. Night Shyamalan's "Signs" before, you better believe I couldn't pass up the chance to do so again. Where too many viewers tripped themselves up looking for literalism, "Signs" encourages us to look a little deeper instead and take a more meditative — even spiritual — perspective instead. Nobody can be blamed for being turned off by the admittedly silly set-up, the intentionally stilted acting, or the presence of Mel Gibson. Those who meet the movie halfway on its own terms, however, will be treated to a story that's more concerned about the meaning of faith, dealing with grief, and the struggle to combat hopelessness for the future. Oh, and it's also plenty scary in its own right as Shyamalan squeezes every ounce of existential dread possible from its alien invasion premise. 
Movies And TV Shows Leaving Hulu In December 2021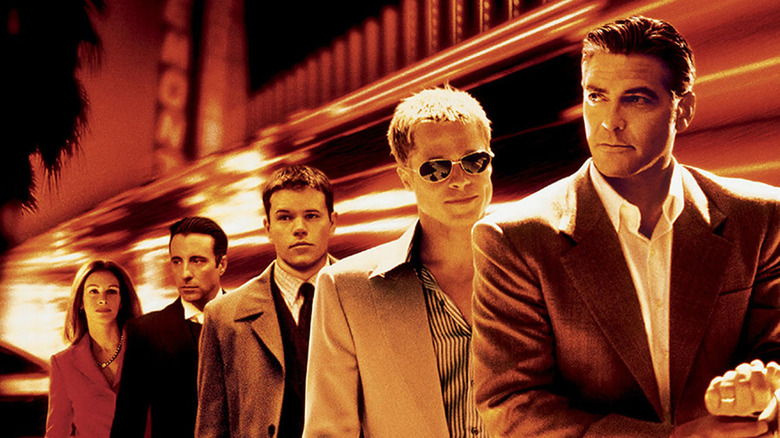 Warner Bros.
December 9
Child's Play (2019)
December 10
Rogue (2020)
December 12
Eye in the Sky (2015)
December 16
Nostalgia (2018)
December 19
Crawl (2019)
December 28
Bratz: The Movie (2007)
December 31
10,000 BC (2008)
127 Hours (2010)
A Christmas Carol (1984)
A Nanny for Christmas (2010)
The A-Team (2010)
Above the Rim (1994)
Ace Ventura: Pet Detective (1994)
Alienator (1989)
All the Right Moves (1983)
Alpha & Omega: Legend of the Saw Toothed (2014)
Back to School (1986)
The Black Stallion (1979)
The Black Stallion Returns (1983)
Bloody Sunday (2002)
Blue City (1986)
Bohemian Rhapsody (2018)
Bull Durham (1988)
Candyman 3: Day of the Dead (1999)
Cedar Rapids (2011)
Chattahoochee (1990)
Cherry 2000 (1988)
Con Air (1997)
Conspiracy Theory (1997)
Crazy Heart (2010)
Crimson Tide (1995)
The Curse (1987)
Dark Shadows (2012)
Date Night (2010)
Diary of a Wimpy Kid (2009)
The Dungeonmaster (1985)
Enemy at the Gates (2001)
Erik the Viking (1989)
Escape from Alcatraz (1979)
The Fighter (2010)
The Fly (1986)
Four Weddings and a Funeral (1994)
Friday the 13th – Part III (1982)
Friday the 13th Part IV: The Final Chapter (1984)
From Prada to Nada (2011)
Gattaca (1997)
The Gift (2000)
Girls! Girls! Girls! (1962)
Happy Feet (2006)
Happy Feet Two (2011)
Hell or High Water (2016)
Hollow Man (2000)
Inception (2010)
Jack and Jill (2011)
Joseph: King of Dreams (2000)
Killers (2010)
Kiss the Girls (1997)
Light it Up (1999)
Love Field (1992)
Making Mr. Right (1987)
The Manchurian Candidate (2004)
The Matrix (1999)
The Matrix Reloaded (2003)
The Matrix Revolutions (2003)
Meet the Spartans (2008)
Michael Clayton (2007)
My Best Friend's Wedding (1997)
My Bloody Valentine (1981)
Ocean's Eleven (2001)
Ocean's Twelve (2004)
Ocean's Thirteen (2007)
The Patsy (1964)
Phase IV (1974)
The Recruit (2003)
Resident Evil: Retribution (2012)
Road to Perdition (2002)
The Rocky Horror Picture Show (1975)
Rush Hour (1998)
Rush Hour 2 (2001)
Rush Hour 3 (2007)
Rustlers' Rhapsody (1985)
The Secret Life of Walter Mitty (2013)
Serendipity (2001)
Shark Tale (2002)
Sherlock Holmes (2009)
Sherlock Holmes: A Game of Shadows (2011)
Shrek (2001)
Shrek 2 (2002)
The Siege of Firebase Gloria (1989)
Signs (2002)
Silverado (1985)
The Social Network (2010)
Soda Cracker (1989)
Something's Gotta Give (2003)
Star Trek: The Motion Picture (1979)
Star Trek II: The Wrath of Khan (1982)
Star Trek III: The Search for Spock (1984)
Star Trek V: The Final Frontier (1989)
Star Trek VI: The Undiscovered Country (1991)
Star Trek: Insurrection (1998)
Superbeast (1972)
Sweet Home Alabama (2002)
The Tenant (1976)
Timeline (2003)
Tooth Fairy (2010)
Troll (1986)
Twisted (2004)
Underworld (2003)
Underworld Awakening (2012)
Underworld Evolution (2006)
Underworld: Rise of the Lycans (2009)
Vantage Point (2008)
The Village (2004)
The Vow (2012)
Waitress (2007)
When A Man Loves A Woman (1994)
Wrong Turn 2 (2007)
Yes Man (2008)
Young Guns (1988)
Young Guns II (1990)