Watch Out, Spider-Man! The Daily Bugle Now Has A TikTok Account & Unpaid Interns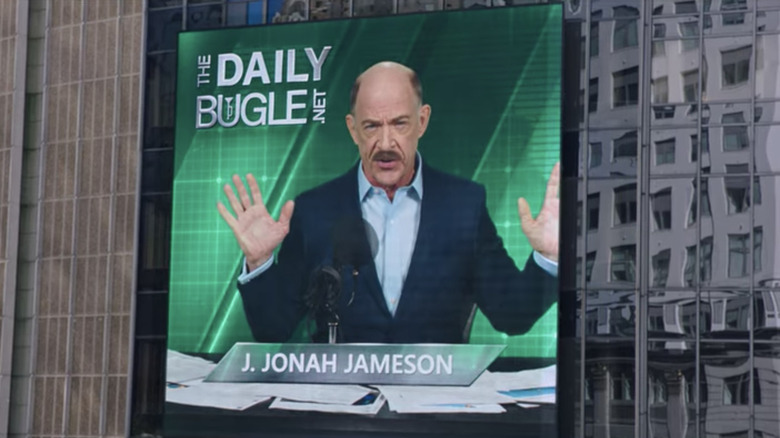 Marvel Studios
In "Spider-Man: Far from Home" there was a memorable subplot featuring Betty Brant (Angourie Rice), who became overnight soulmates with Spidey's "man in the chair," Ned Leeds (Jacob Batalon), on the plane to Venice. As Ned explains in the airport, though, following their trip, "Men and women grow apart." If you thought Betty was sitting around crying over her break-up with him, however, you've got another thing coming.
It seems that Betty, true to her nature as the co-anchor of Midtown News and a high schooler playing the ever-mature adult, has been busy and career-focused between movies. She's already secured her "first real job:" an internship at The Daily Bugle. It's news to her that this internship is unpaid, but hey, everyone's got to start somewhere ... even if it's at a dubious web news outlet with "fair, balanced," Fox News-esque coverage. 
Now (via The Direct), Betty is on TikTok, and so is editor J. Jonah Jameson (J.K. Simmons). The Daily Bugle has launched an official TikTok account, which is in-universe with the upcoming sequel, "Spider-Man: No Way Home," and the greater Marvel Cinematic Universe.
As Betty explains, she'll be running the account, which has already posted a couple of other short-form videos, with the next one offering the social media-savvy meme riff, "Tell us you hate Spider-Man without telling us you hate Spider-Man. We'll go first." Betty comes to Peter Parker's defense, saying he saved her life, at which point Jameson interrupts her broadcast to remind us that he still considers Spider-Man a "Spider-Menace."
You, Too, Can Be an Unpaid Intern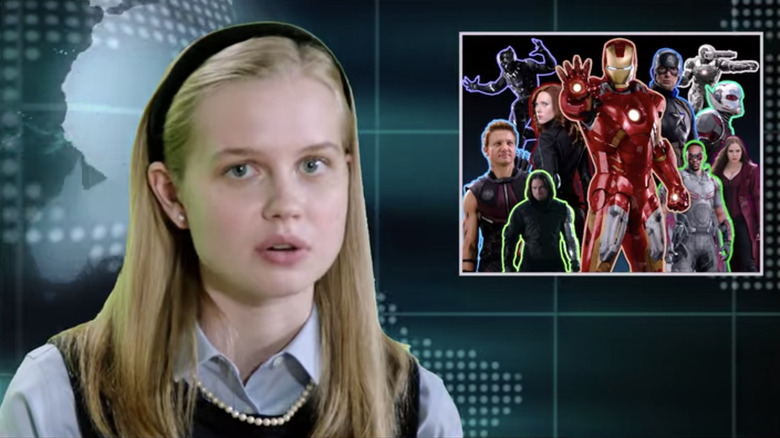 Marvel Studios
As someone who broke into the blogosphere doing unpaid Disney parks coverage "for exposure" (an exposure that has netted me a grand total of 203, wait, 201 Twitter followers, four years later), I can sympathize greatly with Betty Brant slumming it at The Daily Bugle as she tries to get her online news career started.
With Simmons back as Jameson and Alfred Molina returning as Doctor Octopus, "Spider-Man: No Way Home" draws a direct connection to Sam Raimi's "Spider-Man" movie trilogy. If you recall, Betty Brant was a supporting character all throughout that trilogy, with Elizabeth Banks playing the character across all three movies.
The best of them, "Spider-Man 2," had a scene where Betty has to rebuff Tobey Maguire's Peter Parker at The Daily Bugle, telling him that the pay for his latest freelance assignment isn't enough to cover the advances she has already given him. Seeing Rice's new version of Betty do an unpaid internship all these years later serves as a subtle callback to that scene.
If you, the "good citizens of TikTok" and the interweb, want to be like Betty — or just participate in the viral marketing campaign for "Spider-Man: No Way Home" — then I have good news for you. You don't just have to watch or read movie news anymore. Now, you can make it, by joining "the award-winning journalistic juggernaut known as The Daily Bugle ... as an unpaid intern!"
No experience whatsoever is required. All you need to do is download a reporter pack, and right away, you can start sharing "your Spider-Man sightings, misguided opinions, vague rumors, and craziest conspiracy theories." More details above.
"Spider-Man: No Way Home" swings into theaters on December 17, 2021.