The Wheel Of Time Is Amazon Prime Video's Most-Watched Series Premiere Of The Year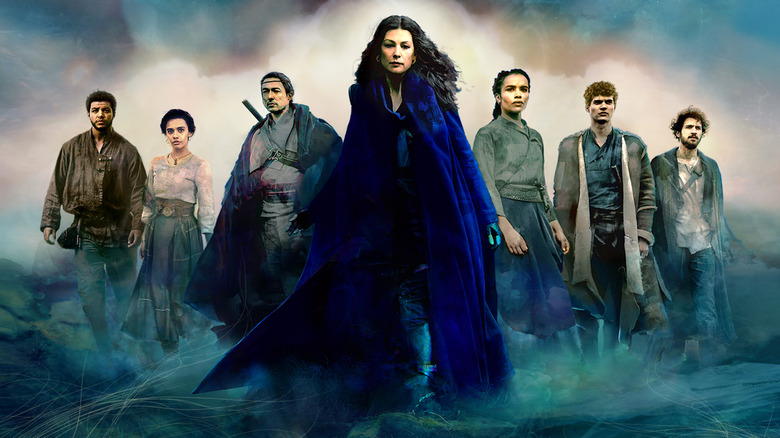 Amazon Studios
Another day, another streaming giant announcing to much fanfare that their latest buzzy, expensive, and essentially too-big-to-fail release has become their number one ratings hit right out of the gate ... although it has neglected to provide any actual viewership data to back up such claims. Where have we heard that before! This latest instance, which is sure to become more and more commonplace in this new streaming age, comes courtesy of Amazon Studios regarding the release of "The Wheel of Time," coming less than a week after the premiere of the first three episodes of its inaugural season.
In fairness to the new Amazon Prime Video release, the highly-anticipated fantasy series has built up plenty of momentum in the lead-up to its debut. Fans of the original series of novels, written by Robert Jordan, have looked forward to this live-action adaptation of the story for quite some time now, and it's not terribly surprising that them turning out in droves would help "The Wheel of Time" land at the very top of Amazon's ratings. Even Amazon Studios chief Jennifer Salke, however, admits that the company has work to do when it comes to "[trying] to figure out how transparent we are going to be in the future," according to Deadline. You could say that again!
Check out the details — as vague as they may be — below.
"The Most Watched Series Premiere"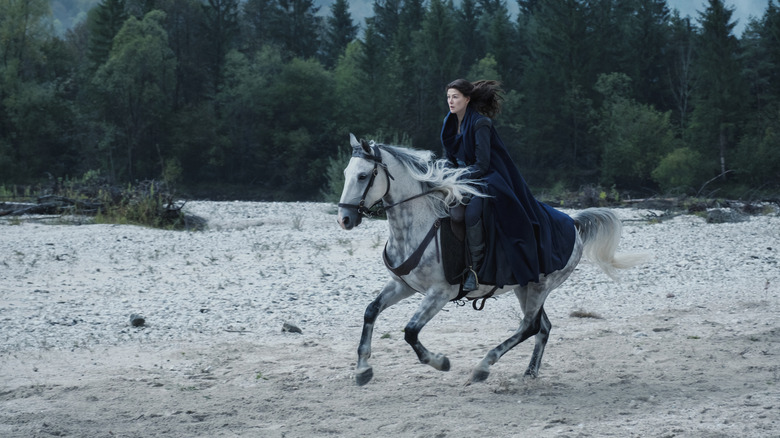 Amazon Studios
The reports of instant success for "The Wheel of Time" is certainly good news for both invested viewers and, well, Amazon investors, too. It makes sense that the studio would strike a very positive tone about the narrative of the show's success, as Amazon Studios head Jennifer Salke told Deadline that their internal data indicates a high-flying success for their big-budget fantasy series. According to Salke:
"We can firmly say that 'Wheel of Time' was the most watched series premiere of the year and one of the Top 5 series launches of all time for Prime Video."
But what's the number of views — or, heck, even viewing hours — that it received? How does this compare to other shows and movies that round out the Top 5? Unfortunately, all Salke offers is a measured response of "...tens and tens of millions of streams" and that "...it's definitely trending to exceed our expectations, which were high," standing by company policy of refraining from disclosing any concrete viewership data. At the very least, however, Deadline mentions that third party tracker TV-I received enough reliable metrics to assert that "The Wheel of Time" is "the #1 series on social across all releases last weekend and is the biggest Amazon Original series on social this year."
Amazon, of course, already greenlit Season 2 of the series and even commenced filming months ahead of the premiere, putting their money where their mouth is and showing just how confident they were that "The Wheel of Time" would release to very solid numbers. As for what to expect in Season 2, Salke briefly remarks that, "You should expect more of the high quality addictive storytelling that stays true to the original IP, but also brings new original ideas and storylines." At any rate, Amazon clearly has no plans on slowing down production of this series anytime soon, with Salke publicly indicating that she expects "...the show will go on for years and years."
Netflix, for their part, at least made strides to seek public transparency with the release of their new Top 10 website. This still isn't great, but it's more information and context than platforms like Amazon Studios are currently providing. Here's hoping that, one day, we won't have to simply take studios at their word when they announce major successes for new titles like "The Wheel of Time."