The Wheel Of Time Showrunner Hopes The Show Can Run For Eight Seasons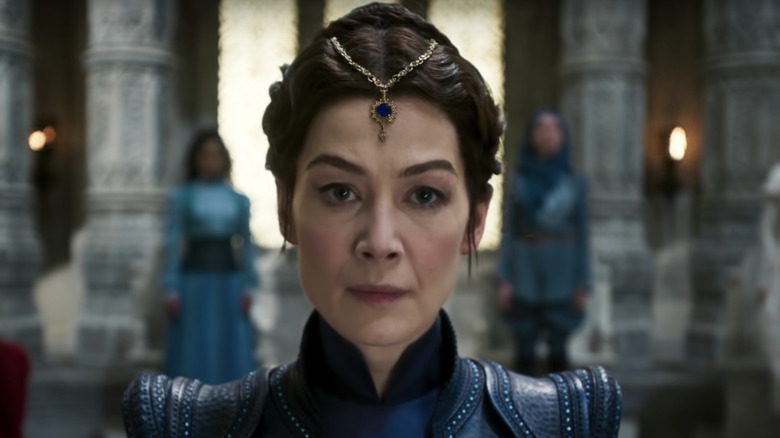 Amazon Studios
"The Wheel of Time," the new Amazon Prime Video streaming series starring Rosamund Pike, hasn't even premiered yet, but Amazon has already renewed the show for a second season. Like "Game of Thrones," it's based on a series of epic fantasy novels known for shifting between different character POVs. However, Robert Jordan's "Wheel of Time" books predate George R.R. Martin's "Song of Fire and Ice" novels (the source material for "Game of Thrones"), and there are three times as many of them.
If showrunner Rafe Judkins has his way, we'll be looking at eight seasons of "The Wheel of Time," the same number "Thrones" had. Go ahead and make room in your schedule from now until 2029, presuming the show is a success at filling the prestige fantasy void and the "Wheel" can keep turning that long.
In "The Wheel of Time," Pike's character, Morraine "embarks on a dangerous, world-spanning journey with five young men and women, one of whom is prophesied to be the Dragon Reborn, who will either save or destroy humanity." Judkins told Deadline:
"For me, I always have to approach it as if we're going to get to tell the whole story that's in the books. If we don't approach it that way, then we'd set ourselves up to not stick the landing and these books have such a good ending. I really need to set us up to get there if we're able to. That's not up to me ultimately. If people watch it and Amazon wants to keep doing more, I'd love to continue to expand this world further."
Playing the Long Game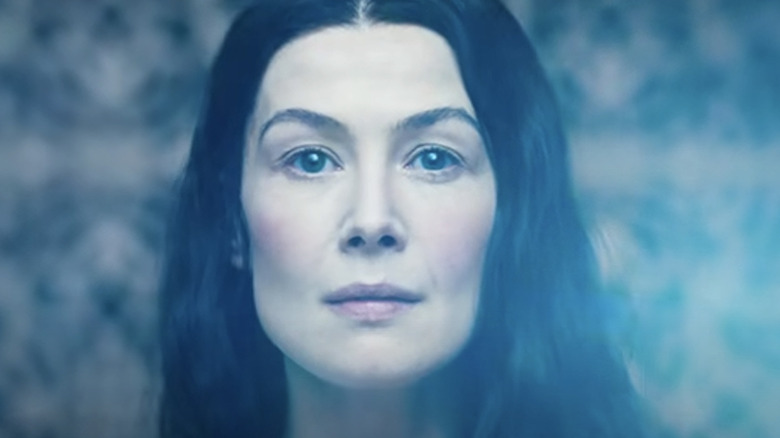 Amazon Studios
With 15 books to pull from, it's safe to say "The Wheel of Time" will have to do some compression, but as a TV series, it will at least have more room to breathe than it would have as a movie. Judkins continued:
"I think Wheel of Time lends itself better to a television series. That's why I think now is the right moment for it to finally exist because people who know [the] books know it's just a story about the characters and the journeys each of them is on. The amount you'd have to compress it to turn it into a series of movies is too much. It would take away the heart of what's good about it."
It's sometimes a red flag when you hear creators say they've got a bunch of sequels, or in this case, seasons, planned out ahead of time, as if they're asking for too big a commitment when they should just be focusing on a delivering a good story the first time around. With "The Wheel of Time," it's a little different in that there's this literary roadmap for it, much like there was for Denis Villeneuve with "Dune."
It's too early to tell whether "The Wheel of Time" will be able to sustain interest among viewers, but Amazon has reportedly poured $10 million per episode into it, and you can see some of that money onscreen in the sweeping visuals of the most recent trailer.
The first season of "The Wheel of Time" will run eight episodes, and it premieres on Amazon this Friday, November 19, 2021.