The Jurassic World Dominion Prologue Is Not In The Movie, So What's Going On?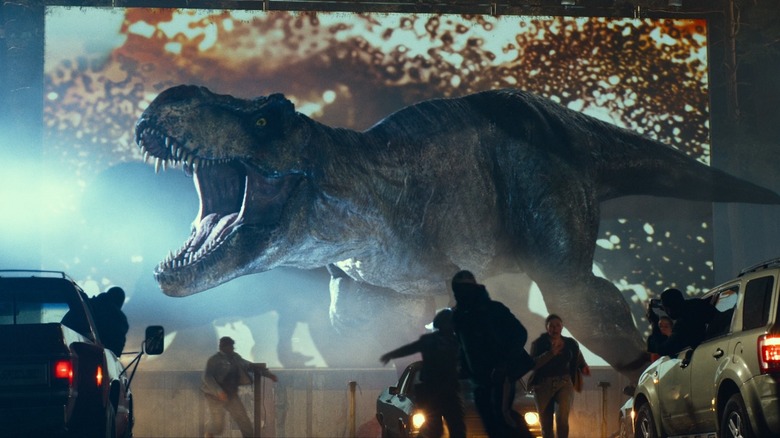 Universal Pictures
We have received our first look (kind of) at next summer's "Jurassic World Dominion" in the form of an impressive-looking prologue that helps tee up the ball for the events of the film. While this footage certainly looks like something that could (and maybe should?) be in the sequel itself, it actually isn't, which may come as a surprise to fans. We're going to discuss why this might be, and do a bit of theorizing as well. Let's dig in.
Universal has stated (and we have confirmed) that the prologue that was recently released online was directed by Colin Trevorrow, who is also directing "Dominion." However, not a single frame of this five-minute short film will be in theaters next year. The short — or something very close to the one that was released online anyway — originally debuted in IMAX screenings of "F9" earlier this year. So the studio pumped a lot of resources into this thing, and it shows. That opens up a whole host of questions.
Why Isn't This Expensive Short Film In The Movie?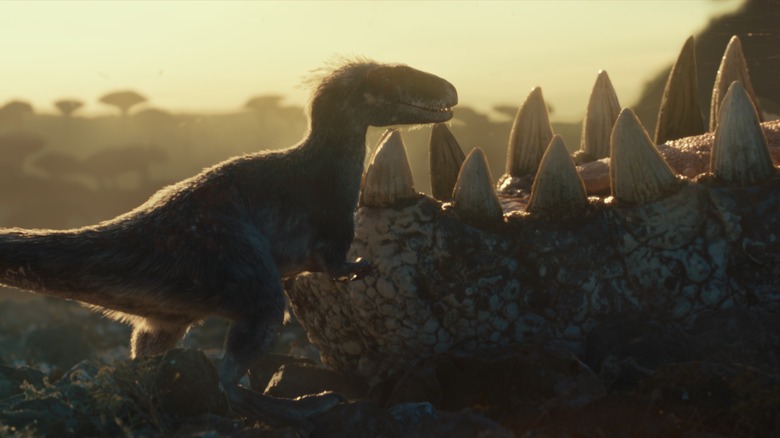 Universal Pictures
While Universal has not yet provided any explanation as to why this footage isn't in the movie, we can do some reasonable speculation. Much of the "Jurassic World Dominion" prologue takes place in the distant past. It is sort of like a faux nature documentary about dinosaurs set in the confines of this franchise. And, not for nothing, it looks pretty great. It's easy to see how this might have been a pitch for something that would be included in the movie, only to end up on the cutting room floor. Same with the later scene of the T-rex rampaging through a drive-in movie theater.
Perhaps the simplest explanation is that these were scenes that ended up on the cutting room floor and Trevorrow, along with the studio, found a way to repurpose them as a bit of creative marketing. It's not necessarily uncommon for studios to produce shorts that don't appear in movies as a means of marketing. But this short looks to be wildly expensive, which is why there must be some logical explanation. Yes, both "Jurassic World" and "Jurassic World: Fallen Kingdom" made boatloads of cash at the box office, but that still doesn't quite justify giving something like this the green light without some deeper reasoning.
Is Jurassic World About To Pull a Mandalorian?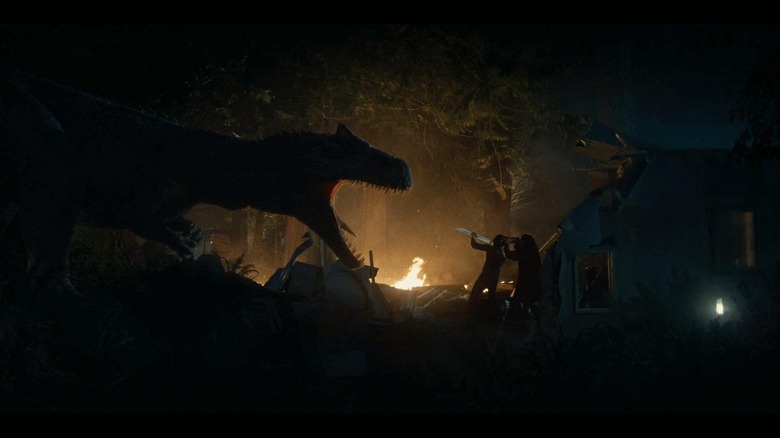 Universal Pictures
Here, I am about to get into fanboy, tinfoil hat speculation territory. While I'd like to think this isn't entirely unfounded, understand that this is me putting forth a theory of my own creation, not based on any official information from Universal Pictures or anyone associated with the "Jurassic Park" franchise. With that having been said, what if this prologue is hinting at something bigger to come in the future? What if this is more than just a clever bit of marketing for a gigantic blockbuster? What if it is that, but also a proof of concept of sorts for something far more ambitious?
Rumors have persisted for some time regarding a potential live-action "Jurassic World" TV show. The folks at fansite Jurassic Outpost (a generally reliable source for information on the franchise) reported last year that just such a thing was in development. And the modern Hollywood world being what it is, that would make a whole lot of sense. Franchises are king and this is one of the biggest franchises around. Across five movies, the series has earned more than $5 billion at the box office. What's the logical next step? A big-budget TV show for a streaming service.
Lucasfilm and Disney did this to much success by bringing "Star Wars" to the small screen in "The Mandalorian." For years, it was believed that it would be too expensive to do "Star Wars" on TV. Streaming has paved the way for studios to spare no expense. Universal could conceivably do something similar with the "Jurassic" franchise. This prologue, in addition to the "Battle at Big Rock" short film released in 2019, may be tests of sorts to determine if they can truly make something like this work. They can spend the money, write it off as marketing for an assured hit blockbuster and if it tells them what they need to know, they can proceed with the show.
"Jurassic World: Camp Cretaceous" has already proven that the series can work in short form, albeit in animated form. Three seasons in, with a fourth on the way, it has done well for Netflix. Live-action is the next step and these suspiciously expensive short films may be testing the waters. Time will tell.
"Jurassic World Dominion" is set to hit theaters on June 10, 2022.