Jurassic World: Camp Cretaceous Season 4 Trailer: Escape Is Only The Beginning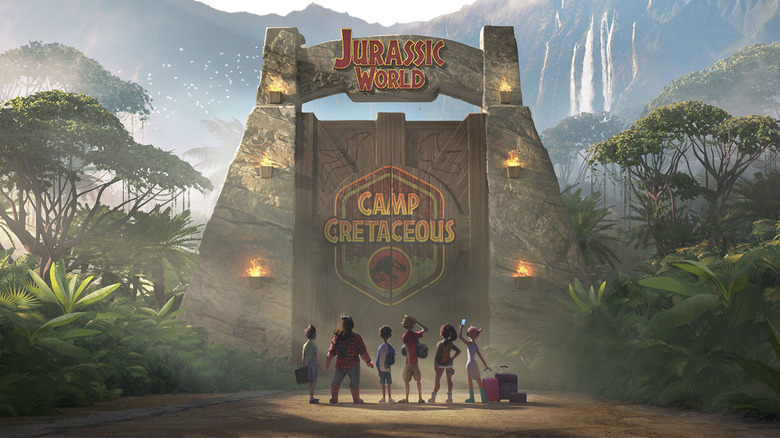 Netflix
Almost 30 years after "Jurassic Park" changed the landscape of summer blockbusters forever, the new "Jurassic World" films have attempted to cash in on that legacy by taking the action to the next level. The park was finally opened to the public with 2015's "Jurassic World" and, predictably, things didn't quite work out. "Jurassic World: Fallen Kingdom" then upped the ante even more by essentially blowing up the original island of Isla Nublar with an erupting volcano and ushering the surviving dinosaurs onto the mainland where — who could've possibly guessed! — they escaped into the wild. Life finds a way, apparently!
With "Jurassic World: Dominion" set to bow in 2022, some might be tempted to think that the big screen franchise is hogging all the good stuff. That's not quite the case, however, as "Jurassic World: Camp Cretaceous" has garnered its fair share of fans since debuting on Netflix in 2020. The animated series has worked in parallel with the events of the movies, putting the focus on a group of stranded children who've had to fight off dinosaurs, mercenaries, and occasionally each other to survive the unforgiving environment and make it back home safe and sound. With season 4 of the show set to debut in December, DreamWorks Animation and Netflix have released a new trailer, which you can watch below.
Jurassic World: Camp Cretaceous Season 4 Trailer
Debuting in September of 2020, each season of "Jurassic World: Camp Cretaceous" has received generally positive reviews, culminating with the highest praise yet for season 3. The premise of the series is that a group of six teenagers visiting Jurassic World for summer camp have become stranded on the island, due to the events depicted in "Jurassic World." Ever since, their adventures have taken place in parallel with the ongoing series of movies, sometimes even including Easter eggs for observant viewers that further tie in with the films. Season 3 ended with the most overt connections to "Jurassic World" yet, as the group of teens encountered the now-villainous Dr. Henry Wu (a character from the original "Jurassic Park" who returned in both "Jurassic World" and "Fallen Kingdom" and is voiced by Greg Chun in this series) but finally managed to make it off the island ... though not without picking up an unwelcome dinosaur guest along the way.
Developed and created by Zack Stentz ("Thor," "X-Men: First Class," "The Flash"), "Jurassic World: Camp Cretaceous" stars the voice talents of Paul-Mikél Williams as Darius Bowman, Kausar Mohammed as Yasmina Fadoula, Jenna Ortega as Brooklynn, Ryan Potter as Kenji Kon, Raini Rodriguez as Sammy Gutierrez, and Sean Giambrone as Ben Pincus. Joining them in supporting roles are Jameela Jamil, Glen Powell, Stephanie Beatriz, Bradley Whitford, and Chun.
Season 4 of "Camp Cretaceous" is set to debut on Netflix on December 3, 2021.