Finding Magic Mike Trailer: HBO Max Is Looking For The Next Great Male Stripper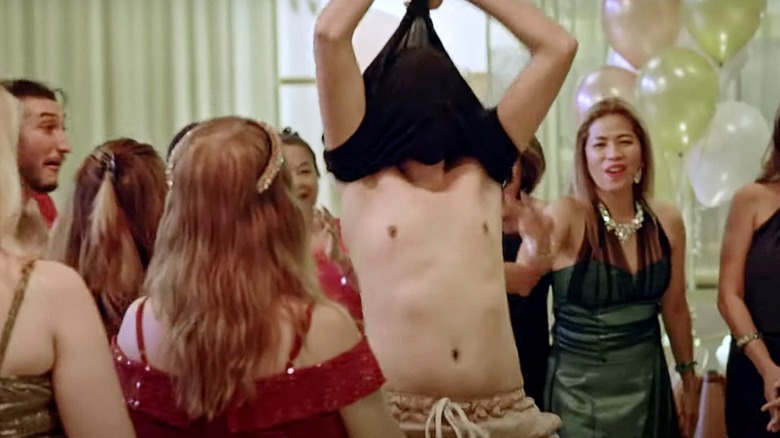 Warner Bros. Entertainment
Happy International Men's Day! HBO Max has unveiled a new Max Original (as series produced for the HBO Max streaming service are called) in the form of a seven-episode competition series with exotic male dancers putting on their boogie shoes and dancing for dollars. 
"Finding Magic Mike" drops Thursday, December 16, courtesy of Eureka Productions and Warner Bros. Unscripted Television, in association with Warner Horizon. The show is executive produced by Channing Tatum (star of "Magic Mike" and its sequel, "Magic Mike XXL"), Steven Soderbergh (director of the first "Magic Mike" movie), and Gregory Jacobs (director of "Magic Mike XXl.")
The reality show stars Adam Rodriguez ("CSI: Miami"), "Magic Mike" choreographer Alison Faulk, executive producer Vincent Marini, and Luke Broadlick ("Magic Mike XXL"). Guest judges include comedians Whitney Cummings, Nikki Glaser, and Robin Thede ("A Black Lady Sketch Show"), as well as "Pussycat Dolls" singer Nicole Scherzinger and actress Amanda Seales ("Insecure").
Here's the synopsis for "Finding Magic Mike," and you can check out the trailer below.
Ten regular guys who have "lost their magic" are put through the paces of a Magic Mike Live bootcamp, baring their souls – and more – as they learn to perform sexy and daring dance routines with one being crowned the real Magic Mike. The winner will pocket a cash prize.
Finding Magic Mike Trailer
The original "Magic Mike," directed by Steven Soderbergh, was a road-trip comedy of sorts that released in 2012. The film starred Channing Tatum as Adam, a young man who picks up a thong and dives into stripping. "Magic Mike" was inspired by Tatum's own pre-stardom experiences as a dancer in Florida, and remains a triumph in critical circles and at the box office. It got a sequel three years later, "Magic Mike XXL," directed by Gregory Jacobs and worth checking out, if /Film's Danielle Ryan has anything to say about it.
One notable part of the "Finding Magic Mike" trailer has a man twirling and grinding on a woman who's not a college coed, prompting awe and giggles among the other contestants with one man shouting, "Yo, that's somebody's grandma, bro!" But by including elder women in the willing audience during dance challenges, the series appears to highlight one of the magical parts of the "Magic Mike" franchise: you don't have to be a spring chicken to get joy out of some sweet dance moves. 
And the aim truly is joy — remember that iconic scene in "Magic Mike XXL," wherein Joe Manganiello gyrates and body rolls his way through a minimart and successfully charms a simple smile out of the poker-faced cashier? That's what it's all about; yes, the chiseled abs are great, too, but these stories always orient themselves towards femme satisfaction — the way it should be. 
And I'm certainly grinning.
"Finding Magic Mike" releases December 16, 2021, on HBO Max.