14 Shows Like Dexter That Will Get Your Blood Pumping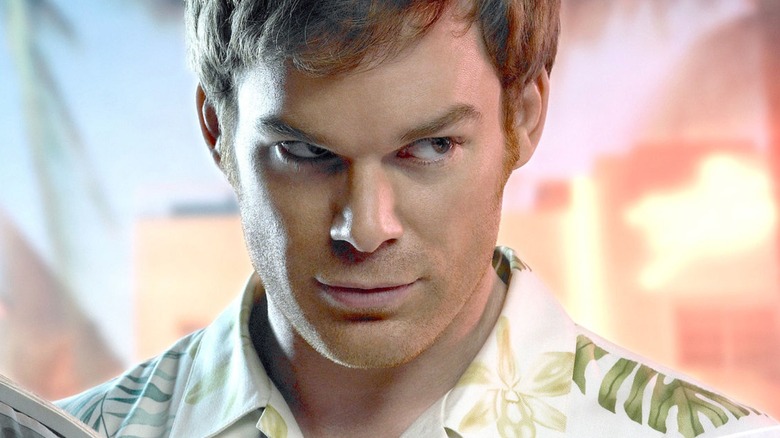 Showtime Networks
The serial killer genre isn't for everyone, but there's something special about it that sets it apart from siblings like horror, thrillers, or true crime. The critically acclaimed and hugely popular Showtime series "Dexter" followed serial killer Michael C. Hall as Dexter Morgan, who worked as a forensic scientist for the Miami police by day while trying to control his deadly compulsions by night. Dexter's strict ethical code, which only permitted him to murder "bad guys," allowed him to satisfy his impulses while solving crimes and keeping a twisted — but clean — conscience. 
The series was a twisty psychological thriller that made viewers root for a murderer, highlighting the complexities of humanity while taking viewers on a thrill ride through Dexter's psyche. With "Dexter: New Blood" reviving the series for another go around, we've compiled a list of 14 other shows like "Dexter" that are guaranteed to get your blood flowing one way or another.
Mindhunter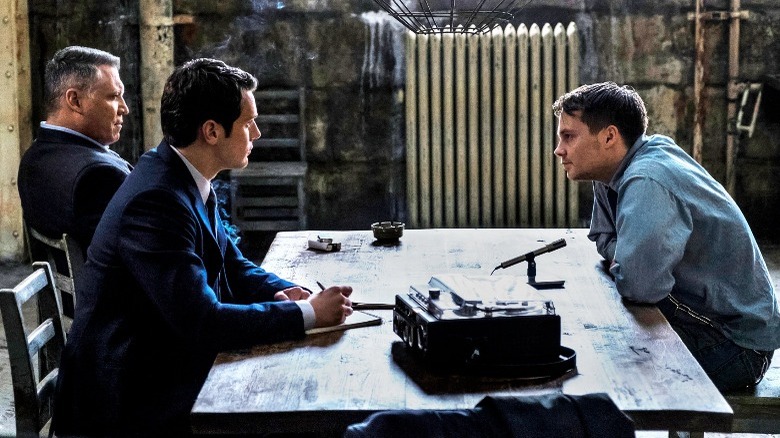 Netflix
Modern-day serial killers may go back as far as Jack the Ripper, but that doesn't mean that police always had a name for them. "Mindhunter" examines the FBI's first attempt in the 1970s to study the specific kind of psychopaths who kill repeatedly in the same way over and over, a notion that was peculiar at the time. The series follows the FBI agents who work together to interview incarcerated murderers: Holden Ford (Jonathan Groff), a young agent with the Behavioral Sciences Unit, and Bill Tench (Holt McCallany), the unit's veteran director. 
While Holden is excited to meet with killers and pick their brains, Bill is resistant to his approach and wary of what they might uncover. However, as they continue to work alongside a psychologist, Dr. Wendy Carr (Anna Torv), they are also able to investigate open cases and apply their newly developed theories in real time, for better or worse. David Fincher uses his steely control to create high-wire tension throughout the series, which takes a propulsive and fascinating look at the mind of serial killers that would make Dexter jealous. You can stream the complete series on Netflix.
The Fall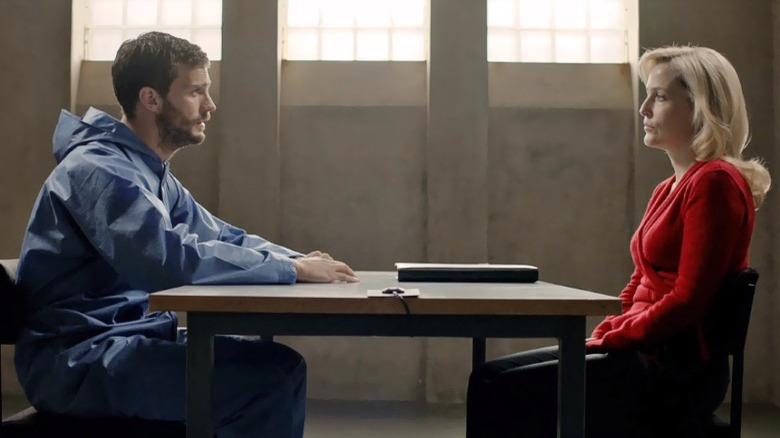 BBC Northern Ireland
If "Dexter" gave viewers a look at a serial killer attempting to control his impulses while living a normal life, "The Fall" takes it one step further, bringing the audience right inside the mind of an active murderer who isn't trying to control himself at all. The series follows two hunters, special agent Stella Gibson (Gillian Anderson) who arrives in Belfast, Ireland to investigate a series of violent sexual killings, and husband and father Paul Spector (Jamie Dornan), the perpetrator of the murders. Each episode allows viewers to investigate alongside Stella as she attempts to solve the case, while also watching Paul commit crimes in real time before going home to his unwitting wife and children. 
Like "Dexter," watching "The Fall" is a startling experience, as the audience can't help but be drawn into the handsome and charismatic Paul's world. Fans of "Dexter" will appreciate the adrenaline rush of the cat and mouse game between Stella and Paul. The complete series can be found on Amazon Prime Video.
You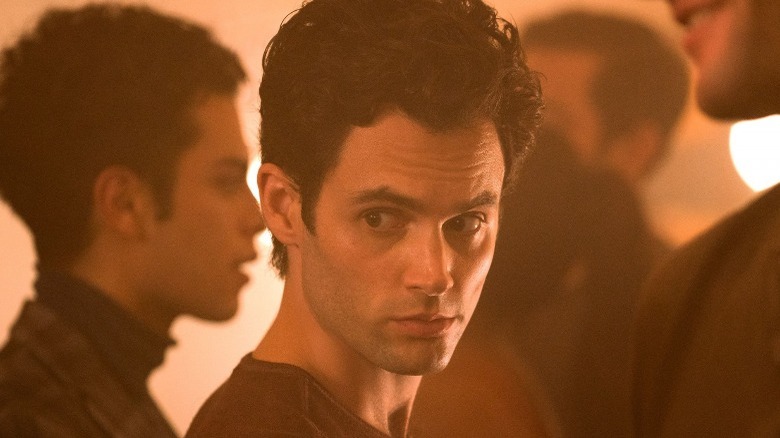 A+E Studios
Based on a series of novels by Caroline Kepnes, "You" follows Joe Goldberg (Penn Badgley), a New York bookseller who becomes obsessed with a young writer named Guinevere Beck (Elizabeth Lail). As Joe pursues a relationship with her, it becomes increasingly clear that he'll do anything to create and preserve what he thinks is the perfect relationship with Beck, even murdering those who get in his way. As the series progresses, Joe collects more victims as he pursues other stalkers in his effort to find his twisted, idealized version of true love. 
Like "Dexter," "You" takes us inside Joe's mind, complete with compelling and eerie voiceover narration that keeps viewers on their toes and guessing Joe's true motives. However, unlike Dexter, Joe is in denial about his true nature, making him a messy and unhinged serial killer who repeatedly gets himself backed into corners. "Dexter" fans will love the tension and rush of watching Joe work to get himself out of the tight corners he's backed himself into. You can stream all current seasons on Netflix.
Hannibal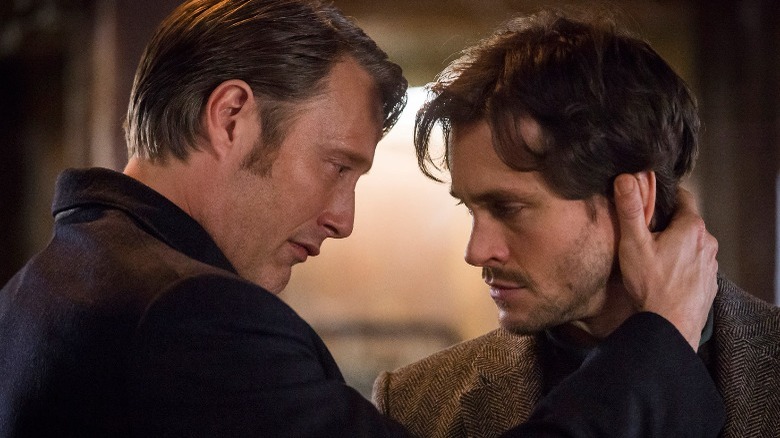 Dino De Laurentis Company
Hannibal Lecter is one of cinema's most famous serial killers, spawning multiple adaptations of Thomas Harris' original novels. "Hannibal" focuses on the relationship between the eponymous psychiatrist (Mads Mikkelsen) and FBI profiler Will Graham (Hugh Dancy) as they work together to solve beautifully grotesque and bizarre serial murders, some of which are committed by Hannibal, and some by his peers. As the series progresses, Hannibal and Will form a deep and complex friendship with an unnerving romantic subtext that complicates their lives in fascinating ways. 
Like Dexter, Hannibal is both a perpetrator and investigator of the crimes at the center of each episode, making for a propulsive, slow burn thriller as Will inches closer to the truth. The series also features beautiful and vivid cinematography, making for an unsettling but alluring visual world that the killers inhabit. If you liked "Dexter," you should appreciate Hannibal's psychological mind games and the show's procedural crime elements. The complete series is available on Hulu.
Breaking Bad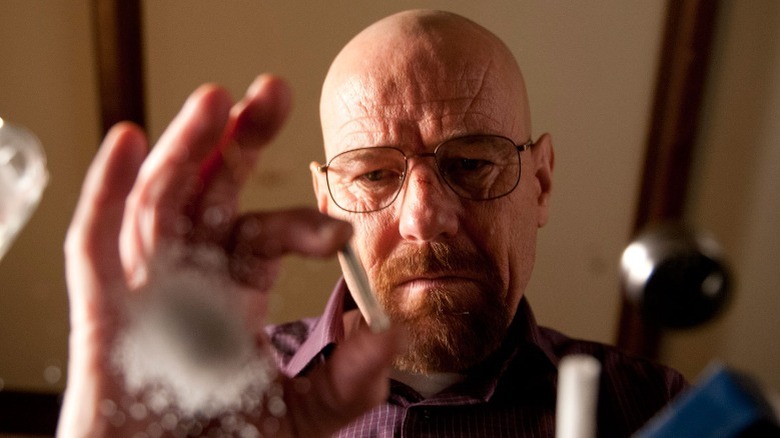 Sony Pictures Television
A critically acclaimed series that has since spawned a prequel series and sequel film, "Breaking Bad" follows Walter White (Bryan Cranston), a high school chemistry teacher who receives a terminal cancer diagnosis and decides to cook and sell meth in order to provide for his family after he's gone. Walt employs an accomplice, Jesse Pinkman (Aaron Paul), one of his former students who has since become a drug dealer. The two become uneasy partners as they embark on a new business together. As the series progresses, Walt becomes less concerned about providing for his family as he becomes more absorbed in the criminal underworld. 
Similar to "Dexter," the series explores numerous ethical and moral questions as Walt initially tries to hang onto his humanity amidst the chaos and destruction he's creating. Additionally, Walt's brother-in-law, a DEA agent named Hank, unknowingly investigates him, similar to the relationship Dexter has with his cop sister. "Breaking Bad" is a gripping drama with a captivating antihero that stays with audiences long after viewing. You can watch the complete series on Netflix.
Fargo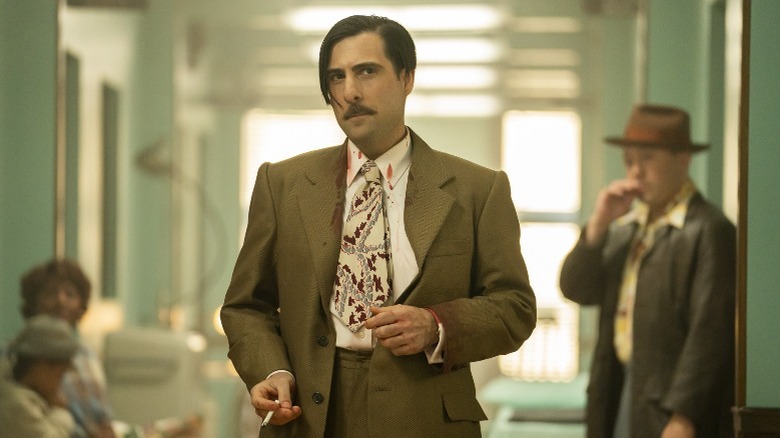 FX Productions
Loosely based on the original Coen brothers film, "Fargo" is an anthology series that follows a new set of characters in a unique location each season with minimal overlap. Though each season has a new cast, the series has featured noteworthy actors such as Billy Bob Thornton, Kirsten Dunst, Chris Rock, Carrie Coon, and Ewan McGregor. Like the film, "Fargo" is a dark comedy thriller that closely follows the foibles and exploits of amateur and expert criminals as they fight to survive in the Midwest. 
While each season takes place in a different decade, spanning the 1950s, 1970s, and the 2000s, they're all crime stories with black comedy undertones. Much like "Dexter," "Fargo" showcases charming criminals that the audience can't help but root for even as they become more entangled in dangerous scenarios. Both shows also feature forceful and captivating mysteries. "Fargo" is a darkly funny thriller that would enthrall even Dexter; check it out on Hulu.
Bates Motel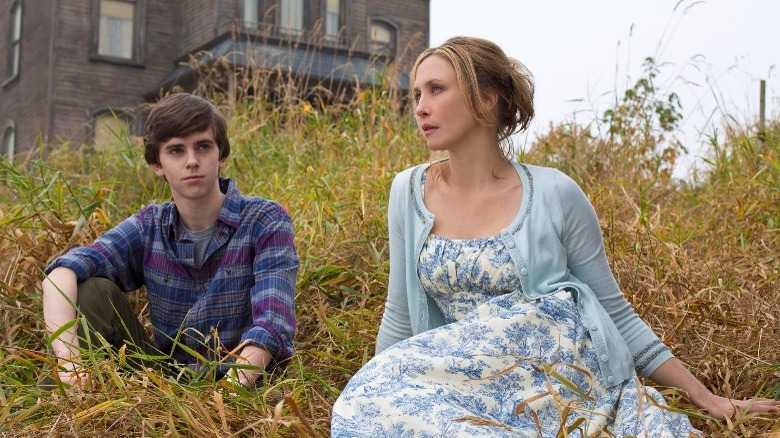 Universal Television
One of cinema's most notorious psychopaths, Norman Bates captivated and terrified audiences when he first appeared on screens in Alfred Hitchcock's groundbreaking "Psycho" in 1960. Over 50 years later, "Bates Motel" revisits Norman, reimagining his teenage years in a contemporary prequel setting. The series stars Freddie Highmore as Norman and Vera Farmiga as his mother Norma, and follows their complex relationship in the aftermath of his father's death. 
At the beginning of the series, Norma purchases a hotel to give her and her son a new start — it's ostensibly the same one from the original film, but is located in Oregon rather than California. As "Bates Motel" progresses, Norman's murderous tendencies evolve and begin to emerge, forcing Norma to fight to protect herself and her son. Unlike "Dexter," Norman is in complete denial of and totally divorced from his darker self, but both shows feature a disturbing psychological mystery that keeps viewers watching despite the unsettling themes. You can stream the complete series on Peacock.
Barry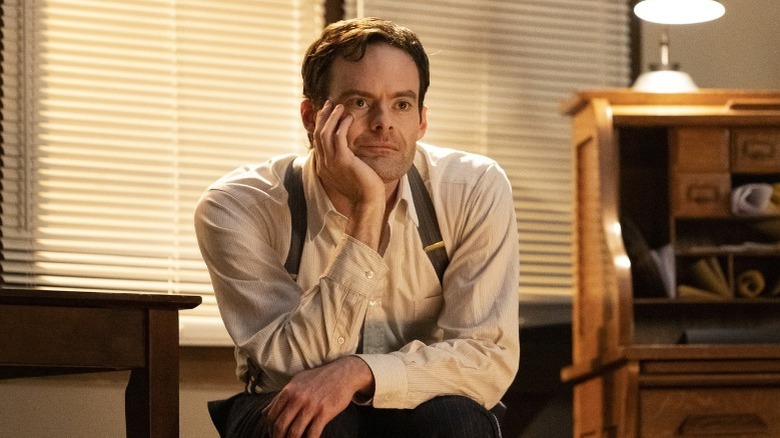 Alec Berg Productions
Unlike the other series on this list, "Barry" is an outright comedy, which may make it seem very dissimilar to "Dexter." However, "Barry" is also a propulsive thriller about a killer who wants to be — and believes that he is — a good person. The series follows Barry (Bill Hader), a veteran turned assassin who is very good at killing people and who, like Dexter, keeps his conscience clean by believing that only kills bad guys. Things get messy when Barry follows a target to his improv class and discovers his own latent passion for acting and theater, leading him to question his purpose as an assassin. 
As the series unfolds, Barry's desire to leave behind his career and pursue his new love are constantly at odds, especially because he is more talented at killing than acting. While much more comedic than "Dexter," both series follow a man whose greatest talent is killing while trying to live a normal life. Fans of "Dexter" will appreciate the dark humor of "Barry," as well as its eventual embrace of shocking crime drama tropes. The two current seasons are available on HBO Max; that's also where you'll find season 3, which is due to be released in 2022.
The Americans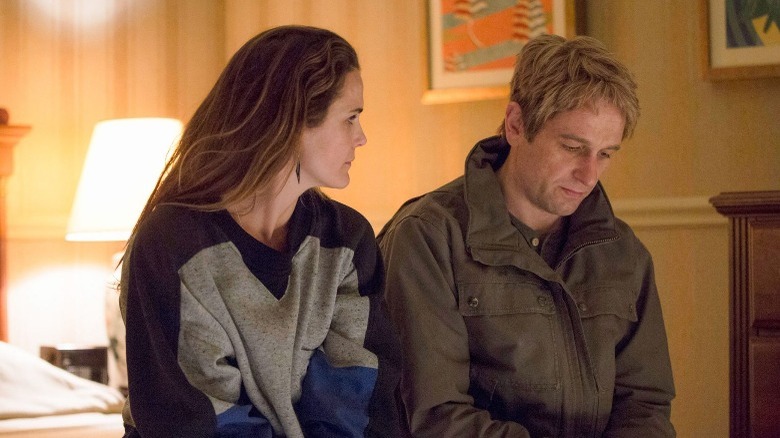 Amblin Television
On the surface, spies and serial killers may not have a lot in common, but both have to maintain a secret identity in order to survive. That's the premise behind "The Americans," a series that follows Philip (Matthew Rhys) and Elizabeth (Keri Russell) Jennings, two Russian KGB spies posing as a quintessential American couple at the height of the Cold War. The Jennings are deep undercover, and no one knows their true identities, not even their children. Complicating matters is the Jennings' new neighbor, Stan Beeman (Noah Emmerich), an undercover federal agent investigating foreign operatives working on U.S. soil. 
As the series unfolds, Philip and Elizabeth find their marriage tested even as they grow closer throughout the increasingly tense Cold War. Like "Dexter," the Jennings have to maintain their public identities while under the constant threat of exposure. "The Americans" is a tense drama that can be streamed via Amazon Prime Video.
Prodigal Son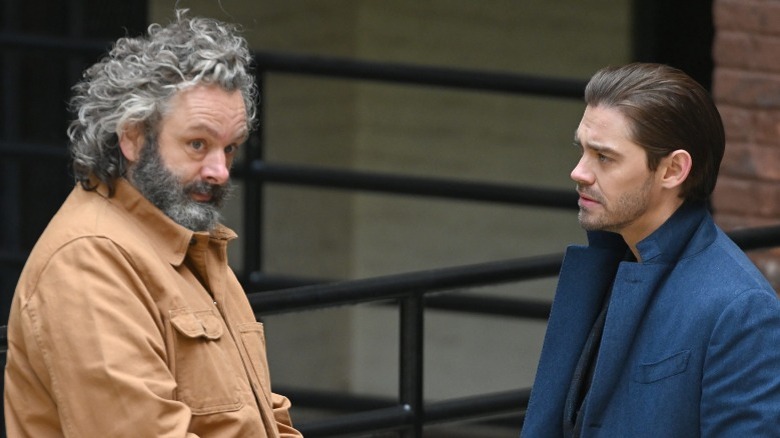 Warner Bros. Television
If a series followed Dexter's son, Harrison, as an adult, it might look something like "Prodigal Son." The series follows Malcolm Bright (Tom Payne), the son of an infamous serial killer (Michael Sheen) who worked with the police as a child to put his father behind bars. Years later, as an adult, Malcolm uses his intimate knowledge of criminal psychology to work with the NYPD. 
While Malcolm is a gifted criminologist, able to see clues that other cops miss, he lives in constant fear that his gift may actually turn out to be a curse and that he'll become a serial killer like his father. To complicate matters, when a copycat killer emerges, Malcolm has to reunite with his father and elicit his help to solve the case. Similar to "Dexter," "Prodigal Son" heavily explores the psyche of a serial killer and the ramifications of the destruction they cause. You can stream the complete series on HBO Max.
The Killing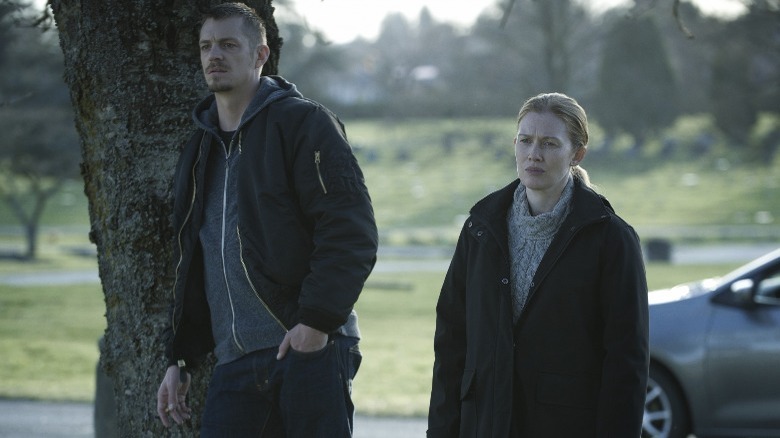 Fox Television Studios
While Dexter tries to maintain his humanity as a serial killer, his series examines the psychological complications of crime and murder. Similarly, "The Killing" looks at an emotionally fraught and fractured Seattle community after the body of a missing teenage girl is found. Detective Sarah Linden (Mirielle Enos) is finishing her last day at work before moving to start a new life with her son and fiancé when she learns that a missing teen has been discovered in the trunk of someone tied to the local mayoral election. 
In light of the news, both campaigns grow increasingly acrimonious as Linden extends her stay in Seattle by a few days, working alongside her replacement, Detective Stephen Holder (Joel Kinnaman) to solve the murder. Both series look at the psychological impacts of murder while following an enthralling mystery. It can be found on Netflix.
Broadchurch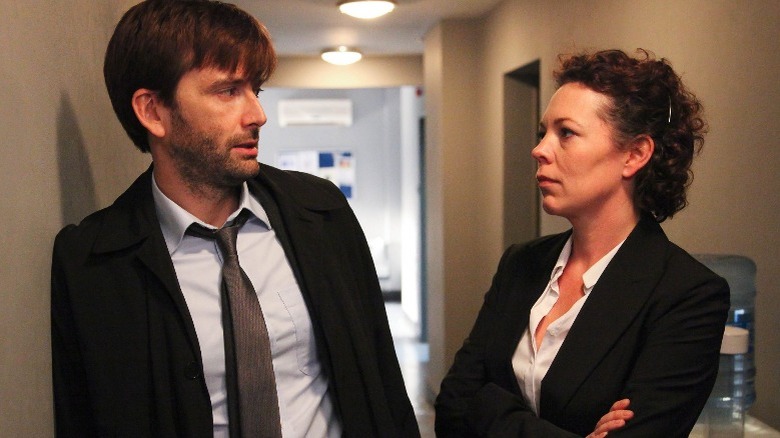 ITV - Independent Television
Set in a fictional English coastal town of the same name, "Broadchurch" follows two detectives, Alec Hardy (David Tennant) and Ellie Miller (Olivia Colman), who are tasked with solving the disappearance and murder of a child that shakes the small seaside community. The tight-knit town is shaken as the investigation unfolds, with the victim's family becoming the top suspects, forcing everyone to turn on each other in order to protect themselves. 
As the series unfolds, Hardy and Miller eventually catch the child's killer and bring them to justice. While the series explores other crimes as it unfolds, "Broadchurch" always remains focused on the impact the initial child's murder has on his family and community. Both "Dexter" and "Broadchurch" look at the ways secrets can threaten to tear people and groups apart amidst heartbreaking murder investigations. Even Dexter would be moved by the emotional complexity and turmoil of "Broadchurch." You can stream the complete series on Netflix.
Top of the Lake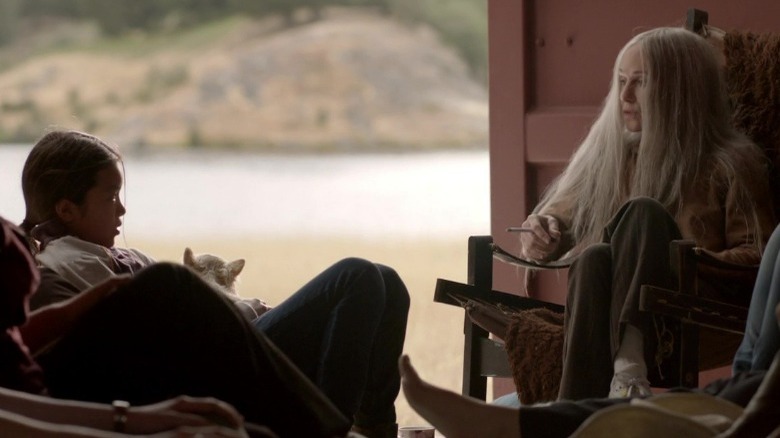 Escapade Pictures
Acclaimed director Jane Campion helms the quiet and tense crime thriller series "Top of the Lake," which sees young Detective Robin Griffin (Elisabeth Moss) return to a small New Zealand town to investigate the strange and shocking murder of a 12-year-old pregnant girl. As Robin works the case, she finds herself up against the town's numerous secrets, as well as her own traumatic past there. 
Due to her inexperience, Robin is soon under the looking glass even as she clashes with the victim's father, a local drug lord, and the mysterious leader of an eerie, cult-like women's camp, both of whom seem to withhold their connections to the case. Similar to Dexter, Robin discovers more about her own nature and identity as she becomes more entangled in the crime. Additionally, both shows provide an insight into the emotional complexities of hunting a murderer while navigating the protagonist's identity, a tense formula fans of "Dexter" will love. You can stream the complete series on Hulu.
Dr. Death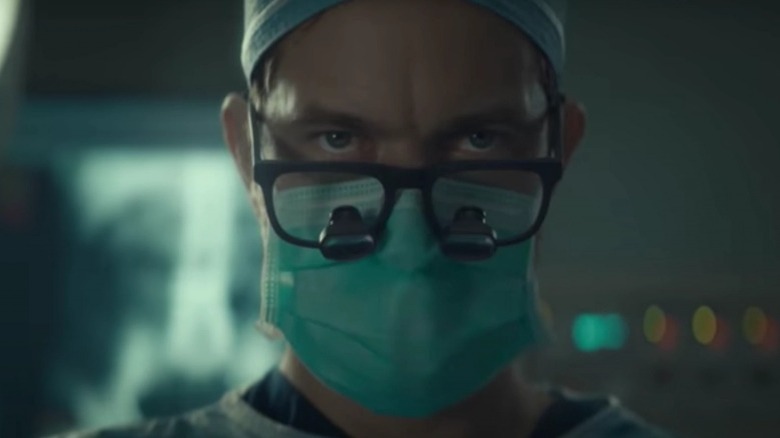 Universal Cable Productions
While most of the entries on this list are heavily fictionalized, allowing for some distance from the intense and chilling stories, even more disturbing is the notion of a show following a real serial killer. That's the premise of "Dr. Death," a series based on the first season of a true crime podcast about outstanding cases of medical malpractice. The show and the podcast follow the story of real-life physician Christopher Duntsch (Joshua Jackson), whose patients go under the knife for routine spinal surgeries and wake up permanently injured — if they're not dead. 
As Duntsch's body count gets higher, two of his colleagues set out to put an end to his inhumane practices. Unlike Dexter, Duntsch does nothing to restrain his serial killer tendencies, going completely against his sacred medical Hippocratic oath. However, both series provide a captivating look at the mind of a serial killer masquerading as an everyday citizen, giving "Dexter" fans chilling fare to sink their teeth into. You can watch "Dr. Death" on Peacock.