The Power Of The Dog Trailer: Benedict Cumberbatch Leads One Of The Best Movies Of The Year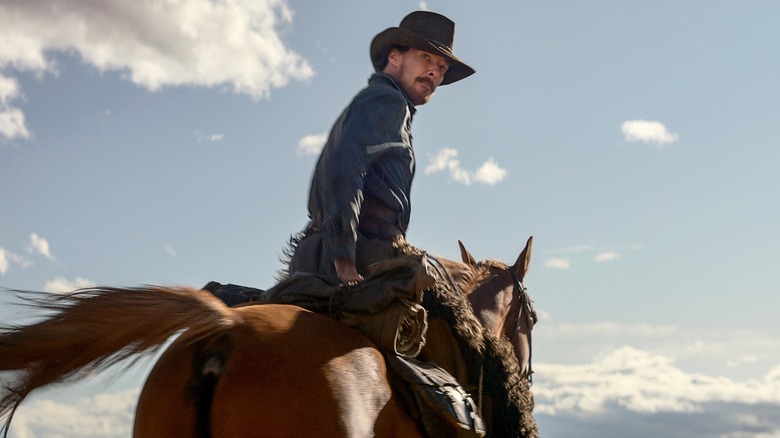 Netflix
Get in losers, we're saving the Western. Or rather, Academy Award-winning director Jane Campion is. 
Westerns just so happen to be responsible for many of my favorite moviegoing experiences in the last few years, from the most recent Angelina Jolie-starring "Those Who Wish Me Dead" (currently streaming on HBO Max) to Tom Hanks' "News of the World" in 2020 (also HBO Max!) to the criminally underseen gem of "The Sisters Brothers" (available on Hulu). After a whopping twelve years without a new feature film release, Campion is returning to the Western genre with "The Power of the Dog." 
Hailed as one of the absolute best movies of the year (you can read Chris Evangelista's positively glowing review here) from one of the most acclaimed directors around, "The Power of the Dog" wouldn't seem to have very much to prove anymore. This newest trailer doesn't act like that, however, laying out the basic beats of the narrative and making a very convincing case to watch it as soon as possible. Check out the trailer for "The Power of the Dog" below.
The Power of the Dog Trailer
Compared to the earlier mood-setting trailer, this new look at "The Power of the Dog" gives viewers an even greater taste of what to expect in Jane Campion's latest. The distinctive storyteller has built a very successful career out of making intelligent, thought-provoking, and challenging films thus far, such as 1993's "The Piano" or her erotic mystery/thriller "In the Cut" a decade later. "The Power of the Dog" looks to be just as meditative and gripping as her previous efforts, with the added bonus of starring Benedict Cumberbatch in full cowboy getup.
In addition to Cumberbatch (cowboy-batch?), the rest of the cast includes Kirsten Dunst (still screaming the name "Peter," because some things never change!), the always-great Jesse Plemons, Western regular Kodi Smit-McPhee, Thomasin McKenzie (who can currently be seen in "Last Night in Soho"), Frances Conroy, Keith Carradine, Peter Carroll, and Adam Beach. The film is an adaptation of a Thomas Savage novel of the same name, telling the story of two brothers and their deteriorating relationship, as a woman and her son are caught in the middle.
"The Power of the Dog" will have a limited theatrical run on November 17, 2021 and a global release on Netflix on December 1, 2021. Here's the official logline:
A domineering rancher responds with mocking cruelty when his brother brings home a new wife and her son, until the unexpected comes to pass.