Riders Of Justice, Starring Mads Mikkelsen, Is Already Getting A U.S. Remake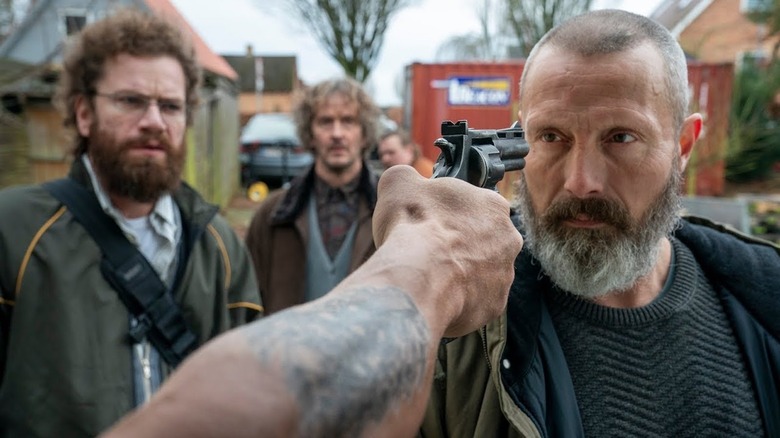 Nordisk Film
Hollywood is riding up on "Riders of Justice," determined to rope it and corral it into its stable of English remakes, more than one of which are based on Danish-language films starring Mad Mikkelsen.
According to The Hollywood Reporter, Lionsgate has secured the rights to an English-language adaptation of "Riders of Justice," to be produced by Shawn Levy, Dan Levine, and Dan Cohen of 21 Laps Entertainment. This is the same production company behind "Stranger Things," the Ryan Reynolds hit, "Free Guy,"  and the upcoming Stephen King adaptation, "The Boogeyman." Writer-director Anders Thomas Jensen, who helmed the original "Riders of Justice," will return with Nikolaj Arcel, who was credited with the idea for the script, to co-write the remake.
This is the second Mikkelsen film in as many months that a studio has acquired to remake. Back in April, the morning after the Mikkelsen starrer, "Another Round," won the Academy Award for Best International Feature Film, came word that Leonardo DiCaprio had snagged the remake rights to it. Director Thomas Vinterberg said he had "hope and curiosity" for DiCaprio's "Another Round" remake, but hearing of the deal so soon added a strange note to the air of celebration, as if Tinseltown was saying, "Congratulations, Denmark! You've won the Oscar. Now, we're going to remake your film without those pesky subtitles."
Remakes of Justice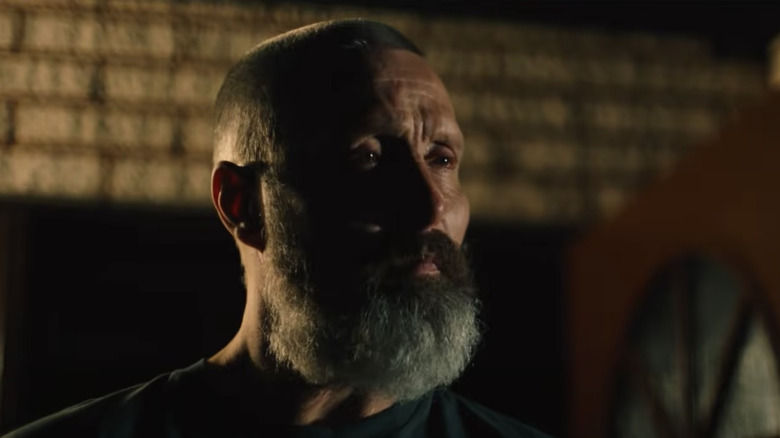 Nordisk Film
In "Riders of Justice," Mikkelsen plays Markus, a soldier whose wife is killed in a train accident. A statistics expert named Otto (Nikolaj Lie Kaas), who happened to be on board and who offered her his seat, comes forward claiming it wasn't an accident, but collateral damage from an assassination carried out by the Riders of Justice motorcycle gang. For Markus, Otto, and their friends, this sets off a twist-filled revenge journey that asks deeper questions about chance versus fate and our place in the universe.
In the past, we've seen master filmmakers like Christopher Nolan, Martin Scorsese, and David Fincher all deliver solid remakes of foreign-language movies. Nolan remade the Norwegian film, "Insomnia," Scorsese remade the Hong Kong film "Infernal Affairs" as "The Departed," and Fincher remade the Swedish film, "The Girl with the Dragon Tattoo." However, these are outliers, and the knee-jerk reaction to news of an English remake is usually, "Why?" As in, "Why mess with success?"
This probably also doubles as the rationale behind certain remakes, since the commercial powers of Hollywood love a surefire success based on past success. You could argue, too, that the remake urge is a holdover from a time when moviedom was less connected the world over by streaming services. If a Korean-language series like "Squid Game" can become Netflix's biggest hit, do we really need a "Riders of Justice" remake? Why not just go watch the original?
Let's just hope the studio system doesn't chew Jensen up and spit him back out, as it has with certain J-horror filmmakers, for instance. If nothing else, the fact that he is writing the script for the "Riders of Justice" remake gives hope that it might be able to do the original film, er, justice.