65: Release Date, Cast, And More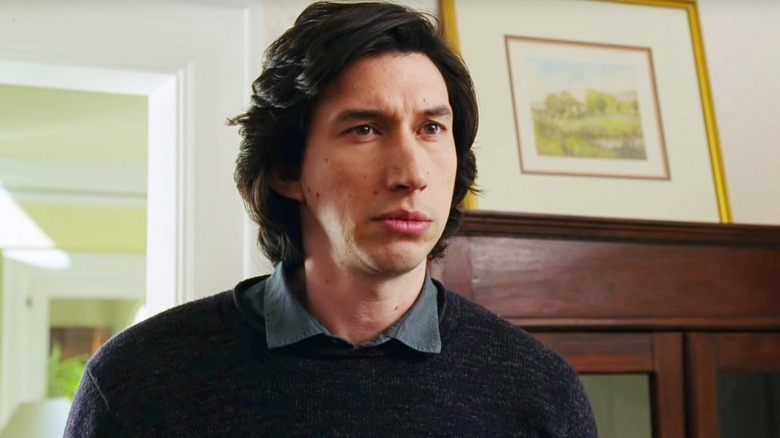 Netflix
(Welcome to ...And More, our no-frills, zero B.S. guide to when and where you can watch upcoming movies and shows, and everything else you could possibly stand to know.)
John Krasinski was deservedly showered in accolades for his efforts as the director, co-writer, and star of 2018's "A Quiet Place," a tense thriller about a family struggling to survive in a post-apocalyptic world overrun by blind alien monsters with a heightened sense of hearing. However, Scott Beck and Bryan Woods also deserve their fair share of praise for co-writing the film, drawing from a story the pair conceived based on their shared love of silent movies and growing up near farmlands in Iowa.
Whereas Krasinski has since moved on to "A Quiet Place Part II," Beck and Woods have continued to focus on original projects in the forms of the slasher horror film "Haunt" and the three-parter "Almost There (Iowa)" for the Quibi Roku horror anthology series "50 States of Fright" (all of which they both wrote and directed). Now, Beck and Woods are re-teaming with "50 States" producer Sam Raimi for a mysterious new thriller simply entitled "65." Here's what we know so far.
65 Release Date and Where You Can Watch It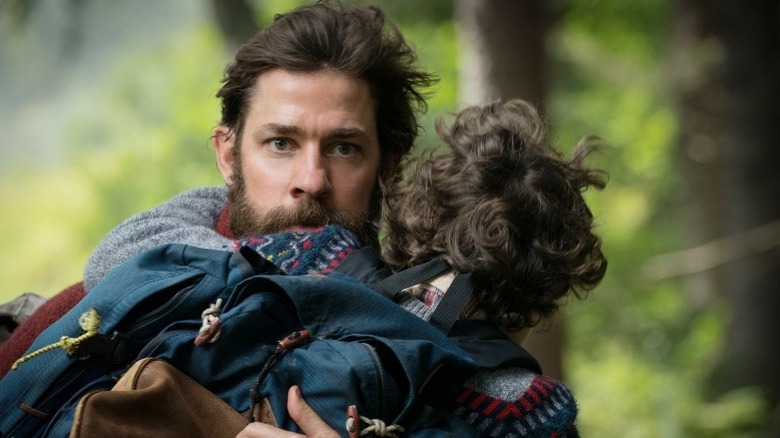 Paramount Pictures
Sony/Columbia Pictures is backing "65" and plans to release the film in theaters on April 22, 2022. With Sony being the only one of the five (assuming Disney hasn't swallowed up another one of them while I'm writing this) major studios that doesn't have its own streaming service, it has so far avoided debuting its movies theatrically on the same day they become available to stream at home. Instead, it has stayed afloat through the COVID-19 era by either premiering its films on the big screen only ("Venom: Let There Be Carnage") or selling them to a streaming giant like Netflix ("The Mitchells vs. the Machines").
As for the future, Sony looks to stay the course in 2022 — meaning "65" should play in theaters exclusively before hitting the home market, pending it being sold to another streamer (knock on wood). With no "Quiet Place" sequel or spinoff scheduled for next year, "65" might even thrive at the box office opening in the same spring spot that served Krasinski, Beck, and Woods' breakout hit so well in 2018.
What Is 65 About?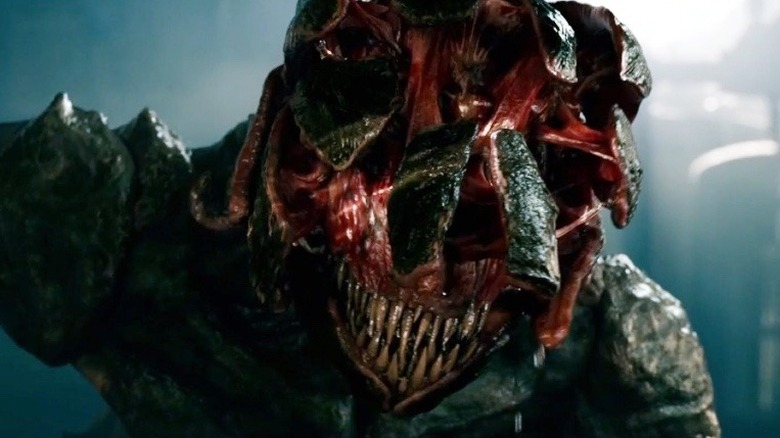 Paramount Pictures
The logline for "65" describes its plot as follows: "An astronaut crash lands on a mysterious planet only to discover he's not alone." Additional details are under lock and key for the time being, although it's safe to assume this movie probably won't see the main character discovering the world he's landed on is home to some genial creatures that just want to help him get back to Earth. If anything, Beck and Woods' involvement suggests "65" is more likely to resemble "Cast Away" in space, except it turns out Wilson the volleyball is actually a blood-thirsty alien.
So far, Beck and Wood have gone out of their way to avoid repeating themselves. "Haunt," for example, takes place in a haunted house attraction where the masked employees are actually trying to kill the guests, which is a far cry from anything that happens in "A Quiet Place." Hopefully, then, "65" will represent yet another curveball from the filmmakers.
65 Cast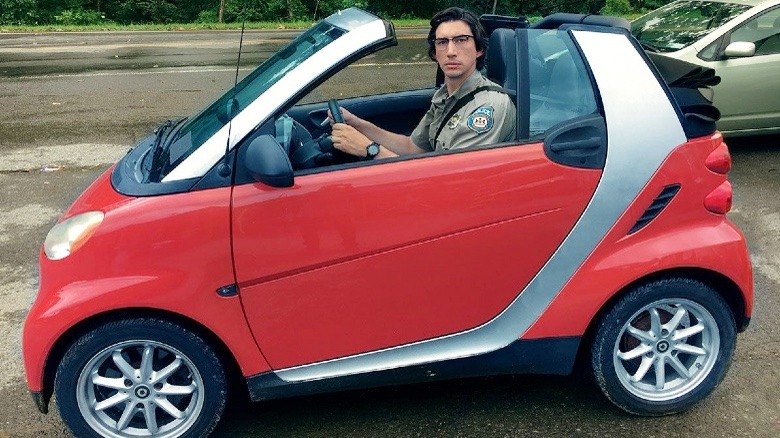 Focus Features
Adam Driver is starring in "65" opposite youngsters Ariana Greenblatt and Chloe Coleman. It's fresh territory for Driver, who's obviously no stranger to movies set in outer space, but has yet to headline a straight-faced thriller or horror movie. The closest he's come to that so far was with his role in Jim Jarmusch's "The Dead Don't Die," an absurdist, post-modern zombie comedy that made an extremely important contribution to cinematic history by sticking the towering, broad-shouldered actor in a smart car.
Greenblatt ("Stuck in the Middle") and Coleman ("Gunpowder Milkshake") are similarly new to the adult thriller scene, being young teens and all. It's possible one of them is playing Driver's onscreen daughter in the movie (assuming they both aren't), so there might be some overlap between "65" and "A Quiet Place" when it comes to themes about parenthood. Then again, maybe Greenblatt and Coleman are playing creatures disguised as human girls that spend the film trying to murder Driver's astronaut, which could be fun, too.
65 Directors, Writers, and More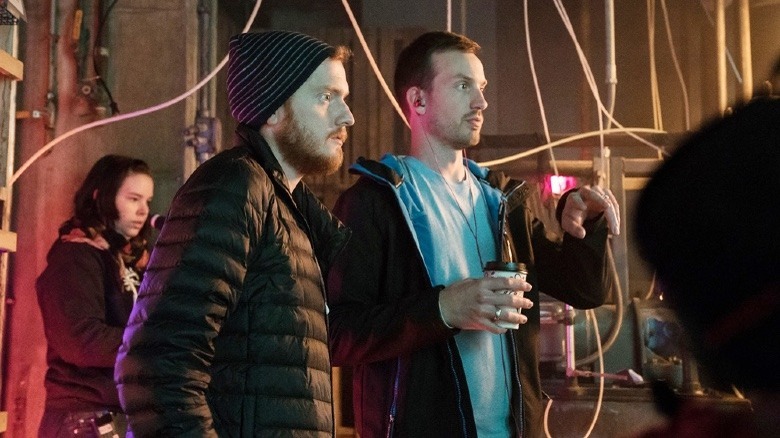 Paramount Pictures
Beck and Woods are directing, writing, and producing "65," with Raimi, Zainab Azizi, and Debbie Liebling also producing for Raimi Productions. The pair have a mixed track record of success as directors so far; where their 2015 found-footage thriller "Nighlight" earned pretty terrible reviews, "Haunt" got a warmer reception, even if critics mostly agreed it borrowed a little too much from iconic horror movies like "Saw." All the same, they seem to be improving every time they step behind the camera, so that bodes well for "65."
Beck and Woods' creative team only further inspires confidence in "65." Their ranks include cinematographer Salvatore Totino (whose visuals certainly helped elevate the "Quiet Place"-style thriller "Bird Box"), as well as "Blade Runner" costume designer Michael Kaplan (who also worked with Driver on Disney's "Star Wars" sequel trilogy). Perhaps most exciting of all, Danny Elfman is composing the score, which should no doubt help to set the film's appropriately uneasy, creepy mood.