Cowboy Bebop Early Buzz: Critics Aren't That Jazzed About Netflix's Live-Action Anime Adaptation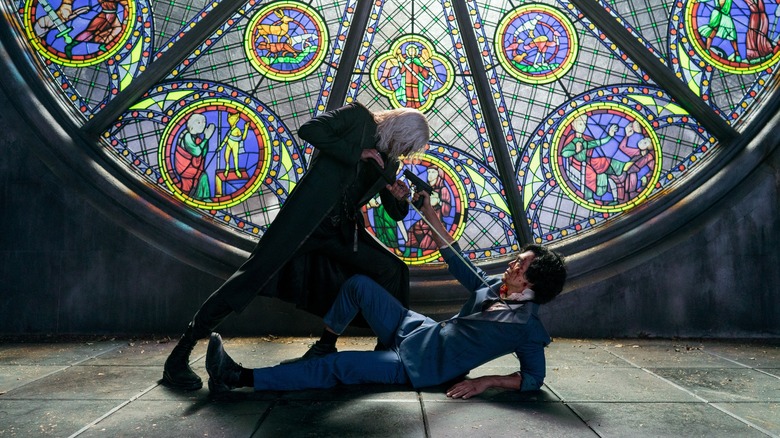 Netflix Studios
3,2,1 ... let's jam. Netflix's newest offering to subscribers is a take on one of the most influential anime shows of all time, but the early word on the street is that the live-action adaptation of "Cowboy Bebop" does not translate the old jazzy spirit of the original series.
The synopsis, from Netflix:
Long on style and perpetually short on cash, bounty hunters Spike, Jet and Faye trawl the solar system looking for jobs. But can they outrun Spike's past?
This ten-episode iteration of "Cowboy Bebop" series was developed by André Nemec and penned by Christopher Yost, a writer known for his work within the Marvel Cinematic Universe with "Thor: The Dark World" and "Thor: Ragnarok," and on "The Mandalorian" for the Disney+ streaming service.
"Cowboy Bebop" stars John Cho (the "Star Trek" reboot films), Mustafa Shakir ("Luke Cage"), Daniella Pineda ("Jurassic World: Fallen Kingdom"), Elena Satine ("Magic City"), and Alex Hassell ("The Boys"). It drops November 19, 2021 on Netflix, but critics got an early look at the goings-on of Spike Spigel (Cho) and his band of merry bounty hunters, and reactions are coming in.
/Film's own Danielle Ryan, ever the unafraid outlier among critics, has an in-depth review of the series dropping soon. Until then, she teases her read of the show not as a straight mimic, but a loving cover song by devoted fans.
The live-action #CowboyBebop isn't trying to replace the anime series but is like a cover song by artists who love the original. There are some big (possibly polarizing!) twists, but the cast, soundtrack, and storytelling make it a worthy entry to the canon.

— Danielle Ryan (@danirat) November 12, 2021
Kansas City critic Katey Stoetzel sits closer to the middle of the fence and brings overall good tidings and praise for Cho, but finds the callbacks to the original animated series to be slapdash and uninspired:
3, 2, 1, let's jam (lol sorry) .. so hey, #CowboyBebop is good. John Cho is a perfect Spike Spiegel. without him, this would not work. It does take awhile for the show to hit its stride, and still slips in some places even after that. my biggest issue with it is how they pic.twitter.com/dY5yaIgySt

— katey stoetzel, haunted 🎃💀👻 (@kateypretzel) November 12, 2021
It's Missing the Magic of the O.G.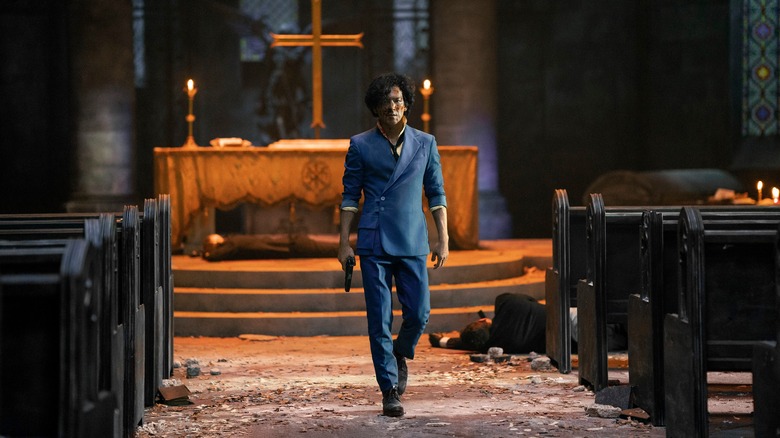 Netflix Studios
Elsewhere, the early reactions aren't so hot on "Bebop." Eric Francisco makes a point of applauding the show's reverence, but complains of a meandering plot and wasted talent. Likewise, Katie Mendoza keeps the nuance alive in her reaction, commending the energy in "Cowboy Bebop" but calling it "a parody of itself."
Netflix's Cowboy Bebop sadly doesn't "jam." It's not bad because it disrespects the anime or whatever (it's very reverent), it just meanders for most of its artificially prolonged length before fumbling at the end. The cast is terrific! They're just wasted in subpar direction. pic.twitter.com/dwNKQP9Noj

— BDG Union Member Eric Francisco (@EricFrancisco24) November 12, 2021
At it's best, Netflix's #CowboyBebop is stylistically beautifully, energetic and faithful to the original series, while still adding more to the story and characters. But at it's worst, it's a parody of itself. pic.twitter.com/NGCbJ5Pnpn

— Casey Mendoza (@CaseyMdoza) November 12, 2021
The rest of the early buzz (among fans of the original, it should be noted — these critics aren't going in cold) seems to agree that the show is a poor retread of its predecessor.
i've been a Cowboy Bebop super-fan since the day i found the first DVD in the back of a Sam Goody in 1998, so i volunteered to review Netflix's live-action adaptation for IndieWire. …that was a grave mistake. (reviews drop monday, save yourselves)

— david ehrlich (@davidehrlich) November 12, 2021
Ok NOW I can actually day that I did not enjoy #CowboyBebop. It makes the mistake of being a mostly verbatim adaptation, which obviously pales in comparison to the anime, but worse yet, it simply looks so cheap. The editing, the visuals, most of the acting is just off.

— Rafael Motamayor (@RafaelMotamayor) November 12, 2021
Now that the social embargo is up: I regret to inform you that new #CowboyBebop is just as bad as you'd feared – a limp, low-budget retread of images and characters and gestures the anime simply does better. And nothing new is gleaned from the reinterpretation.

— I'm Clint Worthington. jk, Dr. Michael Morbius at (@clintworthing) November 12, 2021
It sounds like the show might spur some conversations about live-action adaptations, which can be fantastic or terrible. Disney has been pushing feature live-action remakes and reimaginings of its own classic animated titles, with mixed results, so live-action doesn't automatically mean "bad." As to whether the critics are right or wrong, we'll have to wait ... but only for a week.
"Cowboy Bebop" drops on Netflix November 19, 2021.