Here's When You Can Watch Eternals At Home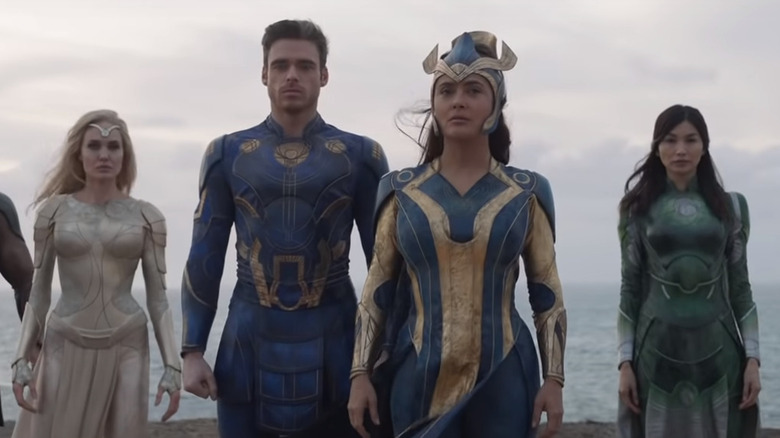 Marvel Studios
As the jack-o-lanterns are put away and the plastic reindeer come out from their year long hibernation, it's finally holiday movie season once more. However, for the second year in a row, going to the theater still feels weird for some, and many folks have gotten used to ease of streaming major releases from the comfort of home. If we've learned anything in the last two years, it's that the cinema experience is more flexible than some thought it could be. 
With that in mind, maybe you don't feel the urgent rush to see major releases like "Eternals" in theaters, but you still want to keep up with the happenings in the Marvel Cinematic Universe. It's okay to take your time with this year's blockbusters. But, can we hope for a gift-wrapped streaming option any time soon? 
Coming Soon to Disney+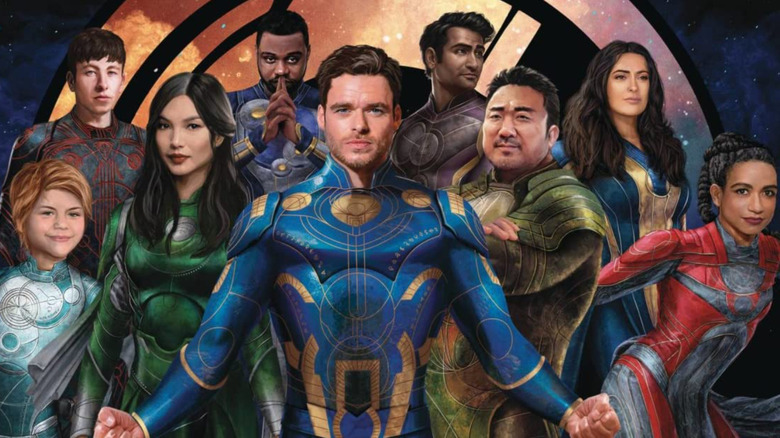 Marvel Studios
If your Christmas wish is to see "Eternals" in the comfort of your own living room, you could be in luck. Bob Chapek, the CEO of Disney, hinted that "Eternals" and the animated film "Encanto" could both hit Disney+ by late December. We wouldn't be surprised if that means the film will be released on the streamer before or on Christmas Day, which has traditionally been a popular time for films to be released in theaters. With the ease of streaming and continued theater hesitancy, more people than usual may be inclined to enjoy the box office from home. Some even argue that box office numbers matter even less than they ever have, which may allow big tentpole films like "Eternals" to come to streaming services sooner than in the past. 
If you need something a little more specific in mind to craft your "Eternals" home viewing party plans, we do have a formula to help nail down a best guess for when it could be available to stream. The current Disney release model is structured so that their films spend at least 45 days in theaters, and then they make their way to Disney+. With "Eternals" debuting in theaters on November 5, the film could be released on Disney+ around December 19. 
Pair an "Eternals" screening up with a trip to a theater to see "Spider-Man: No Way Home," coming out December 17, and you could find yourself in a real Marvel holiday spirit just in time for 2022.