Get Wet And Wild With Our Jungle Cruise Best Buy 4K Steelbook Giveaway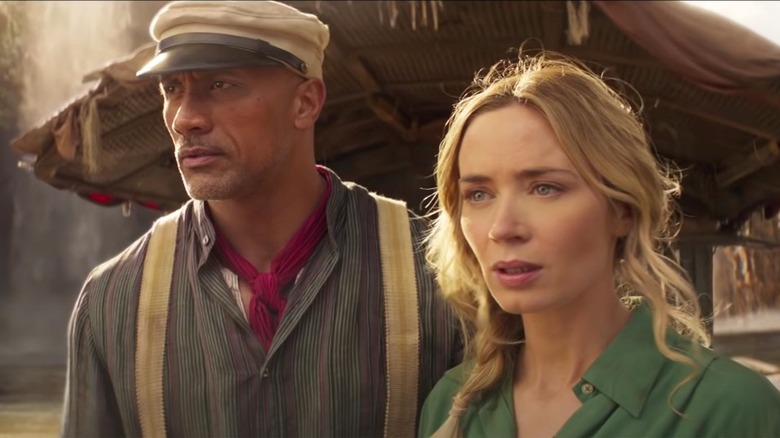 Walt Disney Pictures
Walt Disney Pictures has provided us with the opportunity to give away four copies of the Best Buy exclusive 4K Steelbook release of "Jungle Cruise," this past summer's throwback action adventure film starring Dwayne Johnson and Emily Blunt. The 4K/Blu-ray combo pack comes with outer and interior art exclusive to this edition, and will help Steelbook collectors keep their Disney shelf in tidy order. It is now available for pre-order before it hits shelves on November 16.
While "Jungle Cruise" only performed moderately at the worldwide box office (but did very good Disney+ Premier sales), most audiences appreciated its family-friendly adventure storytelling. Disney is currently developing a sequel, which might be spurned on by robust home video sales and Disney+ viewership.
How to Enter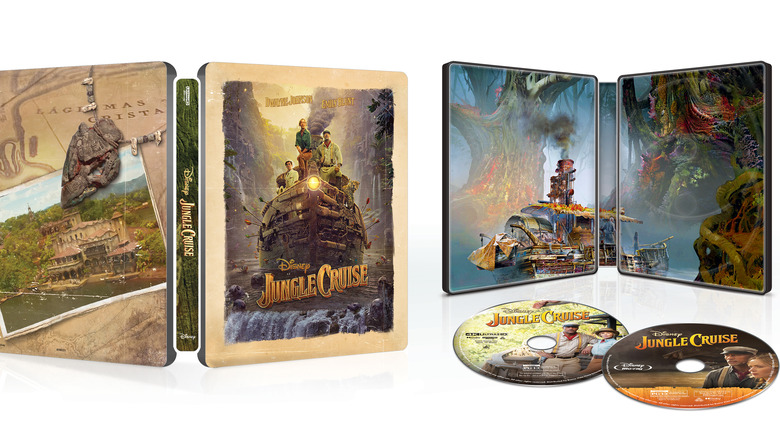 Walt Disney Pictures
All you have to do to win the Best Buy exclusive "Jungle Cruise" Steelbook is retweet the below tweet to be included in the drawing. Then you can just kick your feet up and enjoy the ride! We will pick four winners (U.S. residents only) in the coming days...
Thanks to our friends at @DisneyStudios, we're giving away 4 copies of the @BestBuy exclusive 4K Steelbook of #JungleCruise, going on sale Nov. 16! Make sure you follow @slashfilm and RT for a chance to win. (Open to U.S. residents only) pic.twitter.com/UnICx1R8w6

— /Film (@slashfilm) November 10, 2021
Here is a list of bonus features available on the 4K release:
Jungle Cruise Expedition Mode – Climb aboard a ramshackle tramp steamer (or your own couch) to learn fun facts, discover Easter eggs and catch some pop-up trivia throughout the movie.
It's A Jungle Out There: Making Jungle Cruise – Director Jaume Collet-Serra, the cast and crew discuss the importance of the film's elements, from casting to makeup to the use of an ancient indigenous language, in creating the world that honors one of Disneyland's most beloved rides.
Dwayne And Emily: Undoubtedly Funny – Go on-set with the two stars, whose new-found friendship helped them project a natural onscreen chemistry. Although their characters challenge each other throughout the film, the actors make each other laugh. A lot!
Creating The Amazon – Explore the cinematic artistry involved in creating the world of Jungle Cruise, including how Frank's boat coursed "dangerous" water in a tank in Atlanta, how a town was built in Kauai, and how a ferocious jaguar came to life, among other amazing effects.
Once A Skip, Always A Skip – Join a panel of "Skippers" at the Disneyland Resort as they reminisce about the rewards, challenges and surprises they've experienced while helming the world-famous Jungle Cruise attraction, and hear their advice to aspiring skippers everywhere!
Outtakes – Step behind the scenes of the production to catch the cast in a series of flubs, falls, foibles — and a whole lot of laughter.
Deleted Scenes
MacGregor Drives The Boat
MacGregor Water Skis
Joachim And Nilo On The Dock
Frank Talks To Proxima & Lily's Nightmares
Sub Gets Stuck
Proxima Surprises MacGregor
Frank Gets The Cold Shoulder
Trader Sam And Lily Walk In The Jungle
MacGregor And Trader Sam Say Goodbye
Frank Makes Tea For Lily
The Backside Of Water
Here is the official synopsis:
"Seeking an ancient tree with healing abilities, Dr. Lily Houghton and wisecracking skipper Frank Wolff team up for the adventure-of-a lifetime on Disney's 'Jungle Cruise,' a rollicking ride down the Amazon. Amidst danger and supernatural forces lurking in the jungle, secrets of the lost tree unfold as their fate—and mankind's—hangs in the balance."