Comedy Monster: Jim Gaffigan's Next Special Will Arrive On Netflix Soon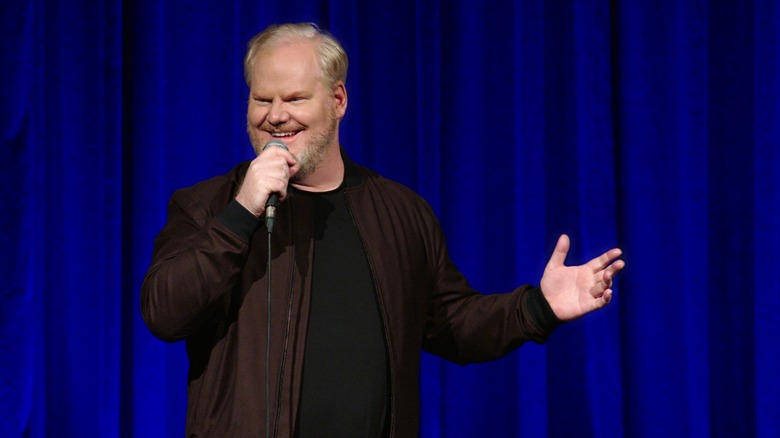 Amazon Studios
The deadpan comedic master Jim Gaffigan is back with a brand new special coming to Netflix. His ninth stand-up special, titled "Comedy Monster," is due to hit the streaming service on December 21, 2021, just in time for the holiday season. The Emmy award winning Gaffigan wrote, directed, and performed the special in Minneapolis, his first since 2020's "The Pale Tourist."
Following the success of "King Baby," "Beyond the Pale," "Mr. Universe," "Obsessed," and "Cinco," "Comedy Monster" is Gaffigan's sixth special available on Netflix, with the rest available on Amazon. The special was produced by the Nacelle Company, with their Comedy Dynamics Records responsible for distributing several of Gaffigan's comedy albums. Brian Volk-Veiss, who is known for "The Toys That Made Us," is executive producing, continuing his long line of working on stand-up comedy specials with performers like Kevin Hart, Ali Wong, Tiffany Haddish, and Ilana Glazer.
For those unfamiliar with Gaffigan's stand-up work, you may recognize the relatively "clean" comic from his work on "CBS Sunday Morning," "Welcome to New York," "Being Frank," "The Ellen Show," "The Jim Gaffigan Show," and "Tesla." There's also his voiceover work in "Hotel Transylvania 3: Summer Vacation," "Luca," and "DC's Stargirl."
The Comedy Style of Jim Gaffigan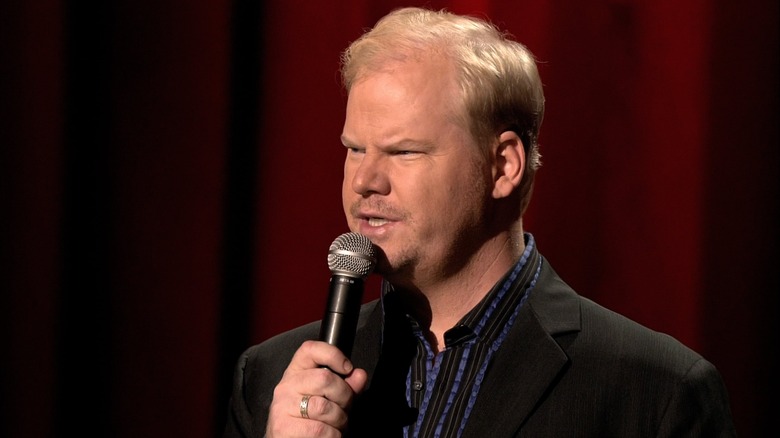 Netflix
Unlike most of his contemporaries, Jim Gaffigan seldom swears on stage, electing his slow, observational storytelling style to speak for itself. In the 1990s, Gaffigan tried a variety of comedy stylings, including impressions and aggressive anger, but found success and comfort in relatable comedy centered on the mundane and average. One of his trademark techniques is using a higher-pitched whisper he calls his "inside voice," frequently serving as what he assumes is going through the minds of the audience as they watch his performance, or what subtext exists in his own head while on stage.
Some of his most famous bits revolve around parenthood, as Gaffigan is one of the few to tackle family life in his specials without ever resorting to the tired, hacky style of acting like having kids are the worst thing to ever happen to a person or talking about how much his significant other sucks. Gaffigan loves his family and that affection comes out in how he jokes about his family life.
Gaffigan is also known for his frequent bits about food, with his most legendary centering around the wild world of Hot Pockets. This bit from his special "Beyond the Pale" has been uploaded to Jim Gaffigan's YouTube channel and viewed over seven million times. Easily his most well known joke, it's also a great highlight of what Gaffigan does best — win over audiences with genuinely smart writing and perfect execution.