Olaf Presents Review: Josh Gad Shines In The Best Frozen Spin-Off Yet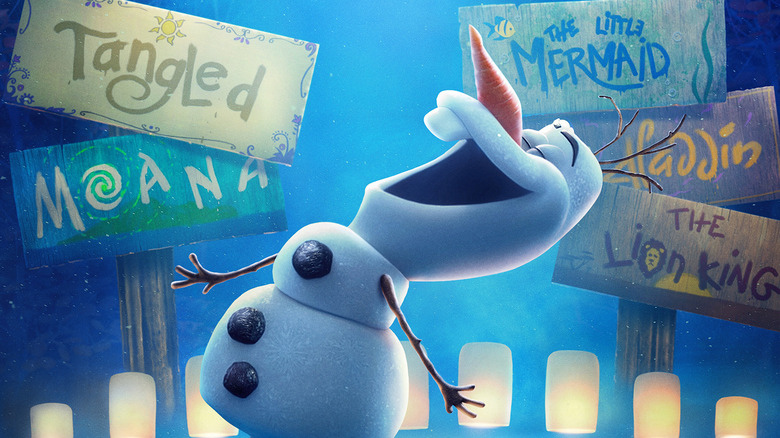 Disney+
If given the choice between going to a funeral or attending a one-man show, I'd pick crying in a stuffy room filled with strangers and ugly floral displays every single time. Attending a one-man show is the friend-of-actors equivalent of being asked to help them move. At least if you help someone move, you might get free pizza or gas money out of the deal. Outside of stand-up comedians, there are few people who can pull off a successful one-person show, but Josh Gad as Olaf the Snowman has done the unimaginable. In the Disney+ collection of shorts, "Olaf Presents," Josh Gad plays most of (if not all) of the major characters in a condensed retelling of some of Disney's most famous animated feature films, proving why he's one of the best character performers working today.
Inspired by Olaf's recap of "Frozen" in "Frozen 2," Olaf and his buddies on Arendelle retell the stories of "The Lion King," "Aladdin," "Moana," "Tangled," and "The Little Mermaid," all in under two minutes each or less. If you're familiar with speech team, it's as if Olaf is turning each Disney movie into a humorous interpretation performance, complete with character pops, voice changes, and the addition of props and secondary performers in the form of the Snowgies and Sven the reindeer. Totaling just under 10 minutes, "Olaf Presents" is one of Disney+'s most impressive shorts series, and easily the strongest "Frozen" spin-off yet.
The Remarkable Range of Josh Gad as Olaf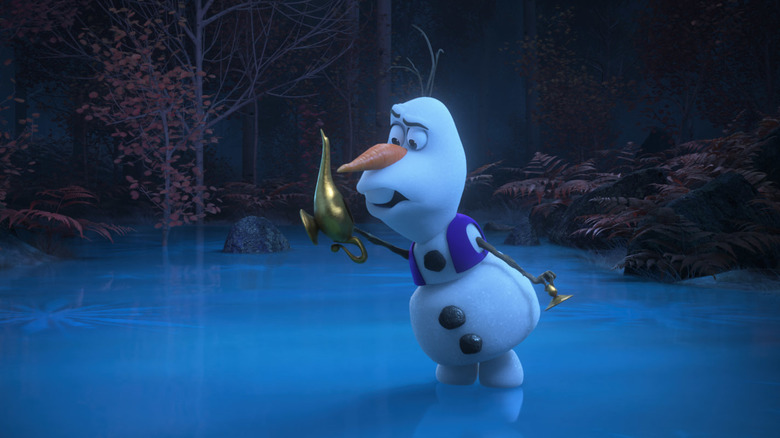 Disney+
"Olaf Presents" lives and dies by Gad's performance, who really pulls out all the stops with his characterizations. Not only is Gad trying to emulate some of the most memorable animated characters in history, but is doing so through the lens of Olaf the Snowman's personality and perspective. Gad absolutely nails what makes characters like Ariel, Ursula, Jafar, Scar, Pumba, Rapunzel, Maui, Moana, and Princess Jasmine so beloved, and lovingly pokes fun at some of the more ridiculous melodrama hidden in films like "The Little Mermaid" and "Aladdin." As much as "Olaf Presents" is a love letter to the movies that helped turn Disney into an empire, it's also an acknowledgement that sometimes the stories could have used a little more fine tuning.
Gad's voiceover work is masterful, successfully differentiating each character from one another while maintaining the trademark Olaf inflections. Doing impressions is hard enough, but doing an impression of someone doing an impression is damn near impossible. It never feels like Gad is imitating someone, it constantly feels like Olaf is behind the imitations. "Olaf Presents" proves that both Gad and Olaf the character are more than capable of carrying an entire film on their own. "Olaf" solo feature when, Disney?
Something for Kids and Parents to Enjoy Together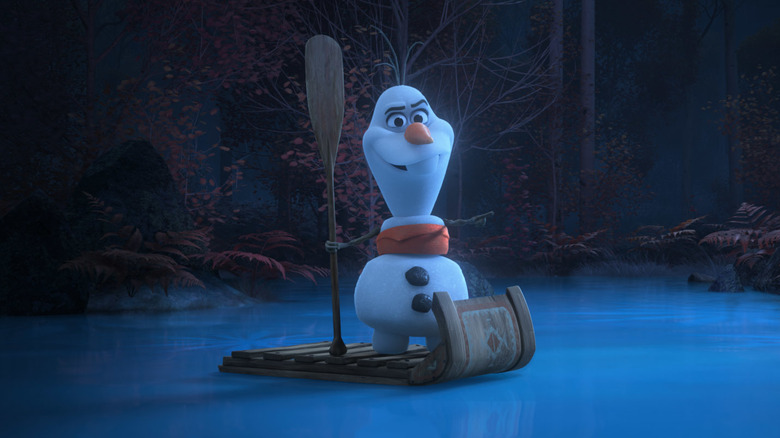 Disney+
While Gad is undoubtedly the heart of "Olaf Presents," the writing is a rousing success. Kids will be entertained enough by just seeing their favorite snowman in silly costumes and quoting lines from their favorite movies, but the humor doesn't talk down to young audiences, making it a perfectly good watch for adults as well. There are a few one liners that earned an audible guffaw and the subtle shade thrown during "The Little Mermaid" and "Tangled" will likely go over the heads of smaller viewers but find a home in the funny bones of adults. Olaf in Ariel's seashell bra will likely be the great equalizer, as will be the sheer madness of watching Olaf jump from character to character. It's seriously funny no matter how old you are, and no matter how cursed some of Olaf's interpretations are once he gets his hands on props. Disney+ has something special on their hands with "Olaf Presents," and the story re-telling options are limitless. The short run time allows for a quick burst of feel-good entertainment, and the show is a sincerely hilariously delightful product that won't drive parents up the wall after their kids plead to watch it for the 100th time in 24 hours. 
"Olaf Presents" will be available to stream on Disney+ Day, November 12, 2021.