'Olaf's Frozen Adventure' Trailer: Preview The Short That Will Appear Before 'Coco'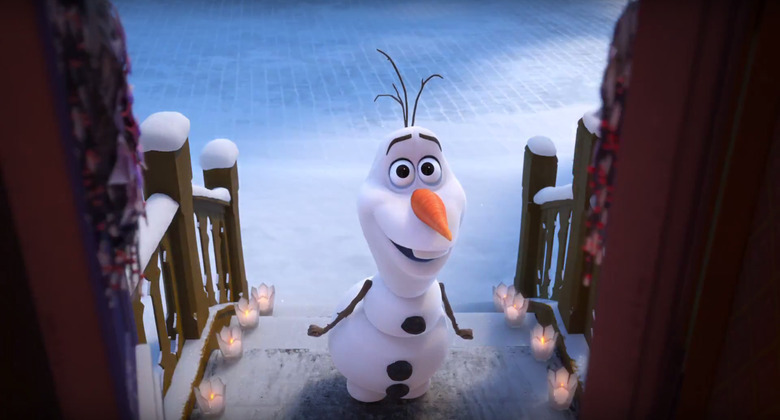 Santa who? It's Olaf who is going to save Christmas.
The lovable snowman voiced by Josh Gad in Disney's massive hit Frozen (and even "massive" sounds like an understatement) gets a starring role in the upcoming short film Olaf's Frozen Adventure. The 21-minute holiday special will premiere in front of Pixar's new film Coco in November. And though we may be in the height of summer now, the trailer for the short film offers us a taste of an early Christmas.
"Do we have any Christmas traditions Elsa?" Anna innocently asks her sister in the trailer for the Frozen short film. This harmless question naturally sends the sensitive Elsa spiraling into depression, blaming herself and her uncontrollable magic for not allowing their family to have any holiday traditions.
But a concerned Olaf immediately jumps into action to save their sisterhood (and Christmas), embarking on a mission to find a Christmas tradition for them. Olaf's blunt personality rubs some of the Arendelle locals the wrong way – he describes the practice of Christmas tree-decorating by saying "You cut down a tree and then you dress a corpse with candles" and observes that "breaking and entering is okay on Christmas."
He basically becomes a reverse-Grinch, unintentionally wreaking havoc and setting aflame a sled full of the Christmas traditions he has collected to present to Elsa and Anna. Classic Olaf.
The trailer is capped off with a lovely duet between Elsa and Anna, which reminds me of the reason I go back to Frozen — not the silly snowman antics, but the sisterly bond between the two main characters. I know that Olaf is great for the kids — I even found myself tearing up over his monologue in Frozen — but he worked best as a sidekick to the real emotional core of the movie: Elsa and Anna. While it's just a 21-minute short film, I fear that it will be 20 minutes too long of Olaf getting into misadventures and can already feel my goodwill toward this surprisingly endearing character melting away. But what do I know? I thought Tangled was better than Frozen.
Olaf's Frozen Adventure is directed by Kevin Deters and Stevie Wermers and features the return of Idina Menzel as Elsa, Kristen Bell as Anna, and Gad as Olaf. The short film will premiere in front of showings of Pixar's Coco on November 22.