Black Adam Producer Says Making The Character A Monster Is The Best Way To Honor Him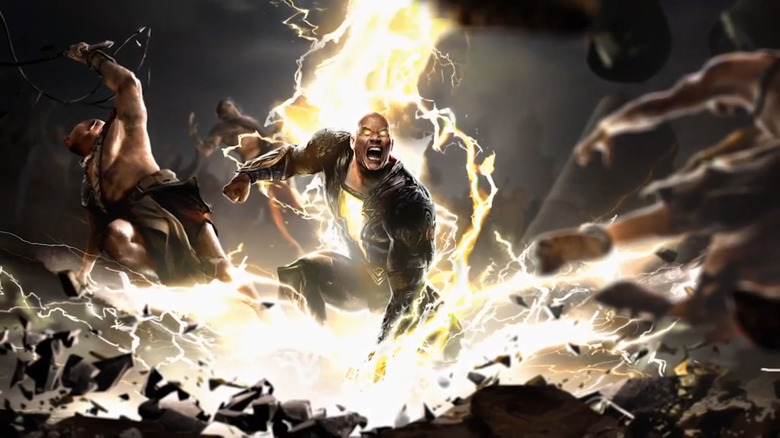 Warner Bros.
Dwayne Johnson has spent no less than the last decade and a half hyping up his impending "Black Adam" role as the most hard-edged antihero ever unleashed on unsuspecting audiences. But just in case that wasn't enough, this year's DC FanDome first look made sure to mix in a blend of animated concept art with live-action footage to show off just how seriously (and violently) the studio will be treating this immensely powerful character. Given the intensity of what we've seen so far, it's a little hard to believe that the original plan was for Black Adam to make his appearance in "Shazam!" (although that otherwise family-friendly movie still boasted a few surprisingly dark moments as well). 
Regardless, Johnson and others involved with the production are making a point of hyping up Black Adam's mean streak as part of the appeal, which should please fans who may have worried that the project's long years of development purgatory may have sanded down all of the character's rough edges.
The Rock is a man on a mission these days. In addition to navigating his way through the ongoing family drama with "Fast & Furious" co-star Vin Diesel, the wrestler-turned-actor is also doing all he can to deliver on years of talk and turn Black Adam into a household name. Having collaborated with Johnson on several projects over the years, including "Black Adam," producer Hiram Garcia has firsthand knowledge of the lengths this film goes in order to do justice to the comic book character.
"We Weren't Messing Around"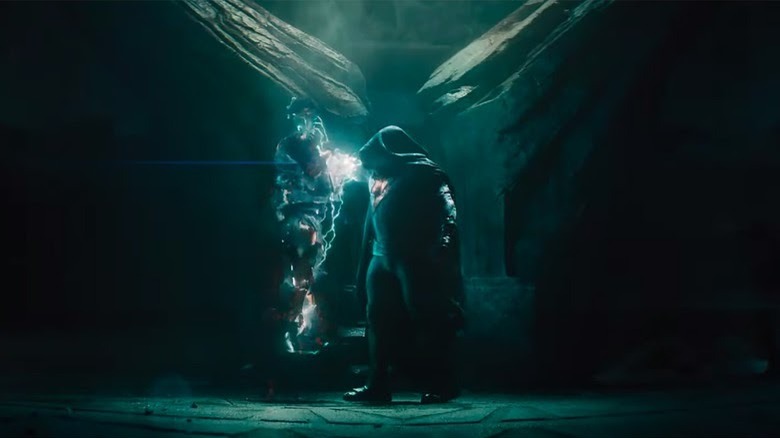 Warner Bros.
In an interview with Comic Book, Garcia spoke at length on how their approach differs from certain other DC Universe offerings:
"It was really important for us to set the table and make sure that all the fans knew that we weren't messing around, and that we weren't making a soft Black Adam. It was important for us to show that the first guy who approaches him is no longer on the planet. I think that sets the tone that this isn't a broad movie, this isn't 'Shazam!', or anything like that."
Given the gruesomely electrified fate that befalls the "first guy who approaches him" in the brief footage included during DC FanDome, well, we have to concede that that's mission accomplished. It's funny that even Garcia is tacitly playing up the Shazam/Black Adam rivalry after the two characters have had such an established history together, but here's hoping this friendly rivalry results in even more explosive crossovers in the future. 
Before that ever happens, however, we still have the standalone "Black Adam" film to focus on. Commenting on how they established Johnson's Black Adam as a force to be reckoned with, Garcia continues:
"We take it very serious. The edge that Black Adam has, if you are a threat, there's probably not a chance you're going to get to breathe another breath around this guy. And I think that, that was really important for us to just make a statement and make sure everyone understood. Look, we know what you guys want. We know what this character is supposed to be. We're going to do our best to make sure that we honor that and turn him into a monster."
We're going to venture out on a limb to say that longtime fans won't be displeased by these comments. The brief glimpses we've seen so far seem promising enough, but talking a big game is one thing. Delivering on those promises is another thing altogether. "Black Adam" comes to theaters on July 29, 2022.