Clips Round-Up: Neal McDonough Reaches The Apex, Andy Lau Enters Shock Wave & More [Exclusive]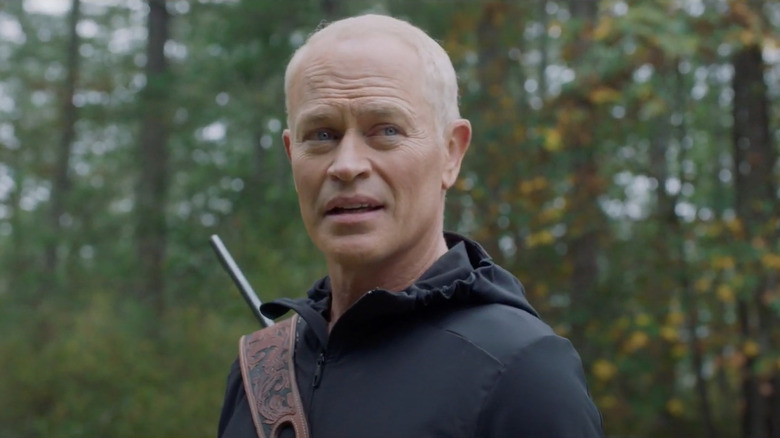 RLJE Films
(Welcome to SlashClips, a series where we bring you exclusive clips from hot new Digital, Blu-ray, and theatrical releases you won't see anywhere else!)
In this edition:
Apex
Shock Wave 2
Escape From Death Block 13
Surviving Supercon
Apex
In this tense scene, Neal McDonough ("Minority Report") has a confrontation with Lochlyn Munro during a "Most Dangerous Game" scenario. Munro ("The Predator") recently made headlines for getting cast in James Gunn's "Peacemaker" series based on an audition for "Scooby-Doo" 20 years ago. "Apex" co-stars Bruce Willis, Corey Large, Alexis Fast, Nels Lennarson, Megan Peta Hill, Trevor Gretzky, and will be available in theaters, on demand and on digital November 12, 2021.
Here is the official synopsis:
"Serving a life sentence for a crime he didn't commit, ex-cop Thomas Malone is offered a chance at freedom if he can survive a deadly game of Apex. Six hunters pay for the pleasure of hunting another human on a remote island, but once Malone arrives all hell breaks loose. Laying traps and playing mind games, Malone tries to turn the tables and fight for his life and his future."
Shock Wave 2
Think disabling a ticking time bomb is stressful? Now imagine getting shot multiple times while doing it! That's exactly what happens to Hong Kong superstar Andy Lau in this clip from "Shock Wave 2," which is now available on demand. 
Here is the official synopsis:
"Starring and produced by award-winning actor Andy Lau ('House of Flying Daggers,' 'Infernal Affairs') , the film chronicles the riveting story of former bomb disposal officer, Poon Shing-Fung. Suffering from amnesia and the loss of his leg in an explosion five years ago, he becomes the top suspect of a terrorist attack. On the run from the police, Poon must stop a terrorist organization from destroying Hong Kong while piecing together his identity. 'Shock Wave 2' debuted No. 1 at the global box office, grossing $63.9 million in its opening weekend, and features lauded action choreography by Li Chung-Chi ('The Legend of Drunken Master,' 'Rush Hour 2')."
Escape From Death Block 13
Charles Bronson lookalike Robert Bronzi ('Death Kiss,' 'Cry Havoc') stars in the action-packed "Escape from Death Block 13," which is available on demand and on DVD November 23, 2021.
Here is the official synopsis:
"After the death of his brother, Mick Kovacs travels to America to seek justice. Framed for attempted murder, he is sent to the notorious Pleasant Hill Penitentiary where survival is an everyday struggle. Seeking revenge after discovering the truth behind his brother's death, Mick's rage ignites an explosive riot as he makes a daring escape."
Surviving Supercon
Check out GalaxyCon co-founder Sandy Martin in action as she tries desperately to wrangle people waiting in line to enter the Florida fan event in this clip from the new documentary available on demand November 9, 2021. 
Here is the official synopsis: 
"'Surviving Supercon' is a zany behind the scenes look at how a rag-tag Mom & Pop organization pulls off one the biggest pop culture conventions in the United States. Directed and edited by Steven Shea, 'Surviving Supercon' is an insider look at convention production, following husband and wife owners Mike Broder and Sandy Martin as they attempt to pull off one of the biggest pop culture conventions in the United States. With no sleep and dozens of fires to put out every day of the event, the Supercon crew run themselves ragged, hoping to keep their 60,000 attendees smiling."