Barbie - Everything We Know So Far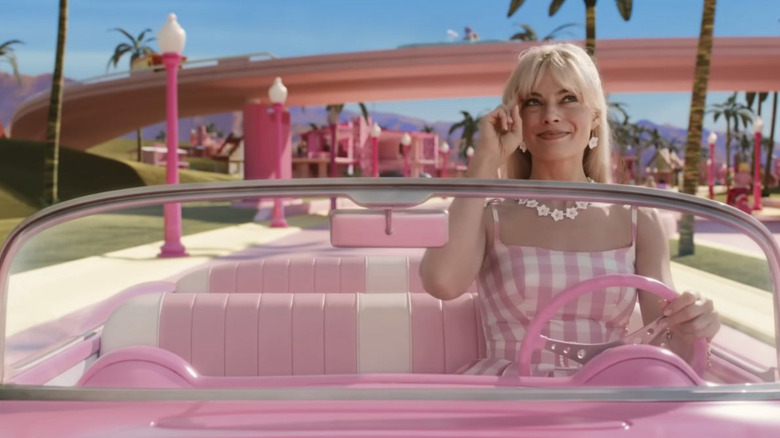 Warner Bros.
(Welcome to ...And More, our no-frills, zero B.S. guide to when and where you can watch upcoming movies and shows, and everything else you could possibly stand to know.)
There have been more than 40 "Barbie" movies made in the past 20 years, but each of them is a direct-to-video animated movie which relies on wonky-looking CGI to tell its story. After years of development, though, Hollywood is finally making a live-action "Barbie" movie – and the collection of mega-talented creative people amassed for this film should produce something which instantly overshadows those animated projects that look like they're comprised of bad cut scenes from a 1990s CD-ROM game. Here's everything we know about the upcoming "Barbie" movie.
Barbie release date and where you can watch it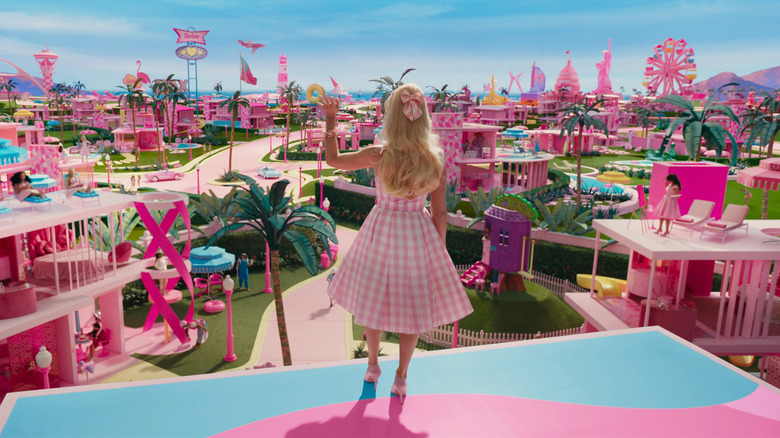 Warner Bros.
The "Barbie" movie is heading to theaters on July 21, 2023, and will be up against Christopher Nolan's highly-anticipated "Oppenheimer." The two films couldn't be more different, but with their impressively massive casts, it seems like anyone who's anyone in Hollywood will be anxiously analyzing the box office performances of these two films. Given the all-ages appeal of "Barbie," it can be expected that even matinee screenings will be packed, so plan your ticket purchases accordingly. 
What is Barbie about?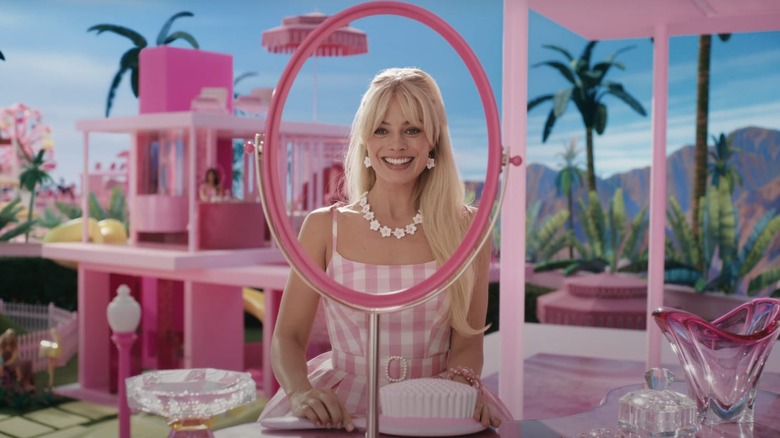 Warner Bros.
"Barbie" is arguably one of the most famous brands on Earth, so you probably already know that the movie is based upon the best-selling doll/toy line, which originally launched more than 60 years ago. Actual plot details of this movie remain relatively unknown, but the possibilities are practically endless since Barbie has held essentially every job on Earth. Co-star Will Ferrell, who is playing a fictionalized version of the Mattel CEO, described the film as being "the perfect marriage of high and low art," so we can expect to have one heck of a good time.
The only plot details that have been provided states: "A doll living in 'Barbieland' is expelled for not being perfect enough and sets off on an adventure in the real world." Director Greta Gerwig has been keeping any specific details close to the chest, with the first teaser trailer for the film serving as an extended Stanley Kubrick joke. 
All we really know for sure at this point is that this is going to be a live-action film featuring some of Barbie's most iconic accessories, friends, and designs, and in an interview last year, producer/star Margot Robbie talked about what drew her and her producing partners to the story:
"We like the things that feel a little left of center. Something like Barbie where the IP, the name itself, people immediately have an idea of, 'Oh, Margot is playing Barbie, I know what that is,' but our goal is to be like, 'Whatever you're thinking, we're going to give you something totally different — the thing you didn't know you wanted' ... Can we truly honor the IP and the fan base and also surprise people? Because if we can do all that and provoke a thoughtful conversation, then we're really firing on all cylinders."
Barbie director, writer, and more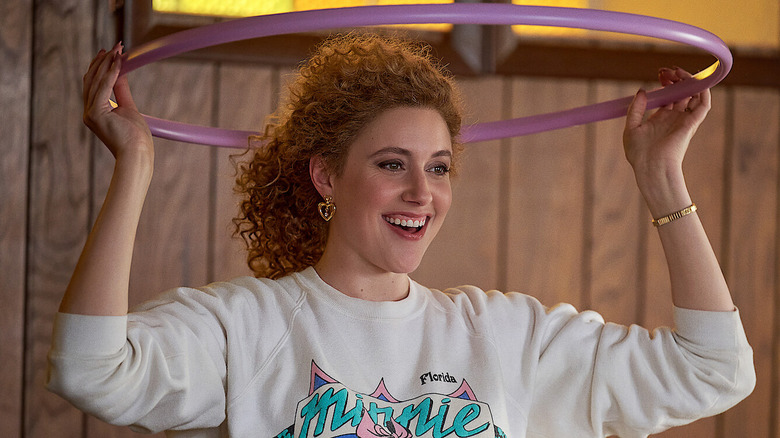 Netflix
Greta Gerwig ("Little Women," "Lady Bird") is directing this film, and she co-wrote the script alongside her romantic partner and occasional collaborator Noah Baumbach, the director of movies like "Marriage Story" and "Greenberg." (The two of them previously teamed up to co-write "Frances Ha" and "Mistress America.") Gerwig was last seen acting in Baumbach's "White Noise" for Netflix.
The "Barbie" movie has been a long time coming, with Amy Schumer at one point announced as playing the titular doll. Fortunately, after that plan fell through, Margot Robbie and her LuckyChap Entertainment banner got on board, with Robbie named the new Barbie. The film was shot by Rodrigo Prieto, the Academy Award-nominated cinematographer of films like "Brokeback Mountain," "The Irishman," "The Wolf of Wall Street," and "The Glorias."
The real star of the production team is Jacqueline Durran, Gerwig's costume designer on "Little Women" who has recreated the world of Barbie with uncanny accuracy. Durran also provided the costumes for the live-action remake of "Beauty and the Beast" and Matt Reeves' "The Batman," but her work on "Barbie" might just be her magnum opus. If she doesn't get an Oscar nomination for her work bringing Hot Skatin' Barbie to the real world, something is very wrong.
The cast of Barbie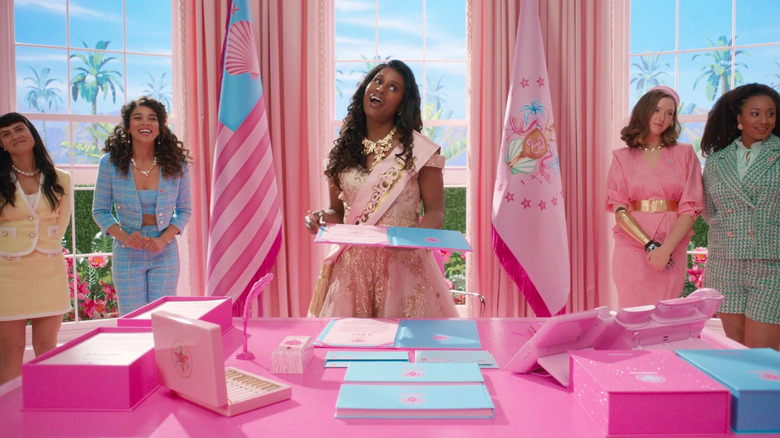 Warner Bros.
The cast of the "Barbie" movie is absolutely out of this world. Robbie and Gosling are playing the iconic Barbie and Ken, but they're joined by a ridiculously stacked cast of other Barbies, Kens, friends, and humans. Issa Rae is playing President Barbie, Alexandra Shipp as Writer Barbie, Emma Mackey as Physicist Barbie, Ana Cruz Kayne as Judge Barbie, Rita Arya as Journalist Barbie, Nicola Coughlan as Diplomat Barbie, Dua Lip as Mermaid Barbie, Kate McKinnon as a well-loved Gymnast Barbie, Hari Nef as Doctor Barbie, Sharon Rooney as Lawyer Barbie, with Simu Liu, Kingsley Ben-Adir, Ncuti Gatwa, and Scott Evans all as different variations of Ken. Emerald Fennell is playing Barbie's pregnant friend Midge, with Michael Cera as Allan, the discontinued (and then reintroduced as "Alan") friend of Ken.
Will Ferrell is playing the Mattel CEO, joined by his employees Jamie Demetriou and Connor Swindells. America Ferrera, Ariana Greenblatt, Rhea Perlman, John Cena, and Marisa Abela have also been cast in undisclosed roles, but we do know that Ferrera and Greenblatt have been established as humans. Helen Mirren has also been announced as the film's narrator, implying that there will be a storytelling element to the film.
What will Barbie be rated?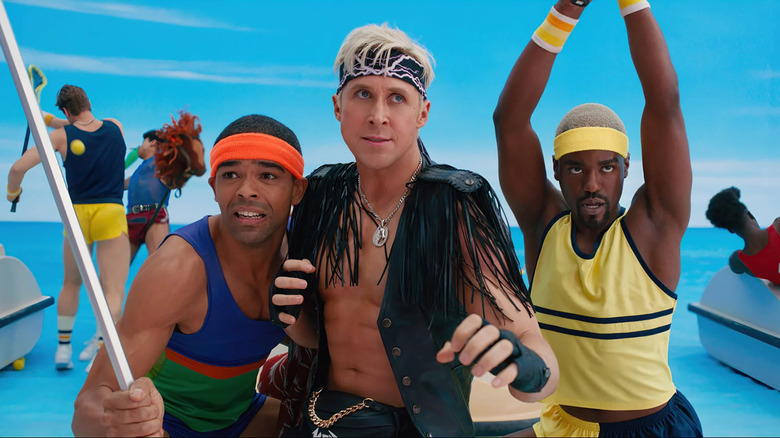 Warner Bros.
Despite the Barbie doll's target audience being little girls under the age of 12, the "Barbie" movie has been given a PG-13 rating. While it's unclear at this time how intense that PG-13 rating actually is, based on the trailer, it's probably due to some comedic innuendos and possible language. However, everything looks to be in good spirits and it's unlikely that there will be anything too inappropriate in Gerwig's film. 
Check out the Barbie trailer here
The "Barbie" trailer presents a hot pink wonderland and serves as evidence that Greta Gerwig is a proper Barbie nerd. Margot Robbie has completely nailed the exuberant positivity of Barbara Millicent Roberts, complete with a 100-watt smile, pointed toes, and larger-than-life eyes. BarbieLand looks like the dream playset of every little kid who ever got their hands on a plastic DreamHouse, with even the ocean on the Barbie Beach looking like it's made of plastic. 
Interestingly, there's a moment where Barbie drives by the local movie theater, and there are posters of Dorothy and the Tin Man from "The Wizard of Oz" on display, possibly inferring that "Barbie" will take a similar approach thematically, and the real world will be to Barbie what the land of Oz was to Dorothy.