Amy Schumer Is Sony's Live-Action Barbie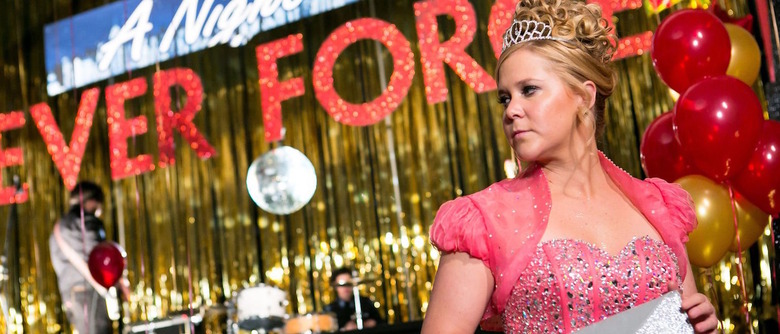 Life in plastic is fantastic for Amy Schumer. She's just been set to play Barbie in Sony's live-action adaptation of Mattel's toy line, while the studio continues to look for a director. In addition to starring, Schumer will also rework the script with her sister Kim Caramele. The film is described as a family comedy in a similar vein as Splash, Big, and Enchanted. 
The Hollywood Reporter broke news of the Amy Schumer Barbie casting. Sony has been trying for a few years now to get a Barbie movie off the ground, and no wonder — she's one of the most recognizable toy brands in the world. (Before Sony, Universal took a stab at it too.) Diablo Cody (Juno) and Jenny Bicks (Rio 2) have worked on previous drafts, but the studio is now working off of a script by Hilary Winston (Community, The Lego Ninjago Movie) which Schumer and Caramele will rewrite. Amy Pascal, Laurie MacDonald, and Walter F. Parkes are producing.
Barbie the doll needs no introduction. If you grew up any time during the past half-century or so, chances are you had a couple of these kicking around in your toybox somewhere, or at least had a friend or sibling who did. Since its inception in the 1950s, the toy line has expanded to include dozens of additional characters (including, most famously, her on-again, off-again beau Ken) and span multiple films and video games.
However, Barbie doesn't come packaged with a ready-made storyline like a lot of toys do. Instead, we can look to films like Enchanted, Splash, and Big for comparisons — ones that combine fantasy, comedy, and tons of heart in a family-friendly way. Schumer's Barbie starts out in a picture-perfect land of picture-perfect Barbies, but it begins to dawn on her that she doesn't quite fit in. After she's kicked out, she winds up in the real world where she comes to realize that it's a good thing to be unique.
The Barbie brand has been frequently criticized for promoting unhealthy beauty standards for women and girls. Which is why it may come as a bit of a surprise to realize they've hired Schumer, a self-proclaimed feminist who does not shy away fact that she falls outside Hollywood's size-zero ideal. However, the trade says that's the point, so it sounds like they're trying to update the character for the modern era. Barbie should also open up a whole new set of fans for Schumer, who's mostly been known for her raunchy, very adult-oriented comedy.
Barbie already has a May 12, 2017 release date on the calendar but it obviously won't make that deadline at this point. Still, it's clear the studio wants to get going sooner rather than later, and casting Schumer is a big step in that direction. Look for more updates on this project before long.