Venom 2 Has Surpassed Black Widow At The Box Office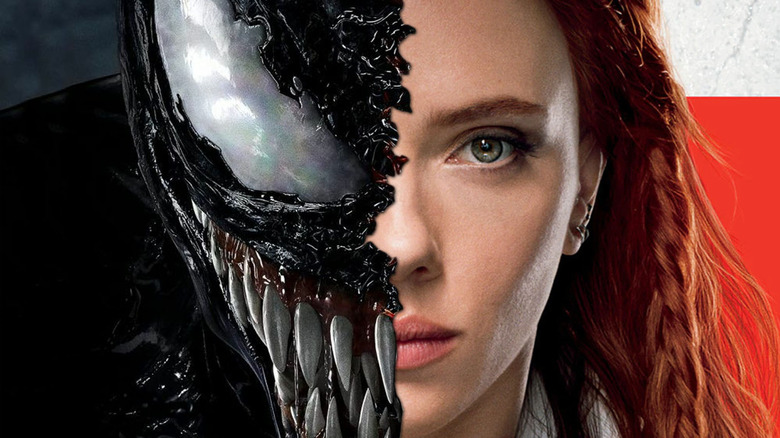 Marvel Studios / Sony Pictures
We have a new silver medalist at the domestic box office for 2021 — and it's kind of surprising, at least on the surface. "Venom: Let There Be Carnage" has officially passed "Black Widow" making for one of the more unexpected shake-ups this year. The fact of the matter is that we're looking at two comic book movies in established franchises besting one another, but it's surprising that Tom Hardy's Eddie Brock has now pulled out ahead of Scarlett Johansson's Natasha Romanoff. 
As of this writing, as we head into another busy weekend at multiplexes around the country, "Venom: Let There Be Carnage" has earned $184 million domestically, per Forbes. That puts it just above "Black Widow," which took in $183.6 million during its somewhat disappointing run earlier this year. There are many ways we can choose to look at this; 2018's "Venom" was an absolutely shocking hit, taking in $213 million domestically and a stellar $642 million internationally. The sequel hasn't done nearly as much business overseas yet, having earned $170 million overseas thus far. But there's still plenty of time.
"Black Widow" was released in July back when it looked like we were closer to coming out of the pandemic in a meaningful way. However, Disney opted to hedge its bets, releasing the movie both in theaters and on Disney+ through Premier Access. As a result, it topped out at $379 million worldwide, ranking as one of the lowest-grossing MCU movies to date. We also had the ugly lawsuit between Johansson and Disney, which indicated just how badly the release was botched.
Theatrical Exclusivity Works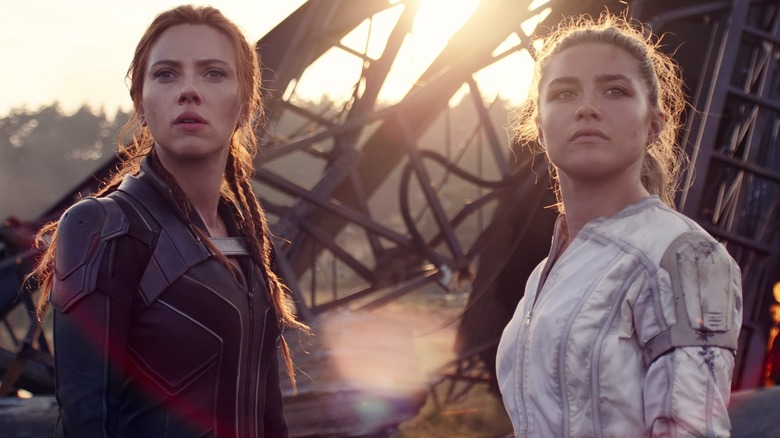 Marvel Studios
The big takeaway from this man's keyboard is that theatrical exclusivity still works. "Venom 2" was released exclusively in theaters. "Black Widow" was not. There is a growing pile of evidence that hybrid releases cut off domestic box office earning potential at the knees. What we see, even when a movie has a great opening weekend, like Johansson's first solo MCU adventure did, it tends to plummet in the following weeks. The holdover is terrible. All eyes are on "Dune" in its second weekend for that very reason, especially since a sequel was already announced.
It's also telling that "Shang-Chi and the Legend of the Ten Rings," a movie based on a relatively obscure Marvel character, is the current domestic box office champion with $221.5 million. On the other side of the table, Johansson has been a part of the MCU for more than a decade and her solo movie, under better circumstances, should have seemingly performed much better. 10 years and more than $20 billion worth of box office receipts can back that up, as the Marvel Cinematic Universe is, generally speaking, the most surefire thing this industry has to offer. But hey, good news for those who are hoping for "Venom 3."