A Quiet Place Video Game Will Tell A New Story Set In The Film's Universe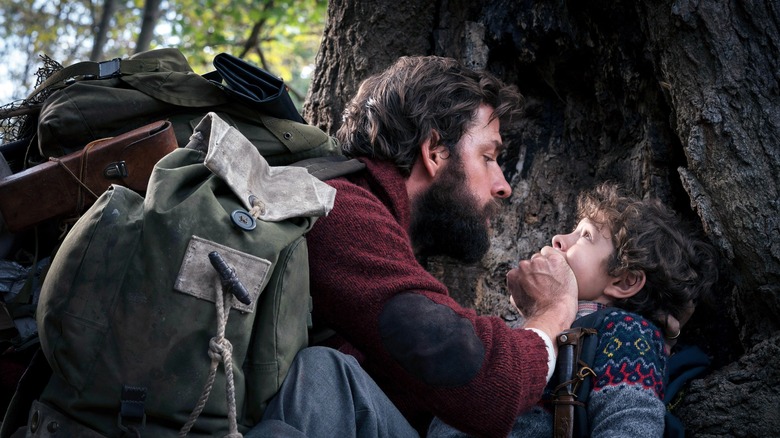 Platinum Dunes
Stay silent, stay safe. A new video game based on John Krasinski's sound-centric horror film "A Quiet Place" and its sequel is currently being developed, shooting for a 2022 release. Helmed by Saber Interactive, iLLOGIKA, and EP1T0ME, the game promises a fresh perspective "in the 'A Quiet Place' Universe" (the QPU, if we follow Marvel Universe acronym precedent). As such, the game is unlikely to stick with the soft-footed survival of the Abbott family that moviegoers fell in love with in 2018, but it sounds like fresh terrors await. There is a new website up for the game, but all it provides is a title, a logline, a 2022 release date, and entreaties to follow all pertinent social media accounts. Publisher Saber Interactive provides the hype:
This first official video game set in the terrifying A Quiet Place universe will deliver an original story and gameplay that captures the compelling suspense, emotion and drama for which the series is famous.
Montreal-based developer iLLOGIKA has handled the massively popular game "Cuphead" and mobile versions of "Lara Croft" and "Deus Ex." Hervé Sliwa, Creative Director at iLLOGIKA, has nothing but confidence in the gaming outfit, according to a press statement.
"The 'A Quiet Place' video game will let fans experience the tension of the films with a level of immersion they've never felt before. We're excited to work with EP1T0ME and to team up with Saber Interactive to share this unique vision of hope and horror with players everywhere in the future."
'Experience an Untold Story of Survival in the A Quiet Place Universe'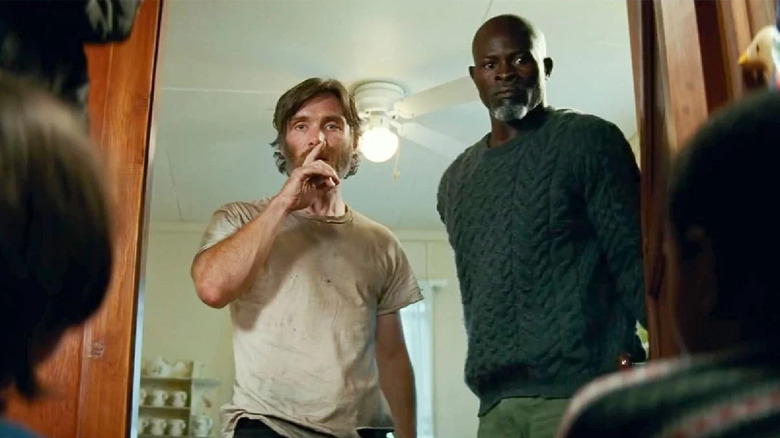 Platinum Dunes
A Platinum Dunes production distributed by Paramount Pictures, "A Quiet Place" made a splash on the movie scene in 2018, achieving the rare horror feat of critical acclaim and commercial success. Directed by John Krasinski (who has also played Tom Clancy's Jack Ryan since 2018) and co-written by Bryan Woods, Scott Beck and Krasinski, from a story conceived by Woods and Beck, the saga follows the Abbotts — mother Evelyn (Emily Blunt), father Lee (Krasinski), deaf daughter Regan (Millicent Simmonds) and their two sons, Marcus (Noah Jupe) and Beau (Cade Woodward) as they struggle to build a life on an isolated rural farm in a post-apocalyptic world. This world is filled with devastatingly fast, skin-armored aliens (later known as Death Angels) who are blind but have hypersensitive hearing — a cough, a dropped bowl, or a leaf crunched underfoot can mean instant death.
A 2020 sequel, "A Quiet Place Part II," was also penned and helmed by Krasinski, and Hoai-Tran Bui of /Film found that "(Cillian) Murphy and Simmonds are a fantastic pairing." We reported back in May that a third film appears likely, and while the final entry in the trilogy is still being kept under wraps, Jeff Nichols (who wrote and directed the immaculate 2011 sci-fi thriller "Take Shelter") is attached to direct.