Cowboy Bebop Trailer: John Cho Leads The Stylish Netflix Anime Adaptation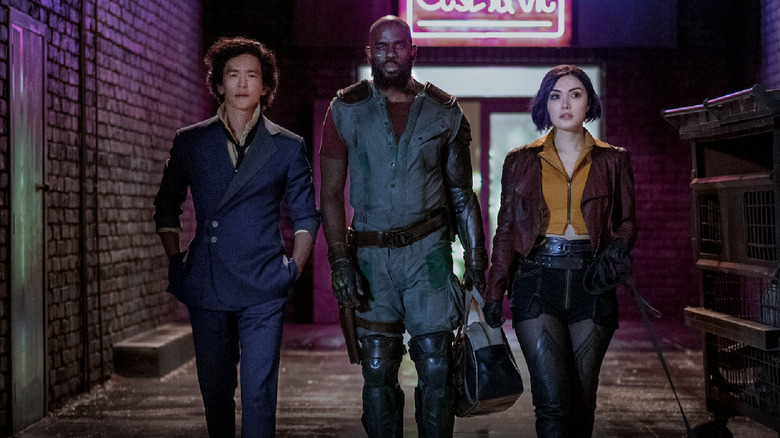 Netflix
Rejoice! Shinichiro Watanabe's acclaimed anime series "Cowboy Bebop" is getting a live-action adaptation, and Netflix has just dropped the trailer. The noir space western series stars John Cho as Spike Spiegel. Along with Mustafa Shakir as Jet Black and Daniella Pineda as Faye Valentine, the trio of bounty hunters are what Netflix describes as "long on style and perpetually short on cash."
The show explores the crew's interstellar exploits over 10 episodes and is expected to air its first episode on the streaming service November 19. It's developed by showrunner André Nemec and written by Christopher Yost. Nemec and Jeff Pinkner are series creators, having previously collaborated on the series "Alias," and the show will be directed by Alex Garcia Lopez ("Daredevil," "The Witcher") and Michael Katleman ("The Last Ship"). As a bonus, original anime series director Shinichirō Watanabe is onboard as a consultant, and original composer Yoko Kanno (who also composed for "Wolf's Rain") returns to bring some space jazz to the adaptation, as well.
Fans can join in the countdown through a trailer livestream event, available to viewers here.
Cowboy Bebop Trailer
Despite the delayed production due to a knee injury for John Cho and then the COVID-19 pandemic, it appears that the series will retain the bonkers energy and slick style of its predecessor, and the showrunner promises to keep things as canon-friendly as possible. Cho is pitch-perfect in the lead role, at once a ruthless hunter and a tailored trendsetter — and that luxurious hair is all him, baby.
The o.g. "Cowboy Bebop" had a 26-episode run in its day, airing in Japan from 1998 through the following year. As the first anime to be broadcast on Cartoon Network's Adult Swim, the show is credited with bringing the animation genre to a new influx of Western audiences through its lauded English dubbing, completed by Animaze and ZRO Limit Productions. The show is now considered atop the list of best anime series of all time, and a solid gateway series for onboarding anime enthusiasts.
The upcoming "Cowboy Bebop" series is executive produced by André Nemec, Jeff Pinkner, Josh Appelbaum and Scott Rosenberg of Midnight Radio, Marty Adelstein and Becky Clements of Tomorrow Studios, Makoto Asanuma, Shin Sasaki and Masayuki Ozaki of Sunrise Inc.,Tim Coddington, Tetsu Fujimura, Michael Katleman, Matthew Weinberg, and Christopher Yost.
Here's the synopsis for "Cowboy Bebop":
"Cowboy Bebop" is an action-packed space Western about three bounty hunters, aka "cowboys," all trying to outrun the past. As different as they are deadly, Spike Spiegel (John Cho), Jet Black (Mustafa Shakir), and Faye Valentine (Daniella Pineda) form a scrappy, snarky crew ready to hunt down the solar system's most dangerous criminals — for the right price. But they can only kick and quip their way out of so many scuffles before their pasts finally catch up with them.
The first episode of "Cowboy Bebop" drops on Netflix on November 19, 2021.