The 15 Best Rom-Com Actors Ranked
Columbia Pictures
Throughout the history of cinema, romantic movies have won the hearts of filmgoers. Some are classic tales of sweeping love stories, while others feature a more modern-day flair; there truly is a rom-com out there for everyone. And similarly, there are movie actors that cater to everyone's tastes. 
From cinematic bad boys with a heart of gold, dorks with a charming prince inside, sweetheart girls with a sassy edge, to wallflowers waiting to be discovered, there's quite a catalog of rom-com talent to love.
But who among them are the best? Who cried in the rain, sent secret love letters, lip-synced in the kitchen, and danced at a party like an actual movie pro? Who rocked the most iconic outfits, leaving a legacy in both fashion and cinema? And most importantly, who warmed moviegoers' hearts most of all? Let's take a look at 15 actors who have shifted (and are currently shifting) the most lovable of movie genres.
15. Lana Condor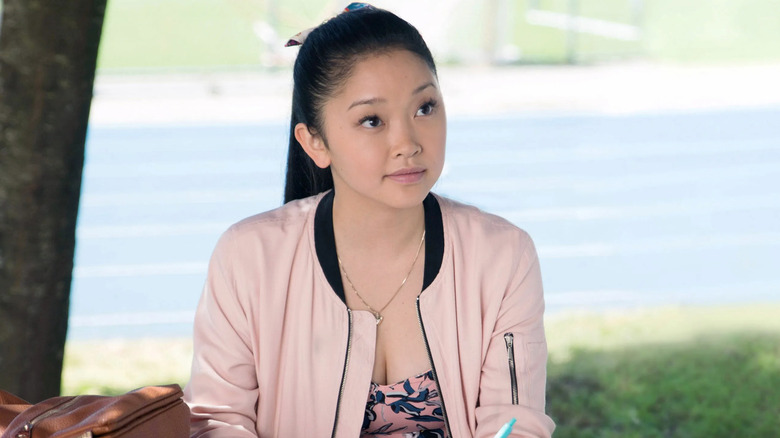 Netflix
With only a few projects on her filmography, Lana Condor has left quite a memorable impression. As the star of the successful Netflix movie, "To All The Boys I Loved Before" (and its two sequels), Lana proved her skills within not only the teen movie genre but the rom-com one as well. Plus, with her believably chemistry with co-stars Noah Centineo, Israel Broussard, and Jordan Fisher throughout the series, Condor showed that she could hold her own against whatever rom-com scenario these movies had to throw at her.
But the best aspect of Condor is her potential within the future of rom-coms as a whole. The best romantic comedy stars have that perfect blend of relatability while still playing up the fantastical elements of the love story at hand — a quality that Condor has in spades. And when you add in her comedic chops and her charming appeal, it's easy to see why she's a rom-com star quickly on the rise.
14. Queen Latifah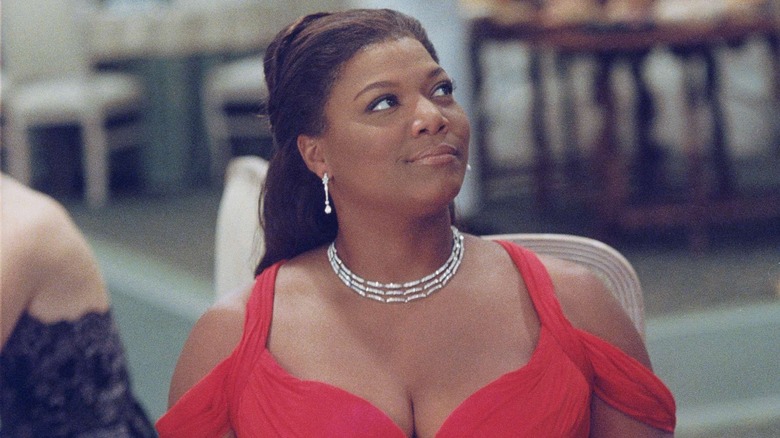 Paramount Pictures
When it comes to Queen Latifah's work in the rom-com genre, she broke the mold in more ways than one. Starring in a multitude of memorable movies, including "The Last Holiday," "Just Wright," and "Bringing Down the House," Queen Latifah consistently proves that everyone deserves to live out the rom-com fantasy. And with her array of iconic movie outfits, quotes, and sequences, Queen Latifah deserves much more praise for her work within the genre than she gets.
Yet the true magic within Latifah's rom-com filmography is her ability to remain uniquely herself, regardless of the role she's playing. From her athleisure fashion aesthetic to her stunning curves, every romantic role of Queen Latifah's has shown off what makes her not only a delightful person but an absolute movie star. She represents women who often are neglected within the genre — relegated to playing the sidekick or the best friend. But Queen Latifah is more than that. And when she's paired with such equally lovable co-stars as LL Cool J, Common, and Djimon Hounsou, there's no denying that Queen Latifah is a movie goddess from head to toe.
13. Drew Barrymore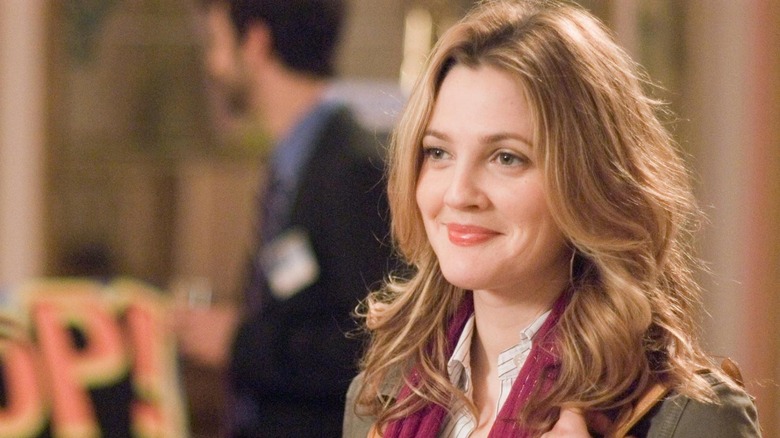 Warner Bros.
One of the queens of the '90s, Drew Barrymore defined the decade with her quirky aesthetic, flower-power vibes, and overall kindness. And though she starred in plenty of movies outside of the rom-com genre, it is her projects within it that continue to impact filmgoers. From her iconic work with Adam Sandler to her plethora of other romantic-focused movies (including "Never Been Kissed," "Ever After," and "Fever Pitch"), Drew has no shortage of proof that she's a perfect, adorable addition to any cinematic love story.
Yet what really makes Drew an iconic rom-com star is her earnest nature that's captured on screen. Whether she's playing a lyricist waiting to be noticed, an underdog looking to live out their own Cinderella story, or a soon-to-be bride in love with a wedding singer, Drew always incorporates her genuine spirit into these roles. A quality that makes the romances within said movies even more believable. And when combined with her natural glow and precious smile, it's hard not to fall in love with Drew too.
12. Jennifer Lopez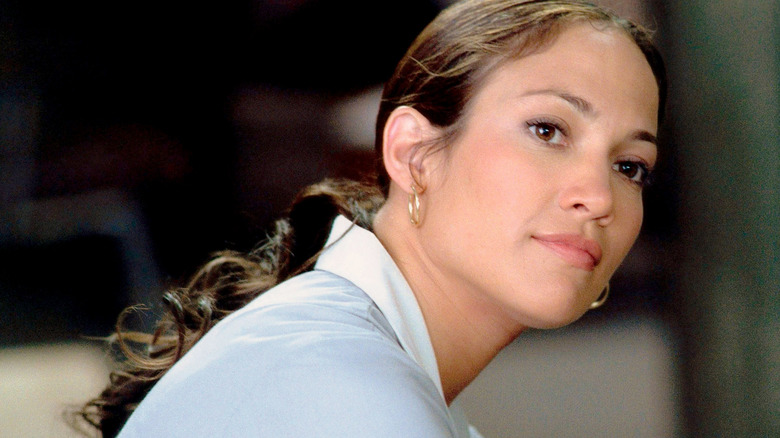 Columbia Pictures
With her stunning features, eternal glow, and bubbly aesthetic, Jennifer Lopez is a rom-com pro. From her roles in such 2000's classics as "The Wedding Planner" to her more recent work in "Second Act," Lopez has continued to prove that she knows her way around the romantic movie world in more ways than one. And while she has starred in her fair share of forgettable flops, when Jennifer Lopez is paired with suitable rom-com material the results can come across as true movie magic.
Jennifer's roles in movies like "Maid in Manhattan" and "Shall We Dance?" showcase her best skill – making the fantasy at the center of the film believable (regardless of how silly of a concept it may be.) Specifically, this comes into the play during the sequences where Jennifer has to sell the most lavish of romantic moments. From walking into a party to meet with a soon-to-be senator or guiding Richard Gere onto the dance floor, Jennifer continues to prove that she has a gift for commanding the rom-com screen.
11. Billy Crystal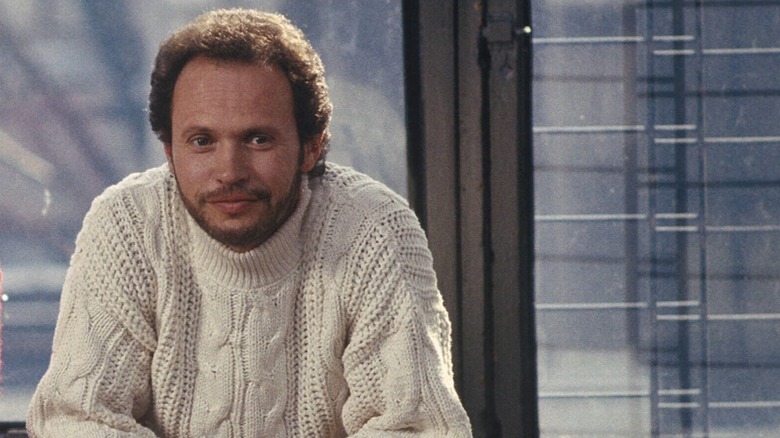 Columbia Pictures
Though many of the actors on this list have almost supermodel good looks, Billy Crystal would never be described in such a manner. Yet even with his non-traditional movie star appearance, Crystal is one of the nostalgic MVPs of the rom-com genre. Like many of the great leading men of his time, he has an inherent relatability to his performances that continues to enchant audiences in the most delightful of ways. And with such movies on his filmography as the iconic "When Harry Met Sally," it's easy to see why Crystal left such a delightful mark on the genre.
But perhaps the most significant aspect of why Billy made this list has to do with his ability to be both annoying yet heartwarming at the same time. As Harry, Billy comes across as the most perfect of imperfect people — a brutally honest golden age thinker who fantasizes about "Casablanca" on a daily basis. And though many other actors of his generation would make such a character a pain to watch, Crystal is a master at making Harry utterly charming from beginning to end. When dressed in the coziest of oversized fisherman sweaters, paired with the likes of Meg Ryan, there's no denying that Crystal is a lovable addition to the rom-com world.
10. Mark Ruffalo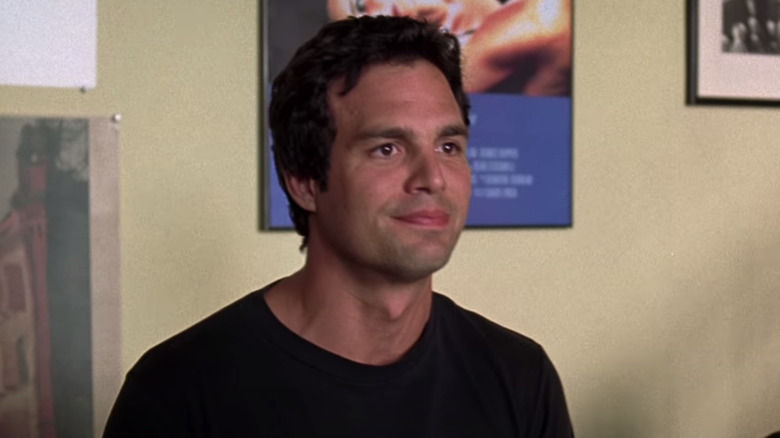 Columbia Pictures
Though most people now know him as Bruce Banner, Mark Ruffalo was once known as the secret sauce within the rom-com world. Dominating movies in the early to mid-2000s, this ruggedly handsome actor brought his unique flair to films like "Just Like Heaven" and "Rumor Has It," demonstrating a wide range within the romantic movie landscape. And even with more supporting roles like in "Eternal Sunshine of the Spotless Mind," Ruffalo brings just the right emotion to the piece without ruining the magic of the material at hand.
But out of his entire rom-com filmography, no character stuck with audiences quite like Matty in "13 Going on 30." Ruffalo's take on the middle school nerd turned photographer is the stuff of modern rom-com legend. This romantic individual is the perfect blend of a movie fantasy and a believable person. And when such a role is given to an actor of Ruffalo's caliber, he elevates the material, especially during the more down-to-earth sequences with co-star Jennifer Garner. Plus, it's hard not to love a guy who will attempt to do the "Thriller" in any movie.
9. Angela Bassett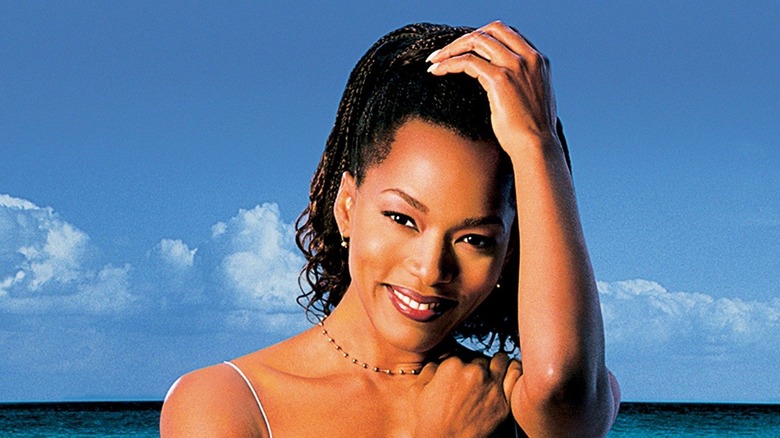 20th Century Fox
With her regal aesthetic and markable filmography, Angela Bassett is always the best part of any movie. Yet when her cinematic path led her to star in a handful of romantic movies, Bassett didn't just give any run of the mill performance — she owned said roles. Leaving a legacy of memorable heroines who took charge of their destinies in more ways than one, all the while looking like glamorous beacons of beauty from head to toe.
From her empowering turn as Bernadine in "Waiting to Exhale" to her even more iconic portrayal of Stella Payne in "How Stella Got Her Groove Back," Bassett proved that she could take any rom-com role and make it something even better than it was on the page. And when paired with some equally memorable co-stars such as Taye Diggs and Wesley Snipes, Bassett radiates even more on-screen, balancing both the romantic and dramatic elements of her roles like the MVP that she always has and always will be.
8. Doris Day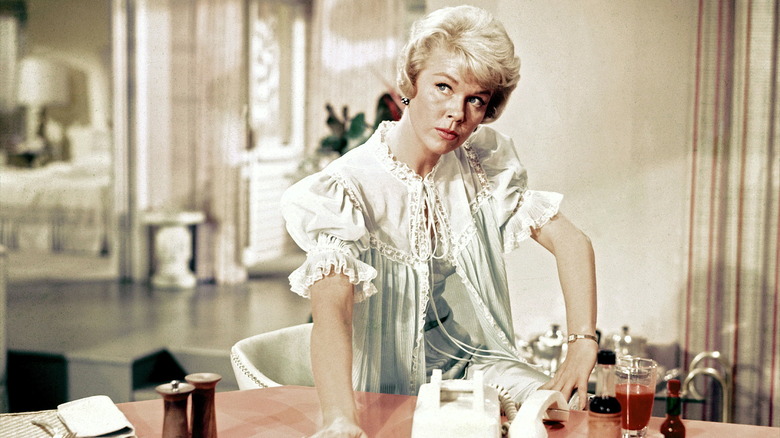 Universal Pictures
Known for her career-defining roles in such classics as "Pillow Talk" and "Love Me or Leave Me," Doris Day left a mark on American cinema not just with her award-winning smile but her charismatic persona. When it comes to the rom-com genre, there's no denying that Day left an impact on it that many other actors wish they could have. With her spunky attitude, wide eyes, and blonde locks, her energy was the definition of infectious, making it easy to believe why any of her on-screen co-stars would fall madly in love with her.
The roles in which Day was paired with her most famous partners in cinematic ventures, Rock Hudson and James Garner, allowed her to truly flourish within the genre. Her comedic timing was laser-sharp, her glow was shining even more, and her romantic chemistry was off the charts. But honestly, the most outstanding quality of Doris was her wholesome nature — something that, regardless of the role, made her a true movie star for all time.
7. Reese Witherspoon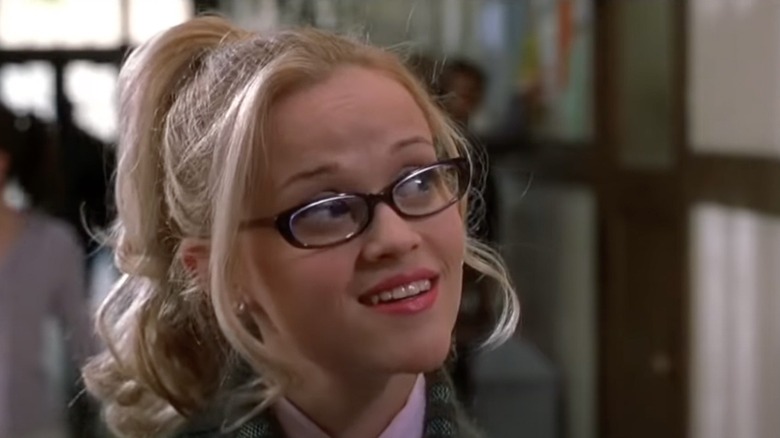 MGM
With her iconic blonde hair and sparkling diamond eyes, Reese Witherspoon will always be one of the reigning queens of the rom-com world. From her career-making performances in such movies as "Legally Blonde" and "Sweet Home Alabama" to her most recent project "Home Again," Witherspoon continues to carve a unique path within the romantic comedy realm. And while some might think of her as a one-trick pony within the genre, she is really a multifaceted talent who can take just about any story and make it entertaining.
What makes Witherspoon so perfect is her ability to add her girl-next-door charm to every one of her rom-com roles. Whether she's playing someone trying to get comedic revenge or an individual attempting to better themselves and prove the impossible, she always imbues her performances with a relatable aura, making them inviting to revisit over and over again. And with such skills up her sleeve, it's not hard to see why her co-stars have such fantastic chemistry with her. Overall, Reese Witherspoon is the definition of cinematic sweetness and always will be.
6. Tom Hanks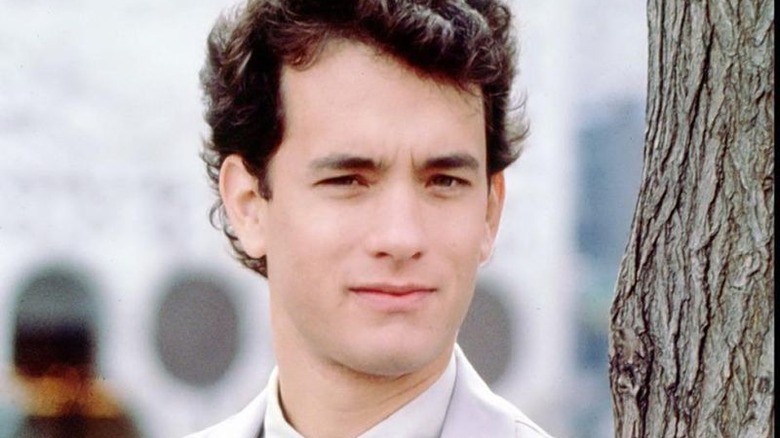 Disney
While he might not have the conventional movie star aesthetic, there's something utterly charming about Tom Hanks. Sure, many remember him for his more family-friendly roles, such as Woody from the "Toy Story" franchise, but Hanks' big break came from his work in the rom-com genre. From nostalgic '80s flicks like the mermaid fantasy "Splash" to his '90s hits like the Oscar-winning "Forrest Gump," Hanks has seemed to always dip his toes into the romantic comedy pond, time and time again.
Yet the true rom-com genius of Tom Hanks came from the work he did with iconic writer/director Nora Ephron. Starting with the beloved winter tale "Sleepless in Seattle" and followed by the signature '90s fall romance "You've Got Mail," Hanks personified the sarcastic, smug, anxiety-fueled everyday man like a true pro. But despite how annoying some of his Ephron-written roles could be on paper, Tom's skills at portraying the romantic transformation of these fictional individuals can be a treat to see. And when you add the chemistry he has with co-star Meg Ryan, along with his abilities to give Ephron's award-winning dialog an extra bit of sparkle, the results are pure cinematic magic.
5. Eddie Murphy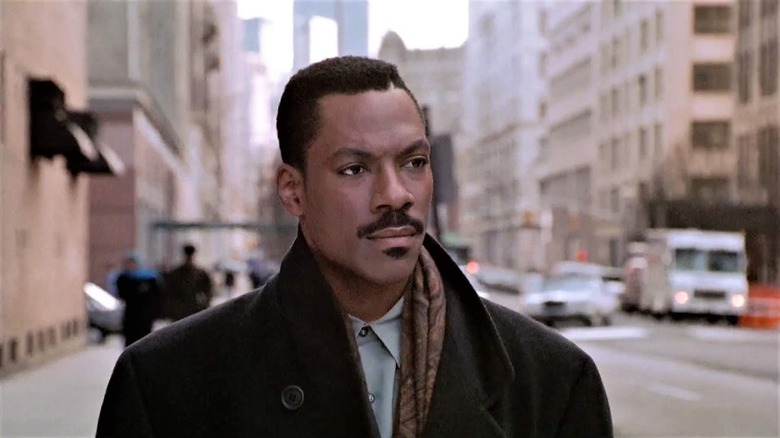 Paramount Pictures
Though many know him for his masterful skills as a comedian, Eddie Murphy is perhaps one of the most under-appreciated players in the rom-com genre. Starring in iconic classics like "Coming to America" and "The Nutty Professor" series, Murphy brings his own brand of magic to each of his roles. But the real magic is getting to watch him tone down the over-the-top elements of his characters and focus more on their down-to-earth moments. And no movie allows him to do that better than the highly underrated gem "Boomerang."
In his role as Marcus, Murphy perfectly embodies the charismatic aesthetics of the character while also hamming up the egotistical features of this rom-com bad boy. Yet, as Murphy gets to act alongside absolute powerhouses like Halley Berry and Robin Givens, his transformation as Marcus from a toxic individual to an adult who discovers what genuine love really feels like is a sight to behold. And while Murphy hasn't starred in as many rom-coms as other people on this list, his performance in "Boomerang" is a sign that such a fact needs to change.
4. Richard Gere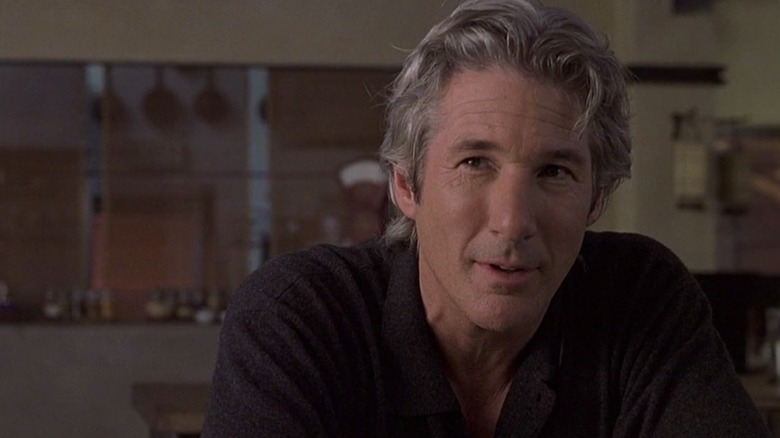 MGM
With his cinematic swagger and dreamy eyes, Richard Gere defined the romantic comedy genre in more ways than one. Not only did he star in some of the most beloved movies of all time, he also shared the screen with some incredible women. From Susan Sarandon to Winona Ryder, Debra Winger to Jennifer Lopez, the list goes on and on. Yet none of them can top his work with the one and only Julia Roberts. Because there is something so enchanting about watching Gere, an actor who typically embodies a more cold and down-to-earth demeanor, act alongside a beautiful firecracker like Roberts — making them the most fascinating of cinematic pairings.
The most magical element of Richard Gere is his ability to get better with age. Not only is he one of the few movie stars to become more successful (and sexier) as he let his mature natural features come in, but it seemed that post-"Pretty Woman," his romantic roles got even more interesting to watch. And with flicks like the cozy "Runaway Bride" to the heart-melting "Autumn in New York" on his resume, it's no wonder that Gere continues to capture the hearts of so many film fans.
3. Audrey Hepburn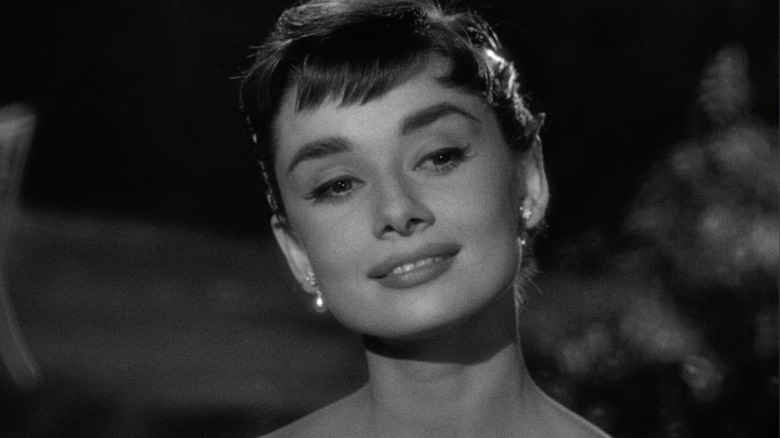 Paramount Pictures
Starring in some of the most classic films in all of cinematic history, Audrey Hepburn laid the groundwork for future dorm room posters and the modern evolution of the rom-com genre. From her debut performance in "Roman Holiday" to her enchanting portrayal of the lead character in "Sabrina," Hepburn personified the fantasy of a fairy tale princess with a modern yet sophisticated quality. But it was her career-defining turn as Holly Golightly in "Breakfast at Tiffany's," along with her brilliant work in the film adaptation of "My Fair Lady" that cemented her as the pop culture icon we know of today.
Perhaps the most fascinating thing about Hepburn's rom-com filmography is the actors she was paired with. From Humphrey Bogart to Gregory Peck, Hepburn's romantic suitors were often as aesthetically rough as she was soft, bold as she was graceful — making it an entertaining juxtaposition to explore. But there's a comforting believability within Audrey's sparkling performances that's hard to ignore. Even the most cynical viewers can find a bit of themselves falling for Hepburn's countless romantic characters. Because they, like Hepburn herself, have an earnest, lovable quality to them.
2. Julia Roberts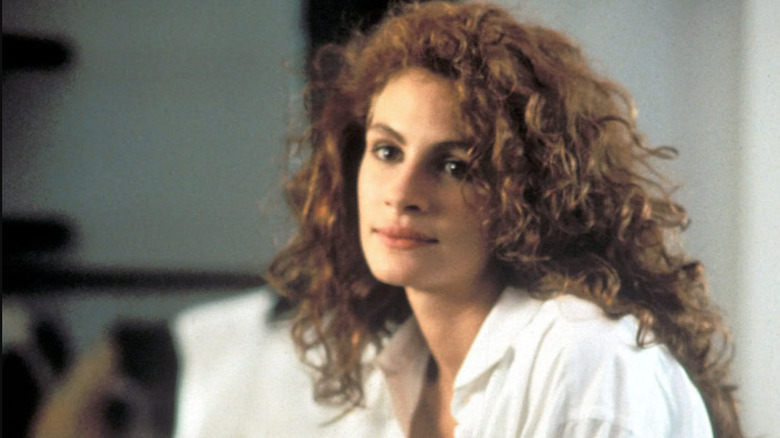 Disney
As sparkly as the Fourth of July, there's a reason why Julia Roberts became (and still is) the "It Girl" of the romantic comedy world. With her fiery red locks and sunshine-filled grin, to say Roberts could light up any movie is the understatement of the century. And when she's paired with the right co-star, the results are pure movie magic. From her work with Richard Gere to her sillier movies like "Mystic Pizza" and "My Best Friend's Wedding," Roberts has countless examples of how she commands the screen, from the moment she enters the frame to the very end.
And while most filmgoers tend to love Julia's more glamorous rom-com roles, it is her more underrated, natural characters that have continued to leave a lasting impact on audiences. From her performance as the flawed but adorable Maggie in "Runaway Bride" to the heartbroken Tinkerbell in "Hook," Roberts imbues them all with the vulnerability that is easy to connect with on a multitude of levels — even if they're a fairy from Neverland. Overall, regardless of the romantic story she's a part of, Julia Roberts makes each of her portrayals incredibly beautiful, lovable, and memorable throughout.
1. Meg Ryan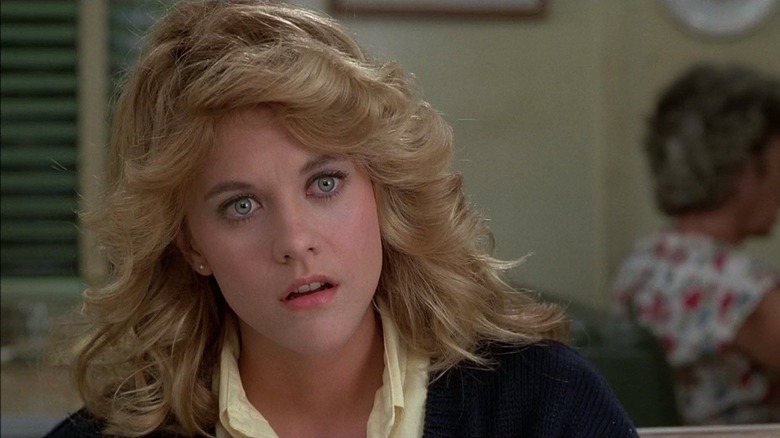 Columbia Pictures
With her bubbly aesthetic and razor-sharp comedic skills, Meg Ryan is the eternal queen of the Hollywood rom-com. From her star-making turns in "When Harry Met Sally" and "Sleepless in Seattle" to her later work in "You've Got Mail" and "Kate and Leopold," Ryan has a rom-com resume that many actors dream about. Yet it isn't the countless movies on her filmography that garnered Ryan the top rank on this list, but rather one encompassing fact: Meg Ryan is the embodiment of the romantic comedy fantasy, from head to toe.
From her characters' endless amounts of cozy, aesthetically perfect outfits to their infinite collection of coffee mugs, Meg Ryan is the girl that so many viewers want to be within the most picturesque of rom-coms. Ryan's protagonists get work in whimsical stores, sing-off key during karaoke, become animated princesses, all the while falling for romantic partners that celebrate them for their flaws. And despite all of her unrealistic qualities, that personification within Meg Ryan's movies is what makes her such a gem to watch and why audiences will never stop revisiting her work for years to come