The 10 Best Romance Movies Of The Last 10 Years
A24
When we think of romantic movies, our minds most often go straight to rom-coms, the most enduringly popular romance sub-genre. However, romantic stories can be found in fantasies, war movies, historical epics, literary adaptations, and indie dramas, among many other genres. While I do enjoy a cheesy rom-com, my most beloved and re-watched romantic movies are more likely to be dramas or period films. And that's why you're only going to find one rom-com on this list of the 10 best romances of the last decade.
I want to expand your mind in terms of what a romantic movie can be, and also help you discover some of the best of what the last decade has offered us, including an excellent range of LGBTQ+ movies. This list has vampires, time travel (of sorts), 18th century French artists, Yorkshire farmers, and two movies set in Louisiana, proving that it is the most romantic of all 50 states. Sit back, relax, and sail away with a love story for the ages...
Take this Waltz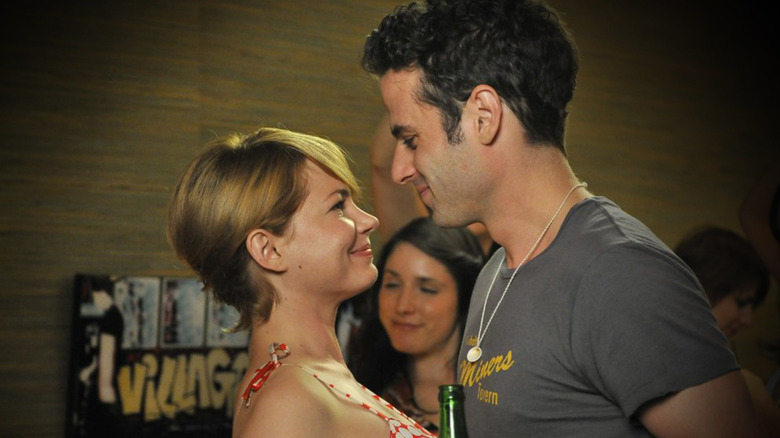 Mongrel Media
We're starting with quite a complicated view of romance — that of a marriage affected by an emotional affair. Margot (Michelle Williams) is happily married to Lou (Seth Rogen) when she meets Daniel (Luke Kirby). She is determined to remain loyal to Lou, who is a good man (and who makes good chicken), but continues to meet with Daniel regularly. They never do anything physical together, and Margot decrees that they can "share one kiss after she's been faithful for 35 years, because she'll have earned it."
Canadian writer-director Sarah Polley paints an appealing portrait of Toronto's artistic community in "Take This Waltz." The sexual tension between Williams and Kirby rises to the boiling point, and Margot decides that she is going to leave Lou after all. Interestingly, instead of ending there, Polley continues the story, showing how Margot and Daniel become an established, boring couple.
Every relationship starts with excitement and, sometimes, the frisson of danger, but will inevitably settle into something else. The people in the relationship need to evolve with it. Polley doesn't make this a cautionary tale about the grass not always being greener, but rather a messy, intricate look at love's peaks and troughs.
Moonlight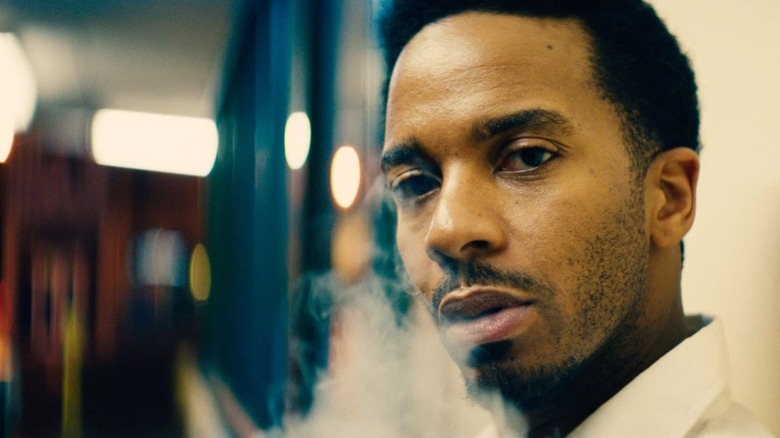 A24
2016 and 2017 were banner years for LGBTQ+ love stories on film, with "Call Me by Your Name," "Professor Marston and the Wonder Women," and "Princess Cyd," to name just a few. While Barry Jenkins' "Moonlight" is unfortunately mainly known for the Oscar mix-up with "La La Land," it is a beautiful coming-of-age story, with six actors playing two characters through childhood, adolescence, and adulthood.
Ashton Sanders and Jharrel Jerome play Kevin and Chiron as teenagers, who explore one another in a gorgeously-lit beach scene. The most powerful moment comes when Kevin (now played by Andre Holland) and Chiron (Trevante Rhodes) meet again as adults in Kevin's diner, after spending a decade apart.
The use of food preparation as love language, Nicholas Britell's score, James Laxton's cinematography, and the dynamics of the effusive Holland versus the stoic Rhodes all combine to make this scene truly magical, with the tension of sexual chemistry very apparent between them. "Moonlight" is the best best picture winner of the decade, and an epic romance told across two young lives.
The Lucky One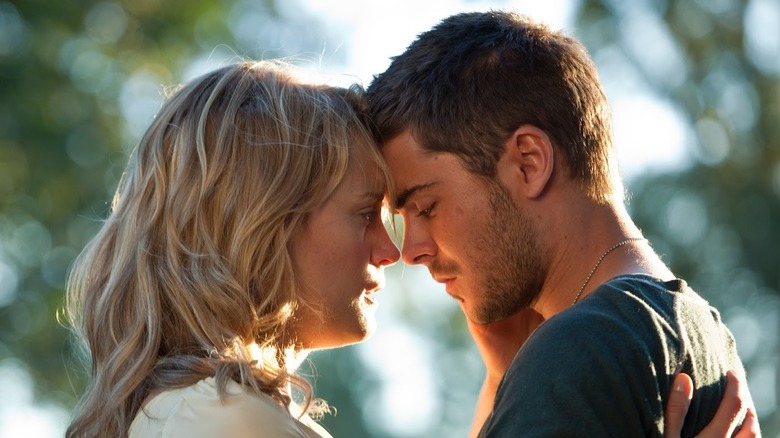 Warner Bros. Pictures
I have a weakness (just the one, of course): Nicholas Sparks adaptations. I've seen all of these cheesy weepies, many of them multiple times. The most famous and best is, of course, "The Notebook," starring Ryan Gosling and Rachel McAdams. But the next best one is "The Lucky One," starring Zac Efron and Taylor Schilling.
Efron plays Logan, a US marine who walks from Colorado to Louisiana in search of the woman in a photograph he found in Iraq. He locates the woman, named Beth (Schilling), but doesn't explain why he's there. Instead, he takes a job with her, caring for and training dogs. Logan becomes close with Beth's son and clashes with her ex-husband.
Like all Sparks films, the Louisiana scenery is gorgeously shot, mostly filmed at golden hour, and Beth shares a lovely large home with her grandmother, played by Blythe Danner. If you've not seen a film based on one of Sparks's stories before, you might be surprised to learn that they aren't just mushy romances. They're also pretty sexy. This is the definition of a comfort movie to me, and I've seen it more times than I care to admit.
Portrait of a Lady on Fire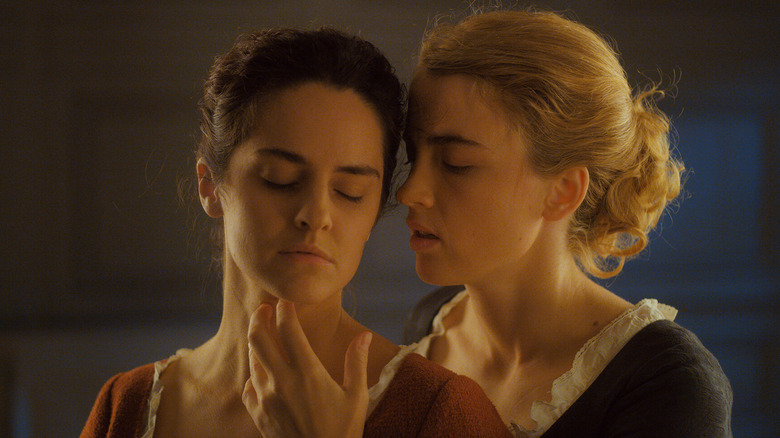 Pyramide Films
"Every frame is a work of art" may be a cliché, but in the case of Claire Mathon's cinematography, it comes as close as possible to being true. Every aspect of Celine Sciamma's "Portrait of a Lady on Fire" is meticulously crafted in precise detail, but it is far from cold or austere. Noemie Merlant and Adele Haenel play a painter and her subject, thrown together on an isolated French island at the end of the 18th century. While Heloise (Haenel) is preparing for a marriage that she does not want, Marianne is struggling to make it as an artist in a male-dominated field. They fall in love, knowing that their time together must be fleeting.
Aside from the central love story, there are also some stunning scenes of female solidarity, including women singing in rounds around a bonfire and an unforgettable abortion scene. Elements of Gothic ghost stories, Greek myths, and opera are intertwined in one of the most visually breathtaking films in years. Merlant and Haenel provide the emotional core, and Sciamma paints a beautiful backdrop around them.
Only Lovers Left Alive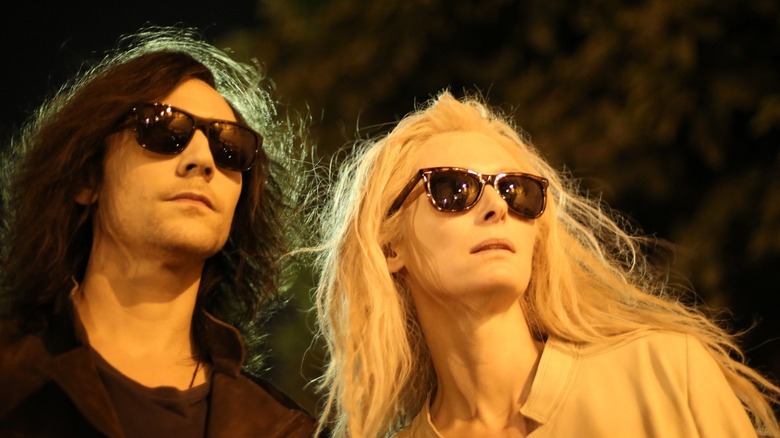 Pandora Film
What's more romantic than a love that spans centuries, defying time, age, and the consumption of blood to survive? In "Only Lovers Left Alive," Tom Hiddleston plays Adam, a musician in Detroit. Tilda Swinton plays his wife Eve, a lover of literature in Tangier. Despite the physical distance between them, they're strongly connected — oh, and by the way, they're both vampires.
However, Adam is growing tired of being immortal, and Eve worries about him. In addition, their existence is threatened when Eve's reckless sister Ava (Mia Wasikowska) visits. Hiddleston and Swinton were always going to make a compelling couple, and that's before you add in the extremely cool vamp vibes. The use of overhead shots combined with the detailed production design, particularly Adam's analogue gadgets and old instruments, makes this a dreamy vision of a detailed, lived-in world. Adam and Eve may be flung far apart, but they're always drawn back together, and their love endures.
God's Own Country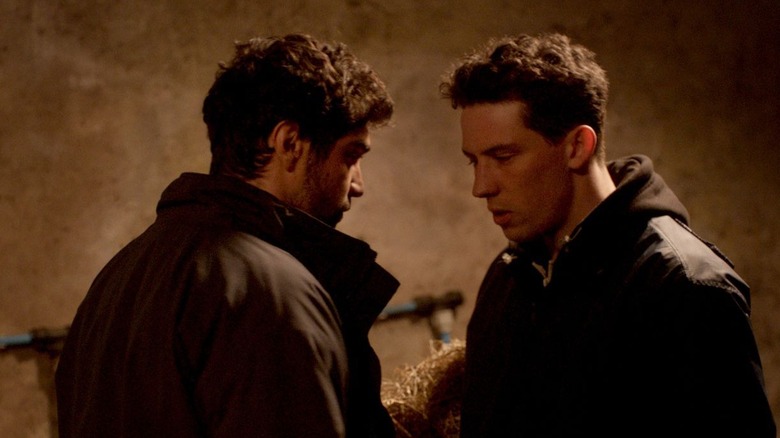 Picturehouse Entertainment
An emotionally-stunted and lonely young farmer in the north of England has his world opened up by the arrival of a migrant worker from Europe in this refreshing queer love story. Johnny (Josh O'Connor) lives with his dad (Ian Hart) and grandmother (Gemma Jones) and slogs it out in the harsh landscape by day, while getting drunk and having casual sex at night. Once Gheorghe (Alec Secareanu) arrives from Romania to help out on the farm, he teaches Johnny about different lambing techniques, cheese-making, and love.
Francis Lee's "God's Own Country" provides something different in the world of gay romance films for two reasons. One, it is not a coming out story — Johnny is pretty open about his sexuality, he just can't handle relationships. Two, it has a hopeful ending. There is no tragedy, no homophobic violence, and no AIDS. Johnny simply has to get out of his own way and allow himself to be happy.
O'Connor is now an Emmy-award winner for playing Prince Charles on "The Crown," but this is a totally different role in terms of accent and physicality, demonstrating his range as an actor. It's a beautiful British love story.
The Age of Adaline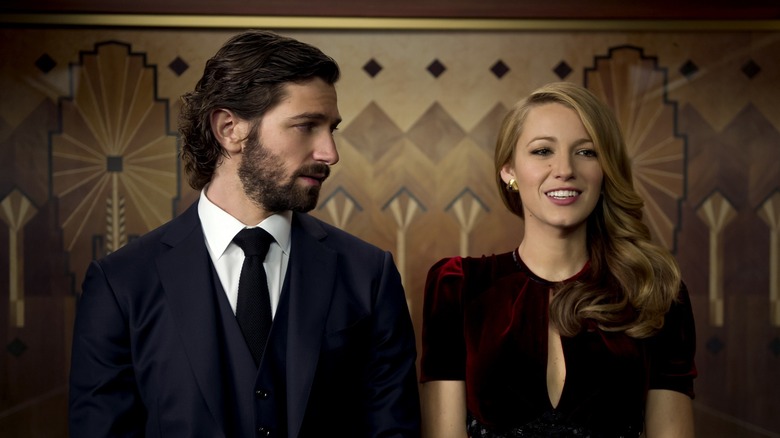 Lionsgate
Blake Lively, Michiel Huisman, and Harrison Ford star in this film about Adaline (Lively), a woman who had an accident in the '30s and who hasn't aged a day since. To avoid people getting suspicious, she changes towns and assumes new identities every decade. While preparing to make one of these moves, Adaline meets Ellis Jones (Huisman), who immediately falls for her and introduces her to his parents.
It turns out that his father, William (Ford), is the only other man that Adaline allowed herself to have a relationship with — their affair unfolded during the '60s and '70s, before she got cold feet and ran away. One of the most extraordinary aspects of this movie is Anthony Ingruber, who plays young William. There's no CGI or trickery involved — he just looks like, sounds like, and has the same mannerisms as a young Harrison Ford.
Lively does a good job of seeming like a woman from the '30s (mainly with her voice), and one of the best aspects of the story is that she has a daughter who has aged normally, who is played by Ellen Burstyn. Their relationship is lovingly portrayed. This is a high-concept romance that is pulled off very well by the talented cast.
Sleeping with Other People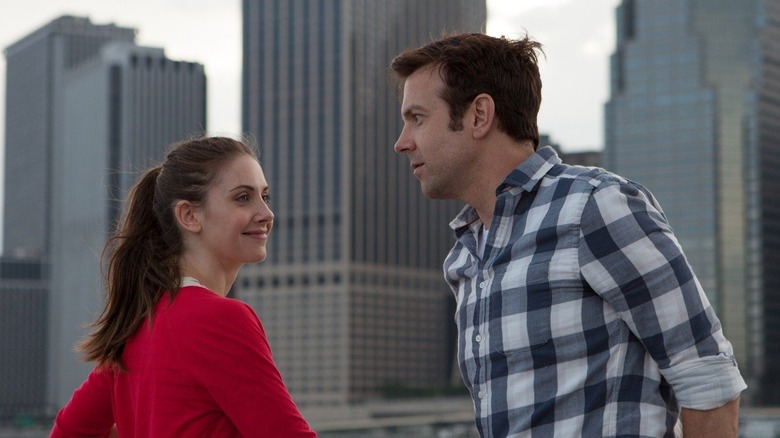 IFC Films
Before co-creating "Russian Doll," Leslye Headland wrote and directed one of the best rom-coms of the last decade. Lainey (Alison Brie) and Jake (Jason Sudeikis) lose their virginity to each other in college, and then bump into each other years later at a sex addicts meeting. He is now a serial womanizer, and she has been having a long-lasting affair with her college crush Matthew (Adam Scott). They become best friends and support one another in trying to get better at relationships, especially when Jake begins dating his boss, Paula (Amanda Peet).
Jason Mantzoukas fills his customary role as the best friend, with Lainey and Jake attending his kids' birthday party on molly in what is probably the movie's most memorable scene. If you're mainly familiar with Sudeikis from the massive success of "Ted Lasso," both "Sleeping with Other People" and "Colossal" are a revelation, showing a sexier and darker side to the wholesome mustachioed cinnamon roll. Brie and Sudeikis have great chemistry, and who can resist a friends-to-lovers conceit?
Emma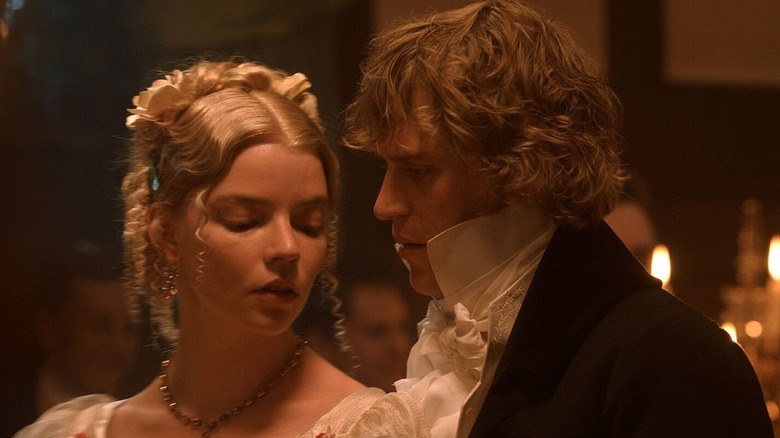 Working Title Films
The mid-'90s and the mid-'00s were both heydays for Jane Austen adaptations, so it should be no surprise that there's a new wave coming — we're long overdue. Well, we now have two "Persuasion" adaptations on the way, one starring Dakota Johnson and Cosmo Jarvis and the other starring Sarah Snook and Joel Fry, both of which are directed by women, which perhaps means that Autumn de Wilde's "Emma" has spurred renewed interest in the author.
Starring Anya Taylor-Joy as Emma and Johnny Flynn as Knightley, "Emma" is a pink-and-cream confection of a film, with gorgeous production and costume design. Knightley is the friend of the family who has always been there, and who Emma has always considered more of a brother than lover. However, during her match-making machinations, in which she tries to set up half of the village with the other half, Emma starts to see Knightley in a new light.
There are several delightful scenes, such as the intricate process of Knightley getting dressed or when he flops on the floor of his palatial home in romantic frustration, that prove that we've been waiting for women writer-directors to adapt Austen for far too long.
The Photograph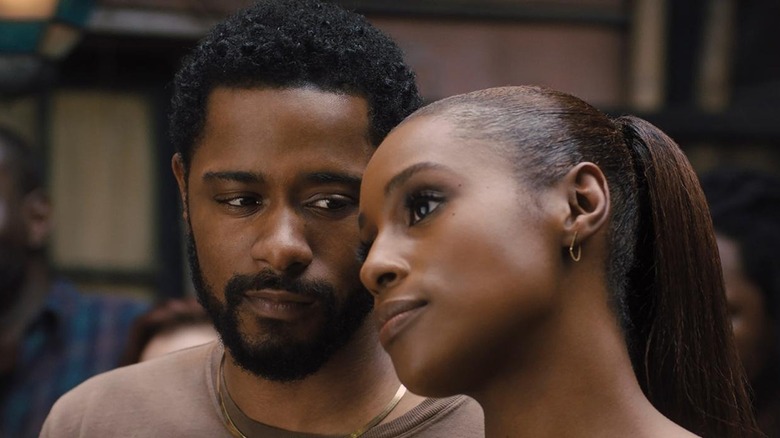 Universal Pictures
Stella Meghie writes and directs a love story split across two different generations. There's Christina (Chante Adams) and Isaac (Y'lan Noel) in the Louisiana of the '80s, and Christine's daughter Mae (Issa Rae) and Michael (LaKeith Stanfield) in present day New York.
The scenery and costume design in "The Photograph" are both fantastic, with a shot of Christina climbing the stairs in a New Orleans bar in a blue silk dress replicated in the present day with Mae in a stunning yellow dress. All of the New York-based characters can somehow afford huge and beautiful properties, but that kind of wish fulfillment is part of the fun of watching romantic films (just ask Nancy Meyers). Stanfield is a hugely talented actor, who uses his expressive, soulful eyes particularly effectively when gazing at Rae. The film also boasts an impressive supporting cast, which includes Jasmine Cephas-Jones, Kelvin Harrison Jr, Lil Rey Howery, Chelsea Peretti, Courtney B. Vance, and Rob Morgan.
Like "The Age of Adaline," "The Photograph" definitely feels like it's based on a novel, but surprisingly isn't. Meghie does a good job wielding the two narratives, the film looks gorgeous, and the supporting cast backs Stanfield and Rae well. It's an overlooked romance that deserved more of an audience.