Ted Lasso Cast And Writers Just Earned A Well-Deserved Pay Raise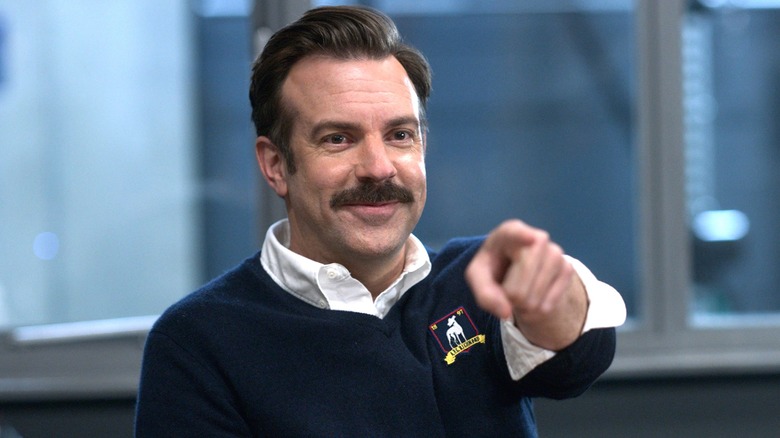 AppleTV+
"Ted Lasso" spent the past two years capturing hearts (and occasionally breaking them), quickly becoming one of the most popular series on Apple TV+. So as audiences tearfully approach the season 2 finale, Lasso fans are probably wondering what comes next. Well good news, season 3 has been confirmed for over a year now — and even better, the creative team behind the show is getting a serious pay raise for all their hard work.
According to The Hollywood Reporter, the cast, writers and producers just engaged in a series of contract renegotiations, with a very positive outcome. The love is being spread around to the many names involved, with pay raises including creator and star Jason Sudeikis all the way down to "the last player on Richmond's roster." Central cast members including Hannah Waddingham (Rebecca) and Juno Temple (Keeley) will see major salary bumps that have them making between $125,000 to $150,00 per episode.
THR reported that while Sudeikis previously earned about $300,000 per episode, his contract increases the rate to around $1million an episode: this deal accounts for his role as the shows creator, head writer, star and executive producer. Also seeking a pay raise is showrunner Bill Lawrence, whose eight-figure deal with Warner Bros was negotiated before the series' rise in popularity.
Ted Lasso's Writers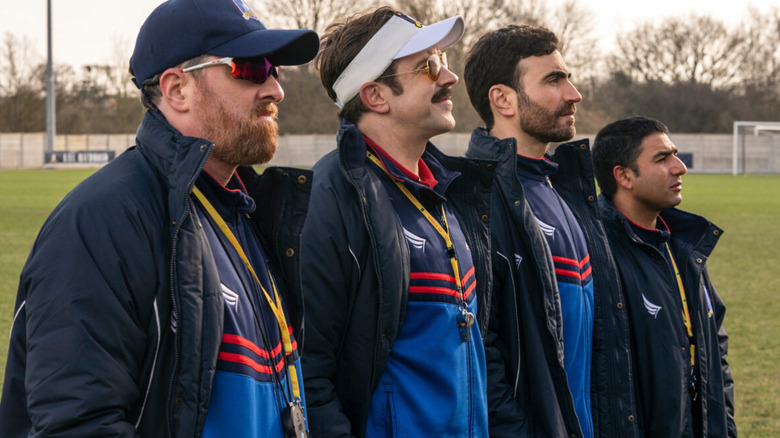 AppleTV+
Here's the other major hurrah — the raises include the very deserving writing staff behind the series. "Ted Lasso" is full of incredible performers, but they're backed by the shows clever and hilarious team of writers. Due in large part to their work, the series has earned rave reviews and 20 Emmy nominations.
The writer's negotiations also included separate deals for Brendan Hunt and Brett Goldstein. Hunt and Goldstein wear a few different hats for the series, as cast members, writers, and executive producers. That's right — as if we don't already love Roy Kent an inhuman amount, British actor and noted CGI creation Goldstein is also a writer for the series and most recently penned the emotional sixth episode of the second season, "The Signal." Hunt, who stars as Coach Beard, is the writer behind the season 2 premiere, "Goodbye Earl," which begs the question, what does he have against dogs?
These contract negotiations briefly delayed the opening of the season 3 writers room, with many of the deals finalized just ahead of the September 13 start date. As of now, season 3 is still on track to premiere next year in summer 2022, but no official date has been announced. 
These aren't the only negotiations taking place for "Ted Lasso," a series that comes from Warner Bros TV and Apple TV+. Reportedly, linear rights to the series are also in question. Currently retained by Warner Bros, linear rights will allow the studio to air Lasso's story on their live networks, including TNT, TBS, and The CW, within a few years of the series finale. Apple is now interested in buying out the linear rights, to retain exclusive ownership of their crown jewel.
The Future of Ted Lasso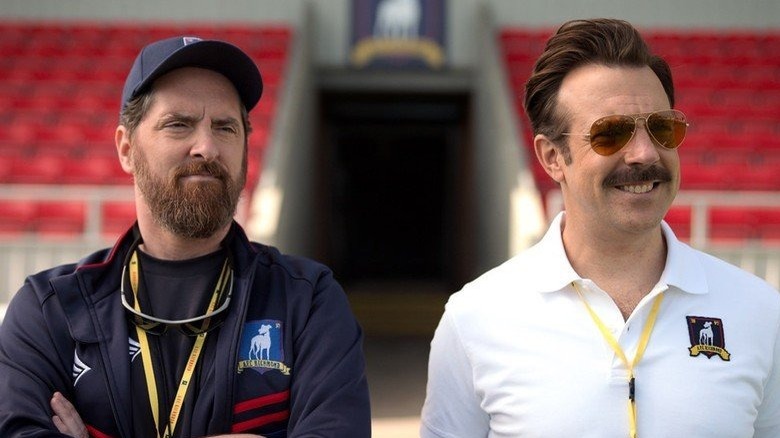 AppleTV+
Apple TV+ pretty much has until the end of the series to buy out those rights, but that hinges on when the show will conclude. While season 3 has been confirmed, the future of Ted Lasso beyond the next season is less clear. Earlier this year, Sudeikis hinted at our worst fear — the initial plan was to end "Ted Lasso" after three seasons and at least for him, that hasn't changed. Sudeikis said:
"The story that's being told – that three-season arc – is one that I see, know, and understand. I'm glad that they are willing to pay for those three seasons. As far as what happens after that, who knows? I don't know."
His co-star and fellow writer for the series Brendan Hunt also weighed in, agreeing that three seasons was always the plan — but he was a lot less firm about sticking to this. Yes, in a shocking turn of events Coach Beard is being more loosey-goosey than Lasso. Hunt said:
"I think it would be pretty cool if, in the face of how much everyone likes this show, that we stick to our guns and really just do three seasons. But even as committed to that idea as Jason may have been, none of us were prepared to the degree to which people love this show. Usually shows don't have that kind of effect if they say the word 'f—' so many times. We're kind of in no man's land here, still being discombobulated by the response and I think that could make hard-hearted old Sudeikis soften up a little bit. I will say that, whatever he decides, I will happily abide."
On one hand, there's nothing better than a show with a plan. A clear arc that it builds and sees its plan through to the end makes for great storytelling, which the Lasso team has delivered so far. Fans began to worry about how drastically the series would change as the second season settled into place, but so far its proven to be well thought out in ways that only become clearer with each additional episode. It would be a shame to see the quality of the show go down because it overstays it's welcome. But also ... it's hard to imagine not loving "Ted Lasso." After all, he hasn't failed us yet. In the end, Hunt said it best: whatever Sudeikis decides, he probably knows best, and we'll happily abide.