Secret Cinema Announces Ghostbusters: The Gates Of Gozer As A Live Virtual Event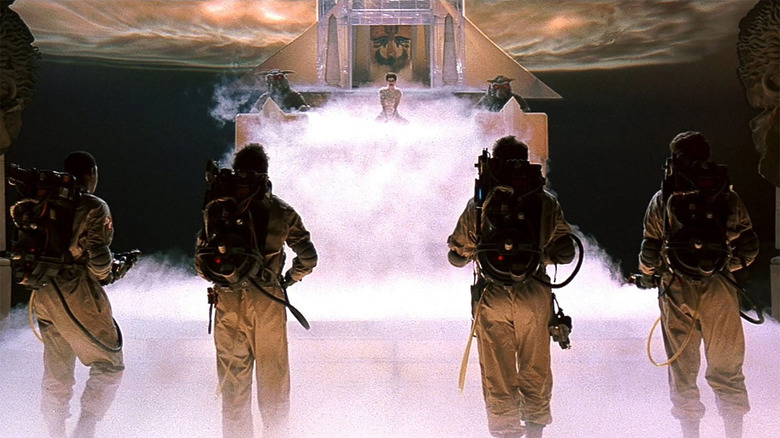 Sony Pictures
Secret Cinema is London-based entertainment company that specializes in immersive film and television events. In the past, they've hosted live events for movies like "Back to the Future" and "The Empire Strikes Back," as well as Netflix's series "Stranger Things." However, this year, Secret Cinema is stepping into the virtual event space by hosting a live virtual experience for the "Ghostbusters" franchise, in conjunction with the upcoming release of "Ghostbusters: Afterlife." Since this is the first time Secret Cinema has done a virtual event like this, we're not sure what to expect, but here's what we know so far.
Secret Cinema Ghostbusters Virtual Event
Here's the official description for the Secret Cinema live virtual event, "Ghostbusters: The Gates of Gozer" from the official website:
"Travel back to the '80s and experience never-before-seen storylines based on the original film in this live virtual adventure. Get ready for the jaw-dropping detail of any Secret Cinema event, brought to you online and to a whole other level! Team up with the Ghostbusters to investigate paranormal activity, explore the infamous 550 Central Park West and uncover spine-chilling secrets from other dimensions. The world needs saving and you're the one for the job!

Immersive theatre. 3D binaural sound. Real ghostbusting."
Part of the Secret Cinema experience is access to an exclusive site that helps you prepare for the upcoming event with details that only the attendees are privy to in order to enhance the immersive nature of the event itself. In this case, those who purchase a ticket will gain access to The Paranormal Institute, a "high quality, high demand virtual Ghostbusters education program, which includes details on:
Identifying different kinds of ghosts and how to trap them
Field training on how to safely communicate with apparitions
Direct contact with New York's most troublesome ghosts
Practical training on how to identify possessed friends
How to safely blast proton beams to contain manifestations
Exclusive field trip to 550 Central Park West (aka Spook Central)
As for the experience itself, you'll have your own character backstory and costume suggestion, and you'll partake in a live theatrical performance featuring interactions with characters you know and love. There will be a variety of digital locations and never-before-experienced storylines in the "Ghostbusters" universe, each with motion-triggered special effects and filters, puzzles, games, and plenty of ghostbusting. 
So how will this event unfold if it's a virtual live experience? 
How to Participate in the Ghostbusters Virtual Experience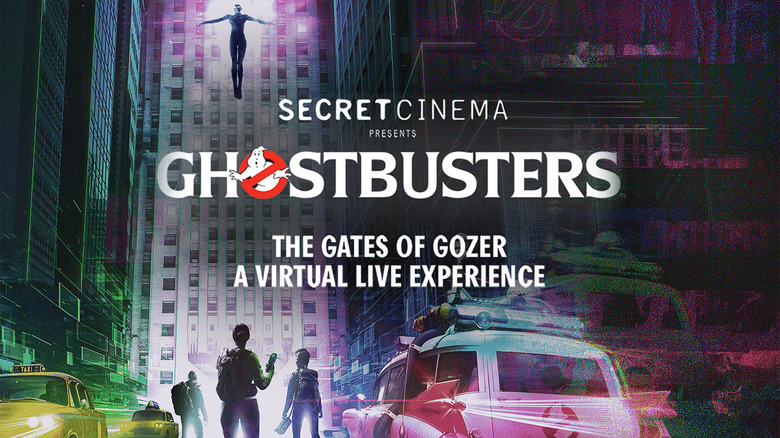 Secret Cinema
At first, I thought virtual reality devices would be the best way to experience something like this, but that's probably still such a niche industry that it would significantly limit the crowd size. Instead, "Ghostbusters: The Gates of Gozer" will unfold by way of a custom online platform from your very own laptop or desktop computer with webcam and microphone capabilities. No tablets or mobile devices will be supported. 
The experience will run 75 minutes and features live actors, special effects, interactive games, motion-triggered filters, 3D binaural sound design, clues, ghostbusting, and perhaps a possession or two. Because of the live nature of the experience and all these features, your computer will need a quad processor with at least 4GB RAM (though 8GB RAM is recommended), a strong internet connection (at least 3.5+ Mbps upload and download speed), and the latest version of Chrome, Firefox, Edge or Safari (sorry, but Internet Explorer isn't an option). You'll also need headphones plugged into your computer for the 360-degree sound effects to properly work.
Tickets will be available for individuals ($27.50 each) who will join up with strangers around the world in a single team, or you can buyout an entire team of six for you and all your friends (which will come out to $22 per person). There will be a variety of afternoon and evening slots available in GMT and EST time zones from Wednesday through Sunday starting on December 1, 2021. Head over to the website to sign up for ticketing alerts, and stay tuned for anything else you might need to know about this experience.