It's National Chucky Day, All Hail National Chucky Day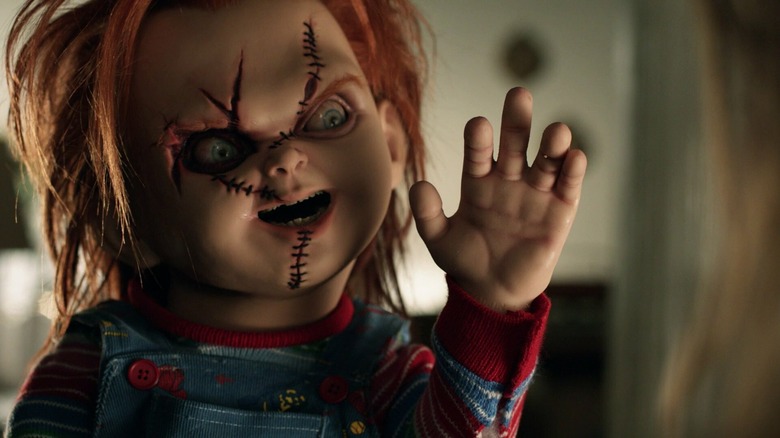 Universal Studios Home Entertainment
Today, October 25, 2021 has been declared "National Chucky Day." Why? Who cares?! Any day is a good enough day to celebrate everyone's favorite serial killer possessed child's toy and the franchise he inhabits. To honor this oh-so-holy horror holiday, SyFy is delivering an all-day "Child's Play" marathon, leading up to the re-release of the first two episodes of the new "Chucky" television series.
For over three decades, Don Mancini has been at the helm of the "Child's Play" franchise, having written seven movies and serving as the series creator for the "Chucky" series. There's also a non-canonical remake of "Child's Play" from 2019, but that installment exists in its own vacuum and not as a part of the world Mancini built. Since the inception of the first "Child's Play" in 1988, Chucky the Good Guy doll has become a beloved slasher icon alongside characters like Michael Myers of "Halloween," Freddy Krueger of "A Nightmare on Elmstreet," Pinhead of "Hellraiser" fame, Leatherface of "The Texas Chainsaw Massacre," and Jason Voorhees of the "Friday the 13th" series. As a character, Chucky is beloved for being not only a child's worst nightmare, but for being consistently one of the funniest wise-cracking killers in all of horror history.
Cast members of the "Chucky" series are taking the day to celebrate alongside the SyFy marathon.
It's #NationalChuckyDay!! I want to see costumes!!! Even on your pets!! @SYFY @USA_Network @ChuckyIsReal pic.twitter.com/rIc0lITh9A

— devon sawa (@DevonESawa) October 25, 2021
The Marathon Line-Up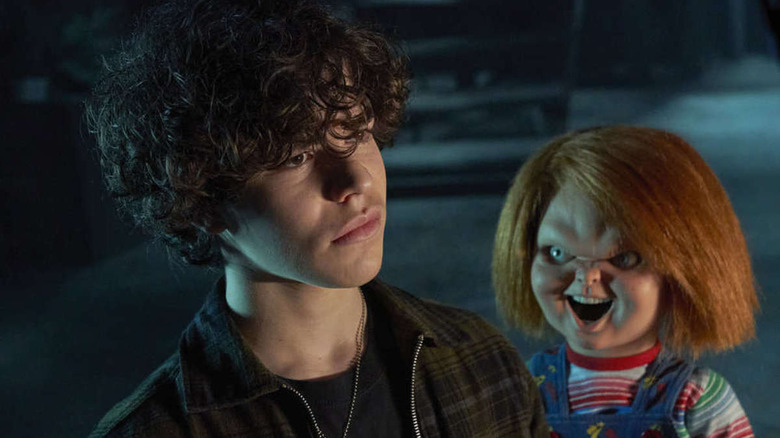 SyFy/USA
The all-Chucky, all-the-time marathon is already underway, but here's the schedule for whenever you're able to tune in:
Here's the full schedule...
10am EST – "Child's Play 2"

12pm EST – "Child's Play 3"

2pm EST – "Bride of Chucky"

4pm EST – "Seed of Chucky"

6pm EST – "Curse of Chucky"

8pm EST – "Cult of Chucky"

10pm EST – "Chucky" Series Episode One – "Death by Misadventure"

11pm EST – "Chucky" Series Episode Two – "Give Me Something Good to Eat"

11:58pm EST – "Child's Play 2"
Fans have been sharing images all day on Twitter of their favorite Chucky merch, costumes, toys, artwork to celebrate. Franchise goddess, Jennifer Tilly, has also gotten in on the fun, posing plenty with her numerous Chucky dolls and figures.
If you've not yet watched the "Chucky" show on SyFy, use this marathon as your perfect excuse to take the plunge. The show is a canonical continuation to the franchise as a whole, featuring its trademark mix of absurdist comedy and gore while utilizing familiar characters like Tiffany Valentine (Jennifer Tilly), Nica Pierce (Fiona Dourif), Andy Barclay (Alex Vincent), Andy's former foster sister Kyle (Christine Elise), with brand new characters Jake Wheeler (Zackary Arthur), Devon Evans (Björgvin Arnarson), Logan Wheeler (Devon Sawa), Junior Wheeler (Teo Briones), Lexy Cross (Alyvia Alyn Lind), and all held together by Brad Dourif as Chucky.