Chucky Trailer: The Child's Play TV Series Wants To Play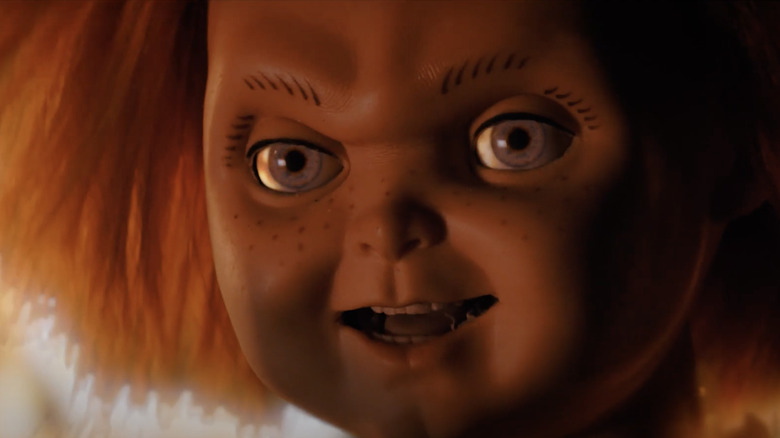 SyFy
It's here! It's here! The moment that we (or at the very least, I) have been waiting for has finally arrived! 
SyFy and USA Network are kicking off October in a huge way by finally releasing the trailer for the new "Chucky" series, a continuation of Don Mancini's beloved franchise about horror's favorite possessed killer doll. Following the release of first-look footage earlier this week of Chucky's first kill in the series, the new trailer highlights familiar faces, brutal deaths, and offers additional insight into the lore surrounding serial killer Charles Lee Ray.
The Chucky Trailer
There's a lot of really interesting stuff to talk about in this trailer, but first and foremost, we need to pay our respects to horror national treasure, Jennifer Tilly. Tilly has been very vocal on social media about her excitement regarding the show, but seeing her back in the "Chucky" universe has cleared my skin, calmed my anxiety, and raised my credit score. 
As for the trailer's other offerings, let's dive in and get our hands bloody.
We first see Jake Webber (Zackary Arthur), who we know from the previous clip is our main protagonist in the new series. Jake comes across a Good Guy doll at a yard sale with the seller having no recollection as to where the doll came from. Typical Chucky, just showing up unannounced like that. Jake buys the doll and seems to treat him like an emotional support companion. 
Before anyone out there scoffs and says "that's weird and not a thing that happens," please know there's a famous TikTokker with an emotional support Bratz Doll. Understandably, everyone in Jake's life is a little weirded out by this new doll, because possessed or not, Good Guy dolls are f*cking creepy looking.
The Phone Call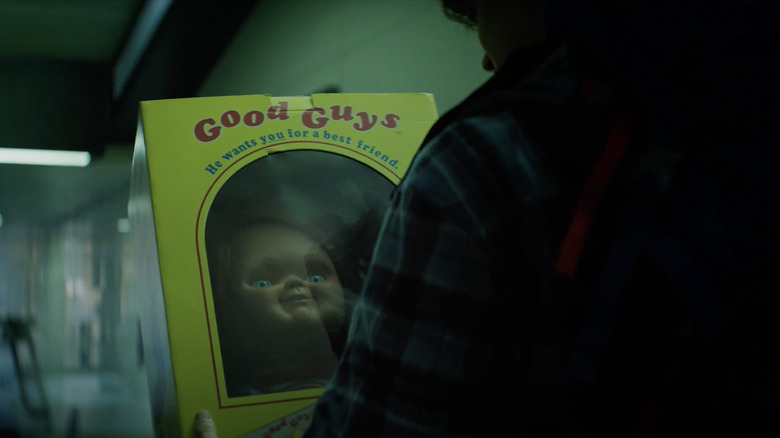 SyFy
A mysterious voice calls Jake and warns "be very careful with that doll." We already know Alex Vincent, the actor who played Chucky's first owner, Andy Barclay, has been cast in the series, so there's a good chance this is his way of warning Jake of what's to come. 
The voice on the phone urges him to check Chucky's batteries and when Jake does so, the jig is up. But does Chucky care if Jake knows he's operating of his own accord? 
Hell no. 
He sits up, grabs a knife, and we're off to the stabby races.
The Franchise Comes Full Circle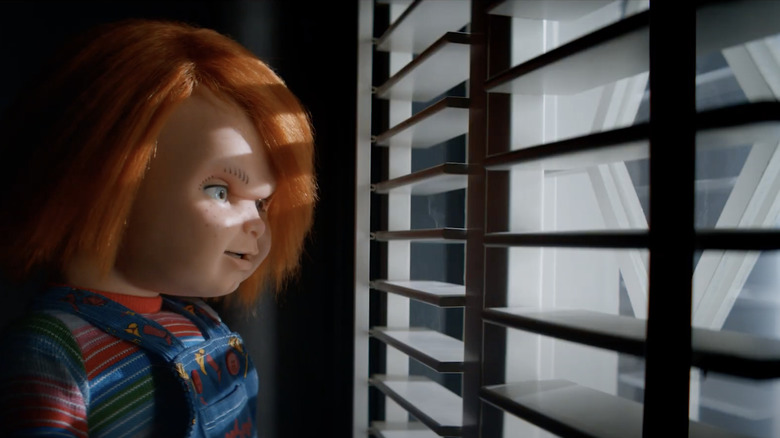 SyFy
The rest of the trailer is murder and mayhem confetti spliced together with new lore surrounding serial killer Charles Lee Ray who transferred his soul into the Chucky doll. Actor Brad Dourif is continuing his tenure as the character and voice, and I'd be lying if I said I didn't get chills when he uttered the famous catchphrase, "I'm Chucky, wanna play?" 
As it turns out, when Charles Lee Ray put his soul into the Chucky doll all those years ago, he didn't transfer the whole thing. Parts of his soul were broken off, and the remaining piece is active, vengeful, and still inside Nica Pierce (Fiona Dourif) of "Curse of Chucky" and "Cult of Chucky" fame. Now, Charles Lee Ray has returned to his hometown of Hackensack, New Jersey on a mission, and it's up to Jake and those from Chucky's past to stop him.
"Chucky" debuts on SyFy and USA on October 12, 2021.