The First Chucky Clip Features A Dissection Gone Terribly Wrong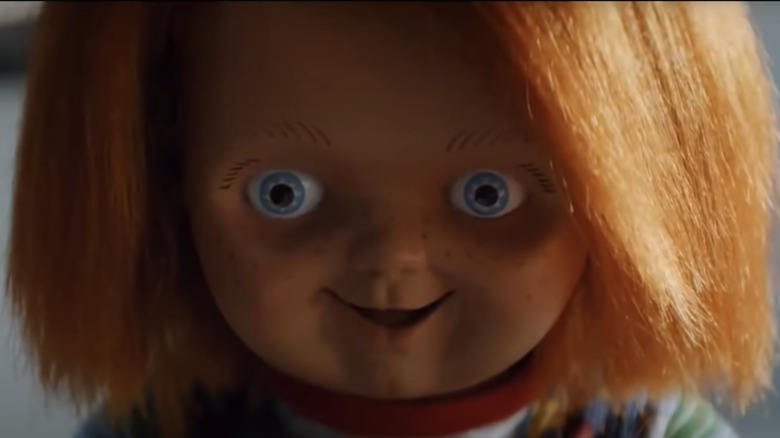 SyFy
Until the 2019 remake, the "Child's Play" franchise held the distinction of being the only franchise in horror history to keep the same screenwriter for every installment. Don Mancini scarred a generation by bringing to life the creepiest ginger-haired doll this side of Annabelle. In preparation for the new television series "Chucky" for SyFy and USA Network, a new clip from Don Mancini's return to the franchise has been released reminding us all just how vicious everyone's favorite Good Guy doll is capable of being. 
Check out the clip below and prepare to be creeped out.
What's Chucky About?
The new "Chucky" series is a sequel to "Cult of Chucky," the seventh film in the "Child's Play" franchise. 
A vintage Chucky doll shows up at a yard sale and unleashes a murderous rampage on a seemingly idyllic town. Every death brings to light the secrets of the town, while enemies and allies of Chucky's past threaten to reveal the truth behind not just the murders, but also the yet-to-be-exposed origins of the Chucky doll. "Child's Play" franchise favorites like Jennifer Tilly, Fiona Dourif, and Alex Vincent are returning to the beloved property, alongside newcomers Zackary Arthur, Devon Sawa, Alyvia Alyn Lind, Christine Elise, Lexa Doig, Barbara Alyn Woods, and Björgvin Arnarson. Don't worry, Brad Dourif is also returning as the iconic voice of Charles Lee Ray inside of the Chucky doll.
Don Mancini and David Kirschner are producing the series as well as Nick Antosca and Alex Hedlund ("Channel Zero" and "Brand New Cherry Flavor"). Harley Peyton of "Channel Zero" and "Twin Peaks" will also serve as a producer.
What Does The Preview Tell Us?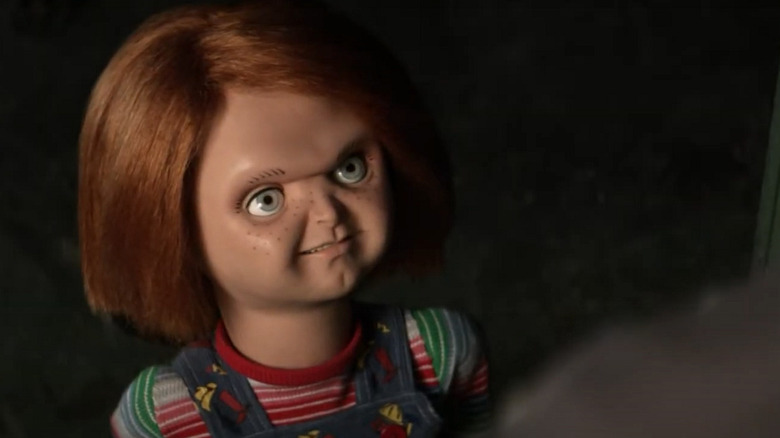 SyFy
SyFy has labeled the video as "Chucky's Unexpected First Kill," so it's safe to assume that this clip is the start of what will assuredly be a bloody reign of carnage from the Chucky doll. Now that Chucky's first owner, Andy Barclay, is all grown-up and struggling to overcome his years of trauma at the hands of the doll, Chucky seems to have attached himself to Zackary Arthur's character, Jake Webber. Mancini, who is openly gay and frequently explores queer themes in his work, previously reported that the protagonist, Jake, is a bullied loner struggling with his sexual identity, leaving him vulnerable to Chucky's manipulation.
We see Jake having misgivings about dissecting a frog, showing that he's a compassionate and empathetic human. He also notes uneasiness with blood, because, for whatever reason, this school is having teenagers dissect live frogs. Then again, the trailer also shows the teacher telling another student picking on Jake to "mind [their] f*cking business," so this is already a bit more intense of a learning environment than what most people are probably used to. After cutting into the frog, Jake shows physical discomfort at the sight of blood only to turn around and find the frog absolutely brutalized, a scalpel sticking straight up out of its still-beating heart. 
Did Chucky do it? I mean, obviously, yes, but it's only a matter of time before Jake figures out just what his new friend is truly capable of.
"Chucky" premieres on October 12, 2021, at 10 pm. After that, the show airs weekly on SyFy and the USA Network.