Super Crooks Trailer: The Mark Millar Comic Becomes A Netflix Anime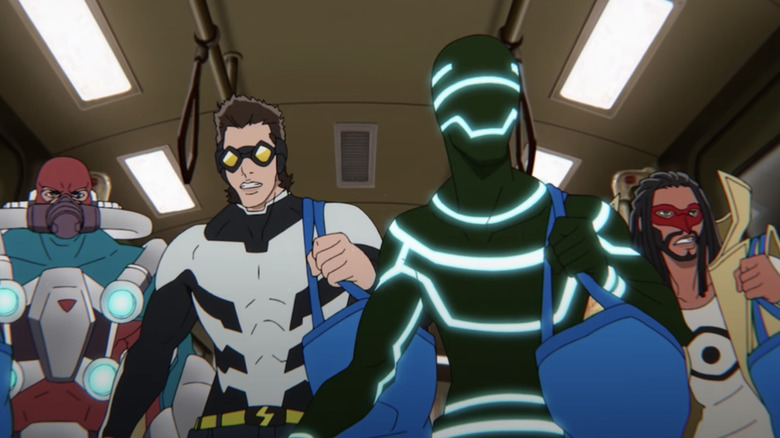 Netflix
"Having a superpower doesn't necessarily make you a superhero." That's the premise behind "Super Crooks," a new Netflix animated series based on the graphic novel of the same name by Mark Millar and Leinil Yu.
The live-action TV adaptation of Millar and Frank Quitely's comic "Jupiter's Legacy" may have faced impromptu cancelation early this summer, but Netflix is still in the market for more Millar — and more anime. "Super Crooks" is the latest Millar property to leap from page to screen, and it's got Bones, the Japanese animation studio that brought you "Cowboy Bebop: The Movie" and "Godzilla Singular Point," behind it.
"Super Crooks" is directed by Motonobu Hori and written and story edited by Dai Sato, with Yu himself supervising the character designs by Takashi Mitani. Its story will unfold over the course of thirteen 30-minute episodes, and it's set to premiere on the streaming service late next month. In the meantime, Netflix has released a trailer to whet your appetite. 
Check out the trailer for "Super Crooks" below.
Super Crooks Trailer
With its suitcases full of (foldable?) super-villains, "Super Crooks" is merely the latest Netflix series to give a Western IP the anime treatment. Whereas English was the original language for "Pacific Rim: The Black," however, the trailer for "Super Crooks" is in Japanese with English subtitles. An English dub of the series will also be available.
Riding motorcycles and pulling off risky gold heists is just Johnny Bolt's way of life. In "Super Crooks," he's voiced by Kenjiro Tsuda in Japanese and Jonah Scott in English. The biggest obstacle to his next heist appears to be a baddie with 200 superpowers named The Praetorian, voiced by Wataru Hatano in Japanese and DC Douglas in English.
Other forthcoming Millar adaptations include "The King's Man" and "King of Spies," the latter of which functions as Millar's own reverse "graphic novel translation of [an] original Netflix property."
Here's the official plot synopsis for "Super Crooks," courtesy of Netflix:
"Luck's never been on their side, but this crew of small-time crooks with super powers recruited by none other than Johnny Bolt are rolling the dice on one last heist. Their target: A ruthless super-powered crime boss.... What can go wrong? Super Crooks is based on the graphic novel of the same name by comic book legend Mark Millar and artist Leinil Yu, directed by Motonobu Hori (Carole & Tuesday) and told in 13x 30-minute episodes produced by renowned Japanese anime studio Bones."
"Super Crooks" comes to Netflix on November 25, 2021.